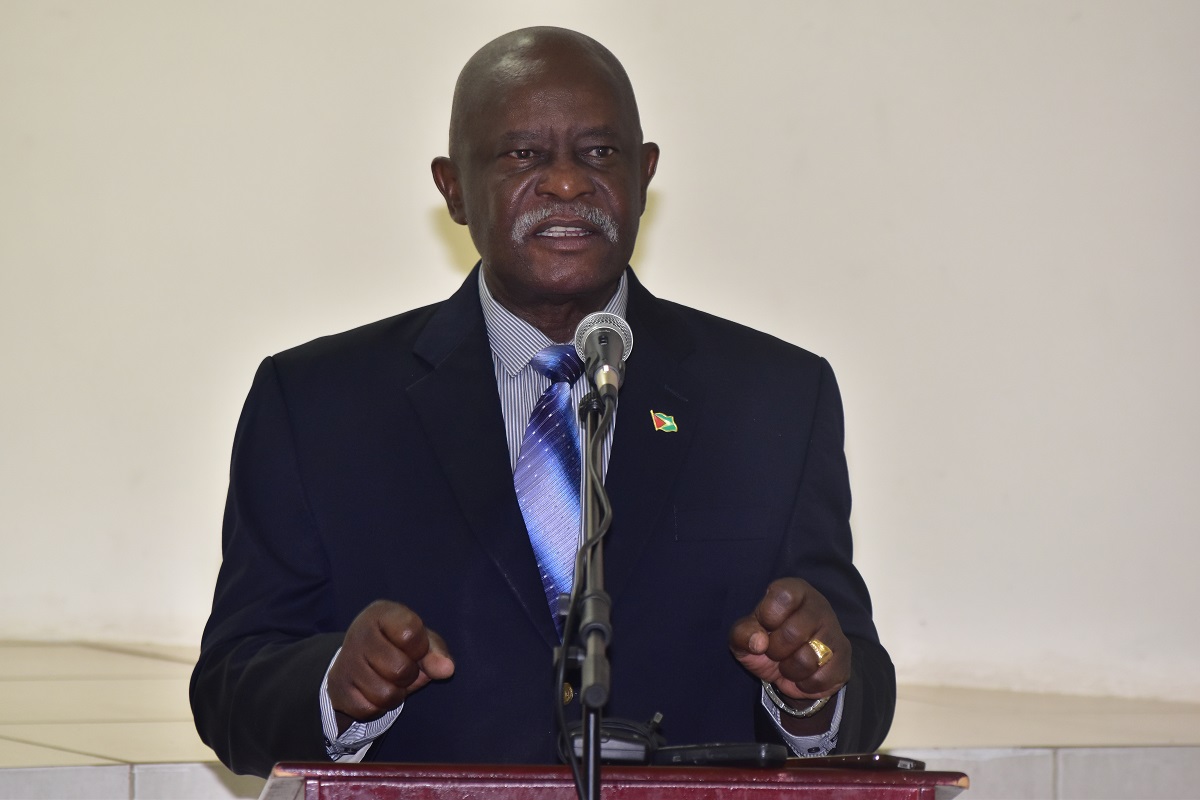 Georgetown, Guyana – (March 20, 2017) Minister of Citizenship, Mr. Winston Felix, today, urged Immigration Officers of the Guyana Immigration Department to let professionalism, courtesy and efficiency become their watchwords, as the Risk and Liaison Overseas Network (RALON) Border Awareness Training Programme for Immigration Officers commenced at the Police Officers' Training Complex.
Minister Felix, who delivered the opening remarks at the event, said that the training, which is sponsored by the United Kingdom through its High Commission in Guyana, will provide the skills and knowledge necessary for officers to become more proficient and efficient in their roles. Mr. Coran Oakley, Immigration Liaison Officer from the British High Commission in Kingston, Jamaica, will facilitate the training.
Minister of Citizenship, Mr. Winston Felix addressing the participants
"We are embarking on a training programme, which is very necessary for the efficiency of the immigration department. Today, in the world over, there is frequent movement between territories and in that movement we have good people and bad people. The role of the immigration department is to provide a service, which is courteous but which is effective in terms of its identification of those who should not enter our country," Minister Felix said.
He noted that the training will be two-fold, in that it will first provide training to enhance the professionalism of the Officers so that they can carry out their duties effectively.
"You never have a second opportunity to make a first impression and your work at the airport is just like the air hostess. When you go to the aircraft, you always meet some nice, smiling faces, always ready to assist you and to make you feel comfortable. When you leave the aircraft, you meet the Immigration officer of Guyana in this case and passengers want to know that they meet such friendliness that they feel comfortable with you and being in the country," Minister Felix said.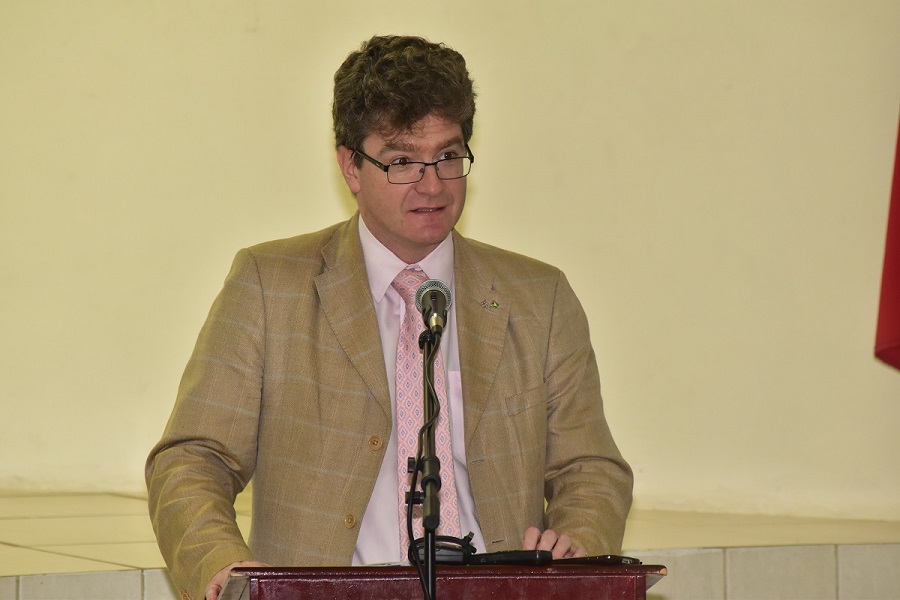 British High Commissioner to Guyana, Mr. Greg Quinn
The second aspect of the training will see the Officers being equipped with skills to identify and respond to criminal acts such as Trafficking in Persons (TIP) and the trafficking of illicit substances.
"In today's world, people attempt to abuse our space by attempting to move illicit substances around, right under your noses. There are those who want to traffic persons and Guyana is coming out very strong against Trafficking in Persons. The immigration department must recognise their roles in ensuring that they are the ones to detect trafficking in persons before they enter," he said.
Minister Felix said that the training is not an isolated one but goes hand in hand with the Citizenship Ministry's policy to promote an efficient immigration service in the country. Referencing the recent launch of the Policy Recommendations and Guidelines for the setting up of an Electronic Visa (E-Visa) and Work Visa System, which will aid in the implementation and development of a modern visa issuance policy and system in Guyana, Minister Felix said that this training will now add to and reinforce Government's push to provide the highest quality service to the public and to visitors, through the provision of knowledge and skills.
"We must view this training also in terms of what we are doing to [strengthen] our passports against fraudulent activities. While we are strengthening passports against fraud, we are also processing and delivering much faster. Most recently, we are embarking on a programme to upgrade our visas application, which is intended to bring improvements to the visas we issue and the turnaround time from application to delivery. So your training must be seen as part of a package, which is intended to protect Guyana and improve our national security," the Minister said.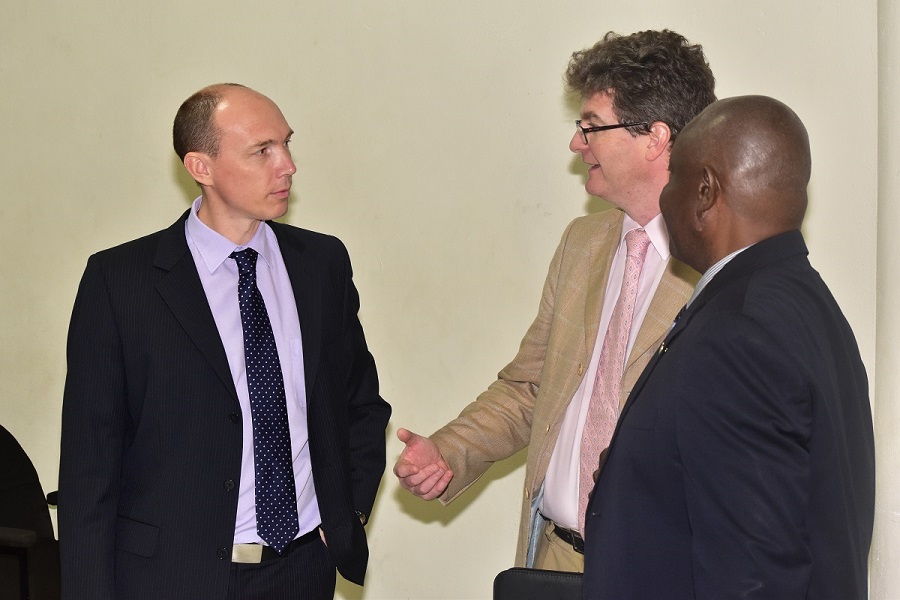 Minister of Citizenship, Mr. Winston Felix in discussion with British High Commissioner to Guyana. Mr. Greg Quinn and Facilitator of the training, Mr. Coran Oakley.
Meanwhile, High Commissioner to Guyana, Mr. Greg Quinn, in his remarks, said that the United Kingdom has been providing significant amounts of support to Guyana on the security sector for many years, the most recent being the re-introduction of the United Kingdom Security Sector Reform Programme, for which President David Granger had advocated.
This training, he said, is a part of the United Kingdom's support in the security sector and will provide an overview of human trafficking and how important the immigration service and Police are in combating this, will help to enhance the existing forgery and interview skills of immigration officers to allow them to deal with arriving passengers in line with Guyanese immigration policy and will increase awareness of the latest trends and concerns in the wider Caribbean region.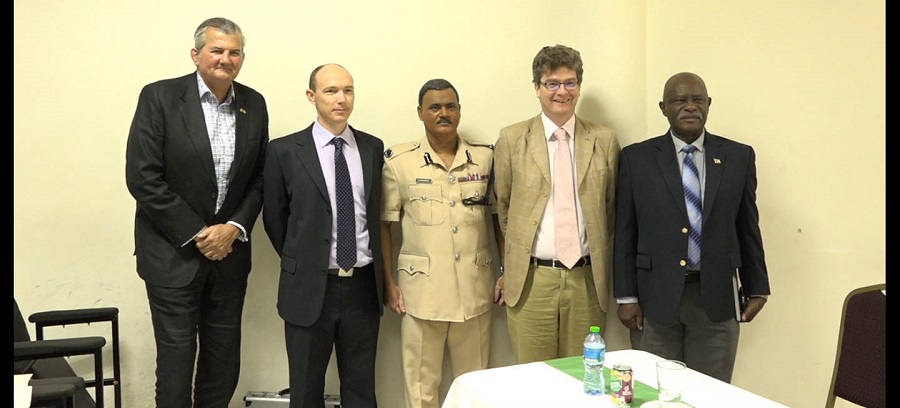 From left: British Senior Security Sector Reform Advisor, Mr. Russell Combe, Facilitator of the Risk and Liaison Overseas Network (RALON) Border Awareness Training Programme, Mr. Coran Oakley, Acting Commissioner of Police, Mr. David Ramnarine, British High Commissioner, Mr. Greg Quinn and Minister of Citizenship, Mr. Winston Felix.
The High Commissioner noted that an effective immigration system is central to security of the state and it is therefore vital to address any issues around immigration that may occur.
"Every country needs strong borders to keep the bad guys out. But at the same time every country wants to encourage tourists and business visitors… I am therefore happy that we have been able to facilitate this training and I am grateful to the facilitator for making the time to come here and deliver it. In addition to providing some additional skills for Guyanese immigration and border officials it will also allow the facilitator to pass on UK experience of some of the tricks of those who seek to abuse the system," he said.