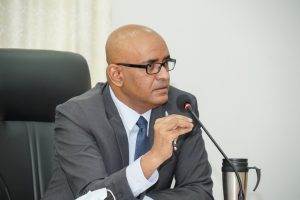 Mr. Bharrat Jagdeo- Vice President
Mr. Bharrat Jagdeo was born on January 23, 1963 in the quiet village of Unity, Mahaica, Region Four. Prior to his appointment as Vice President in the administration of President Dr. Irfaan Ali, Mr. Jagdeo held the office of the Minister of Finance before being elected to serve as the President of Guyana from August 11, 1999 to December 3, 2011.
He was the first Head of State to relinquish office in accordance with the two term limits he signed into law during his presidency.
Following his party's electoral defeat at the General and Regional Elections in 2015, Mr. Jagdeo became the Leader of the Opposition in the National Assembly.
He also holds a number of global leadership positions in the areas of Sustainable Development, Climate Change and Green Energy.