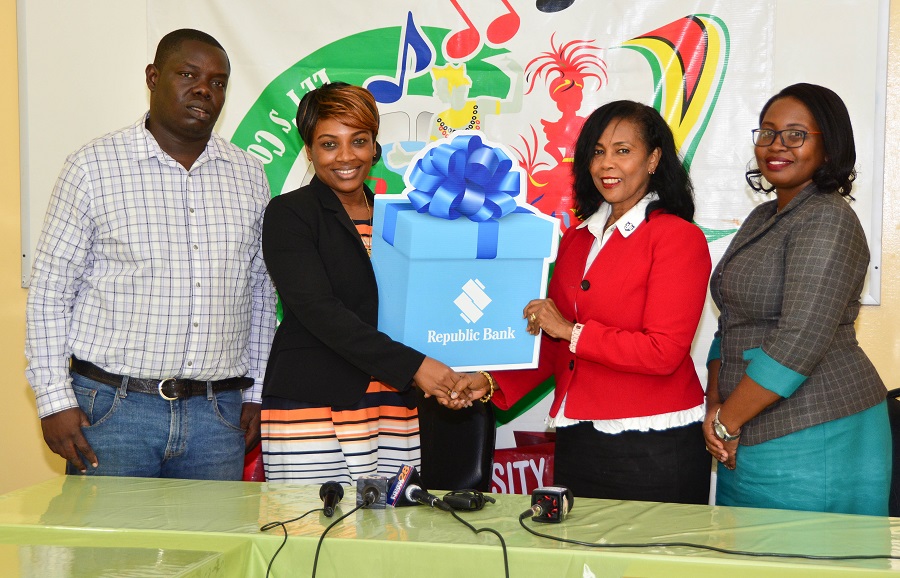 Georgetown, Guyana – (November 09, 2016) First Lady, Mrs. Sandra Granger emphasised the point that, teenage mothers must be empowered and given the tools to succeed, at the launch of the 2016 State of the World Population Report, today, at Umana Yana. "[Teenage mothers] must be given the opportunity to …become agents of positive change in their communities," Mrs. Granger said to the women and children, who attended the event.
Minister of Social Protection, Ms. Volda Lawrence, spoke extensively on issues that are affecting young women across Guyana at the launch of the 2016 State of the World Population Report.
The Report, which was initially launched worldwide on October 20, 2016, was today introduced to Guyana collaboratively by the United Nations Population Fund (UNFPA), the Office of the First Lady and the Ministry of Social Protection. Under the theme; 'Investing in 10 year old girls is the key to sustainable development'.
Speaking on the importance of investing in the re-integration of young mothers into society to allow them to become productive adults, the First Lady notes that teen pregnancy impacts the of health, education, social development and economic well-being of adolescent girls.
"It is a matter of greater concern that Guyana has the highest rate of teenage pregnancy in the Commonwealth Caribbean… Public health officials will tell you the risks associated with early pregnancy, this is why, I believe, the Ministry of Public Health has a policy of moving adolescent mothers to Georgetown as their time for delivery draws near," Mrs. Granger said.
She also noted that young girls are also at risk of cervical cancer, which is the second leading cause of cancer-related death in Guyana, along with other sexually transmitted infections and diseases. "After experiencing a decline in HIV and AIDS and moving to a zero rate of mother-to-child transmission of HIV and AIDS in CARICOM, a nine percent increase in HIV/AIDS cases has been recorded with the majority of new cases reported being among young girls. This will likely have an impact on our records relating not only to the number of HIV/AIDS cases reported, but also to mother-to-child transmission," Mrs. Granger said.
Additionally, she noted that imaginative ways must found to encourage teenage mothers to return to school to complete their education. "It does not matter if they choose to acquire knowledge in traditional or non-traditional fields. It matters that they are choosing to develop and lead productive lives… Our educational officials will need to consciously set aside moral judgement and prejudice and accept those girls in their classes without ridicule or fear of contamination of other students," Mrs. Granger said.
Minister of Social Protection, Ms. Volda Lawrence stated that the report focuses on the choices and investments that have to be made by the older generation for empowerment and future development of the younger generation. "It is imperative… that our Government work in concert with all the relevant agencies to elaborate a collective and coherent plan of action, underpinning the sustainable goals, that will help our children to transition and realise their full potential," Minister Lawrence said.
Holding responsibility for child care and protection, Minister Lawrence said that though faced with many challenges, trafficking of children is one of the most critical areas. She added, "As populations grow and the alleviating poverty becomes more difficult to manage, the incidents of trafficking in persons will spiral globally with the heaviest toll being paid by our vulnerable adolescent girls and young women."
Guyana has a number of key pieces of legislation aimed at protection children and vulnerable groups, including the Child Protection Act, the Sexual Offenses Act, the Labour Act, and the Trafficking in Persons Act. Statistics have shown that over the five year period from 2012 to 2016, there has been an increase of trafficking in children cases reported across Guyana.
Minister Lawrence said that what is more alarming is the significant increase in female trafficking during the period of January to October 2016, "That is why today this report is very important to the Ministry of Social Protection and the Government as a whole because we as combine the statistics in this report with those coming out of the Situation Analysis Report (SitAn) done by UNICEF [which was presented last September] we are be able to draw a map in terms of where there issues are being perpetrated and the number of villages surrounding those areas… and get the police to assist us in stamping out this scourge in Guyana," Minister Lawrence said.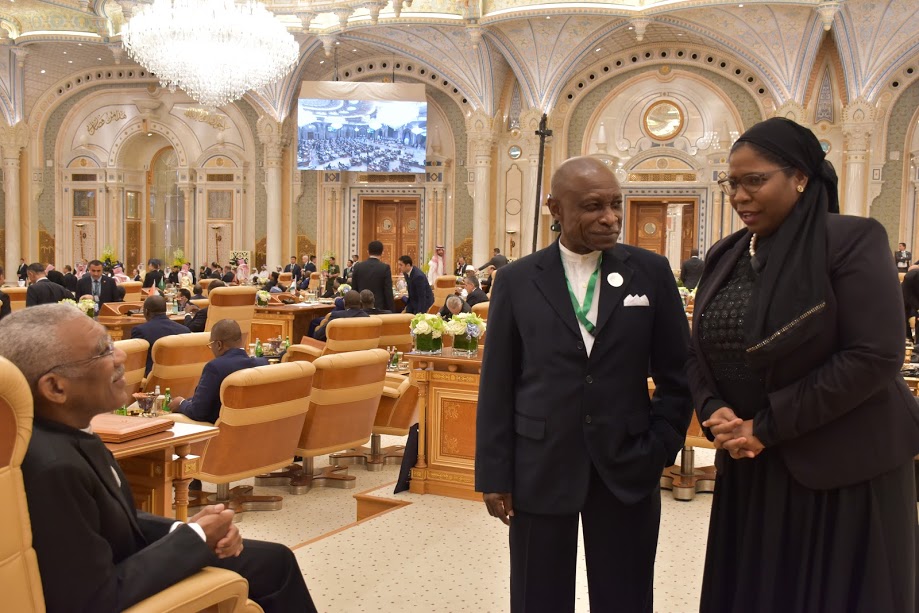 Students who attended the launch of the 2016 State of the world Population Report at Umana Yana.
"The Counter Trafficking in Persons Unit in collaboration with the Ministerial Task Force on Trafficking in Persons, acknowledging this increasing trend, has initiated a number of activities, which include school and community awareness campaigns and the 'road side gaff' programme to teach young children how to protect themselves. For the period 2016 to 2017 the task force envisions the hosting of several street theatre events, earmarked for schools and public spaces to sensitise and educate our children," Minister Lawrence said.
The Ministry's Counter Trafficking in Persons Unit has proposed a plan for 2017 for the creation of a Schools Trafficking in Persons module, which will be implemented in the secondary school curriculum in Guyana. The Unit also intends to hold a nationwide campaign aimed at making persons more of the proposed release of A Victim's Rights Handbook.
Meanwhile Minister within the Ministry of Education, with the responsibility for Youth, Ms. Nicolette Henry emphasised the need for education for young girls, which she sees as an important factor that will benefit society. "There should be no discrimination when it comes to education… Not educating our girls is a significant barrier to social and economic progress. [A] girl's education is an integral part to virtually every aspect of development," Minister Henry said.
Minister within the Ministry of Public Infrastructure, Ms. Annette Ferguson noted that with an increase in opportunities for a woman's career path, with traditionally male jobs now being taken up by an increasing number of women "Our young people must be encouraged to take up non-traditional careers, especially in the science and Technology fields… If young people are to take up a non-traditional career path, we must make adjustments in school's curriculum, to make sure our young people are equipped to fit into the jobs of the future," Minister Ferguson said.
In addition, Minister within the Ministry of Indigenous People's Affairs, Ms. Valerie Garido-Lowe, stated that culture plays an important part in encouraging Indigenous girls to educate themselves.
"I have faith in our Government that we are going to ensure that by we can look back proudly and say that our girls have been empowered, and they understand the vision ahead and that includes our indigenous girls," Minister Lowe said.
In a message that was read by Acting UN Resident Coordinator, Mrs. Ruben Robertson for the Executive Director of UNFPA, Dr. Babatunde Osotimehin, he said that "We have every reason to prioritise the development of every girl's capabilities. Our collective future depends on it… The real test of [the Report's] success will be whether every 10 year old girl, today, will be healthy, educated and protected in 2030. The world cannot afford to squander the potential of every one or even one more girl. Instead we must…do everything within our power to ignite that potential among the 10 year old girls for her sake and for the sake of all of us."
Also present at the event were several representatives from UNFPA, representatives from Women across Differences (WAD), and several schools in Georgetown. The State of World Population Report is presented each year by UNFPA and serves as a framework and guideline on social issues and its possible solutions.