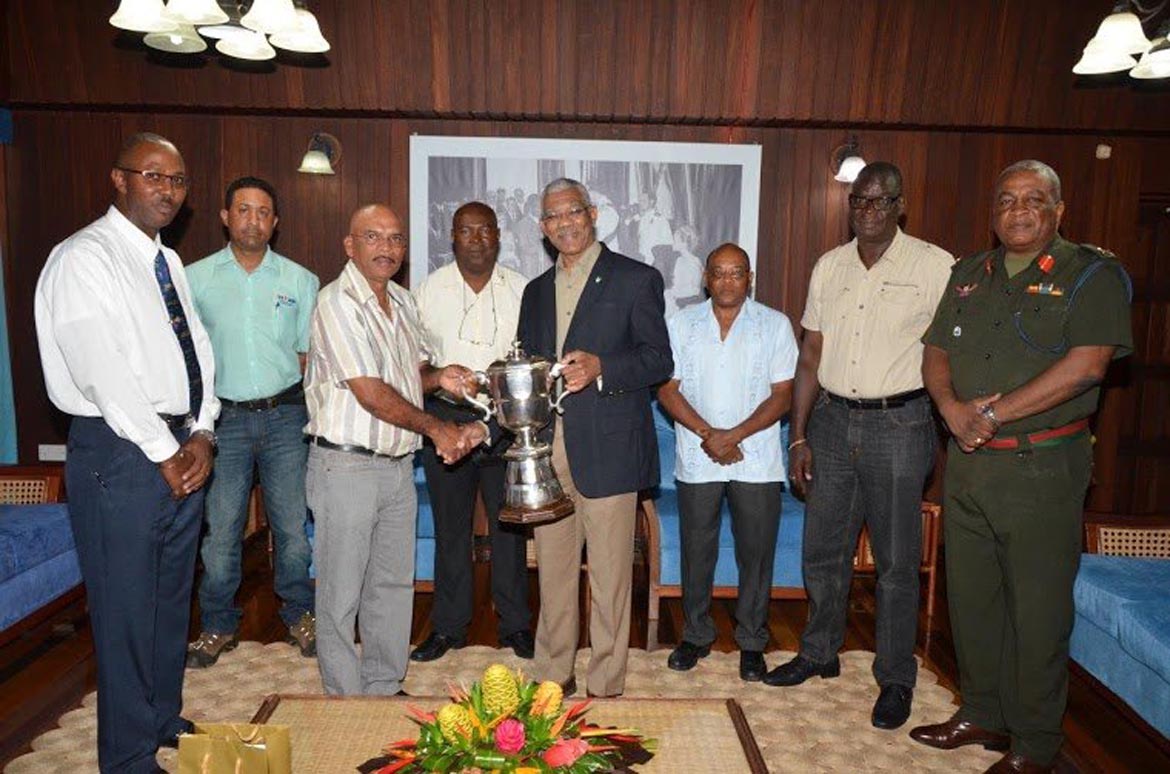 Georgetown, Guyana – (June 7, 2016) President David Granger, today, received the West Indies Fullbore Shooting Council (WIFBSC) Short Range trophy, which was presented to him by members of the Guyana National Rifle Association (GNRA), during a courtesy call at the Ministry of the Presidency. The team recently retained the coveted trophy, having won it in 2014. The Head of State also accepted an invitation to become the patron of the Association.
President Granger described rifle shooting as a sport of pure skill, which is developed over a period of time and assured the GNRA of his Administration's support.
"Shooting should not be regarded as an elite sport for a few people. I would like to see people in other regions becoming involved in Regional Rifle Associations… I would like to recommit myself to supporting this sport. It is an area in which Guyana has achieved prominence in the Region and further afield and I would like to see more people involved in shooting at targets rather than shooting at one another," President Granger said.
Meanwhile, army Chief of Staff, Brigadier General Mark Phillips, who is also the president of the GNRA, said that having the President as patron of the Association is a tradition as it is a position that every past president of Guyana has accepted.
The local shooters, who scored an overall total of 1120.70 points after competing at the 300, 500 and 600 yards categories, dedicated the win to the country on the occasion of its Golden Jubilee of Independence Anniversary.
The team's coach, Mr. Paul Slowe said that the trophy is a symbol of shooting supremacy in the Caribbean, noting that in the last 10 years Guyana has only lost twice. He expressed the GNRA's gratitude to the Government and sponsors whose support is vital to the Association, particularly since shooting is not a spectator sport.
President David Granger being presented with the championship trophy by the GNRA's Captain, Mr. Mahendra Persaud, while members (from L-R) Mr. Ryan Sampson, Mr. Dylan Fields, Mr. Lennox Braithwaite, Mr. Terrence Stuart, Mr. Paul Slowe and Brigadier General Mark Phillips look on.
"We boast that of all the sporting disciplines in Guyana, none can compare to us. Every event that we go to, whether it's at the international stage at the Commonwealth Games, where we are the top Caribbean team or regionally, there is no team that can bring back as many trophies and medals as we do," Mr. Slowe said.
Next year, the GNRA will be celebrating its 150th anniversary and to commemorate this milestone, a major competition is being planned for October 2017 with participating teams from the United Kingdom, Canada, United States, the Caribbean and elsewhere.