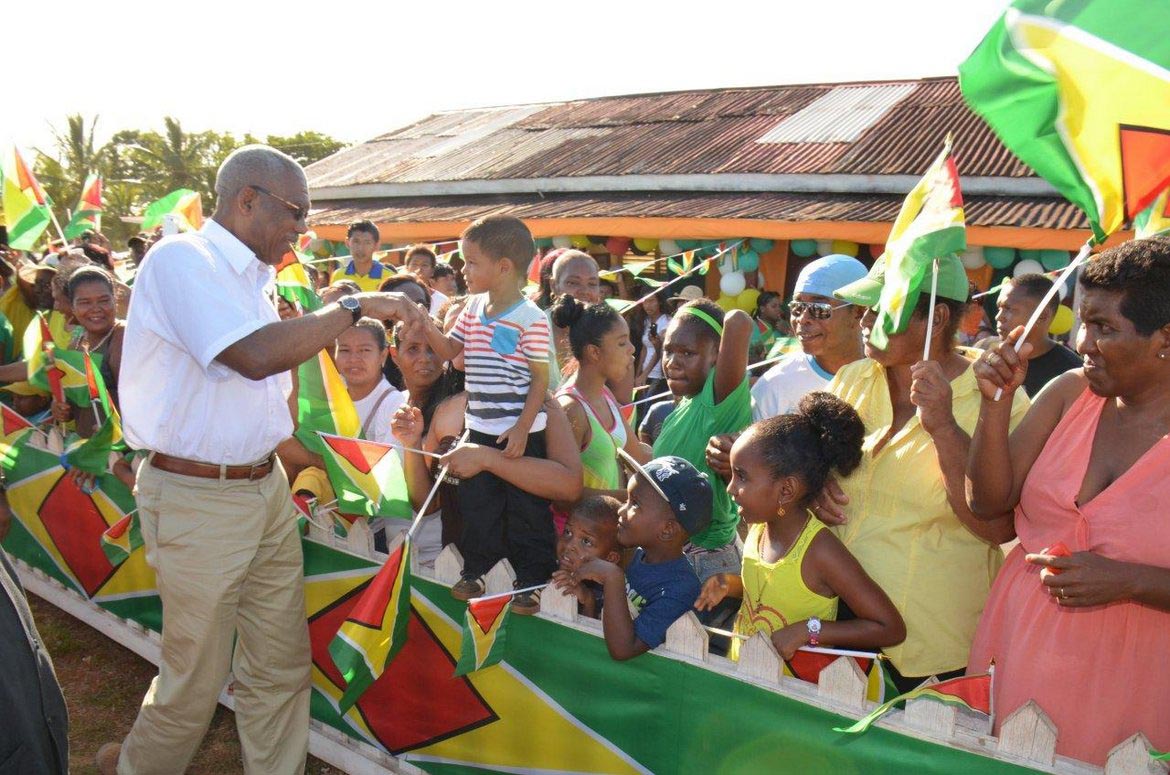 Georgetown, Guyana – (March 10, 2016) President David Granger, last evening, declared that he has a vision for Barima-Waini (Region 1), which will ensure that its residents are educated, empowered and have the type of energy generation capacity they need to ensure economic activities that will develop the region and the country as a whole.
The President was in Mabaruma Settlement, which will soon be named a town, last evening, to meet with residents for the first time since taking office. He was joined by Minister of Social Protection, Ms. Amna Ally, Minister of Natural Resources and the Environment, Mr. Raphael Trotman, Minister within the Ministry of Health, Dr. Karen Cummings and Minister within the Ministry of Communities, Ms. Dawn Hastings-Williams. The team was welcomed by a jubilant crowd of residents and school children, who waved the Golden Arrowhead and sang national songs.
President David Granger greeting a young resident of Mabaruma just after arriving at the Mabaruma air strip to a jubilant welcome from residents. It is the President's first visit to the community since taking office.
At the meeting held that afternoon, the President told residents that strong local administrations, together with the Central Government will ensure that the foundation is laid for economic development. He said, "Local Government is not about politics, or about singing and dancing. It is about governing yourself so that you can develop your economy and local Government will open the doors for enterprise."
President Granger called on the first ever Town Council, which will be elected on March 18 in the first Local Government is 23 years, to focus on two priorities when they get in office. The first is education and the second is enterprise and employment. He said that local decision makers will have the power to determine what is best for their communities and region.
"All politics is local. You are here tonight to celebrate your ability to elect the people of your choice. No longer will anybody sit down in Fourth Street, Kingston and decide what is best for you. No longer will the Central Government overrule your decisions but you in your Constituencies will be able to decide what is best for you… Every single thing that you need in this region, you can produce," he said.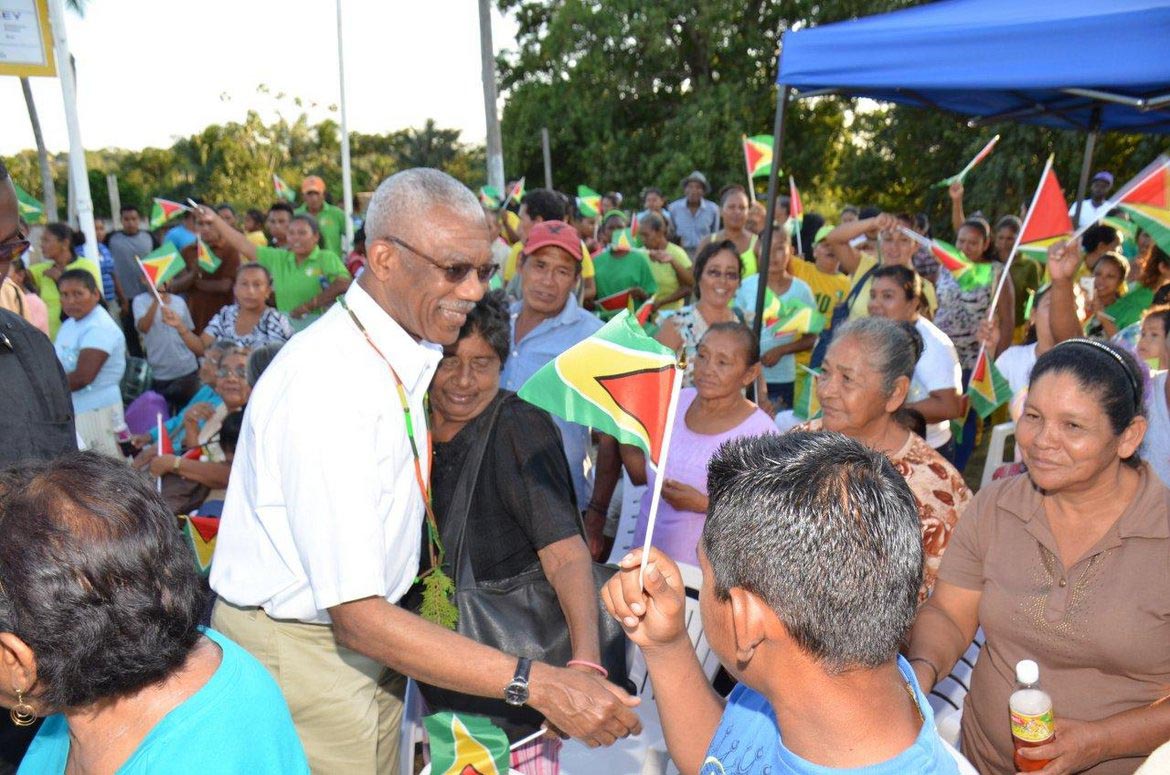 President Granger is warmly greeted by residents at a meeting in Mabaruma.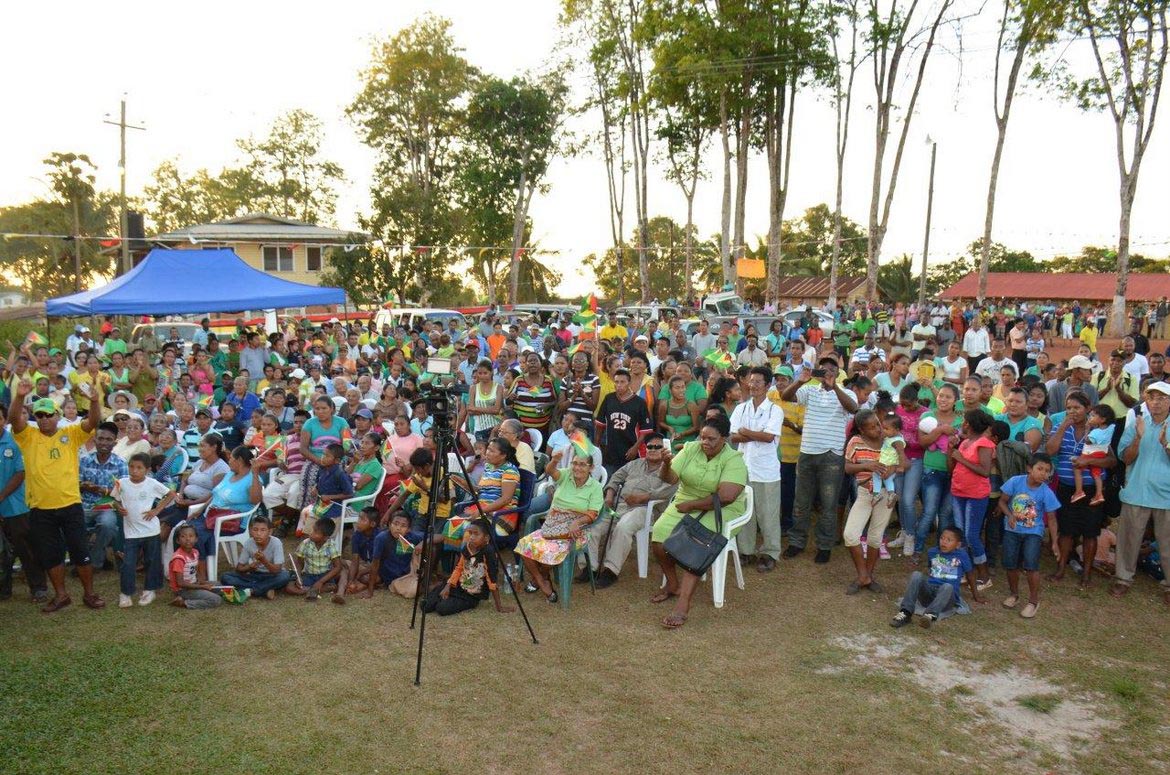 A section of the crowd that turned out to see the President and his team.
The President also indicated that regardless of what political party a person supports, all citizens have the right to sit at the table to make the decisions that are best for the development of their community. He emphasised the importance of the return of Local Government Elections pointing that it is more than reason for celebration.
The Head of State said, "This is a blessed day; the day that democracy is coming back to Mabaruma after over two decades… Local democracy celebrates national unity. It celebrates the right of every individual. It celebrates the right of all communities to govern their affairs."
President Granger also said that everyone, who has come forward to stand for election as Council members are brave and courageous because they have decided to take a seat at the table to determine what is best for Mabaruma.
"We want you to be able to sit down around the table. We know that some of you don't vote for APNU-AFC but we want you to do is think of yourselves as residents of Barima-Waini, think of yourselves as citizens of this great town," the President said.
He said that his vision for Barima-Waini is one where infrastructure is developed with highways and a modern road network and where renewable energy generation provides cost effective and reliable energy to citizens. He added that the region is also in need of tertiary institutions, better health facilities and even spoke of a sport stadium and modern aerodrome.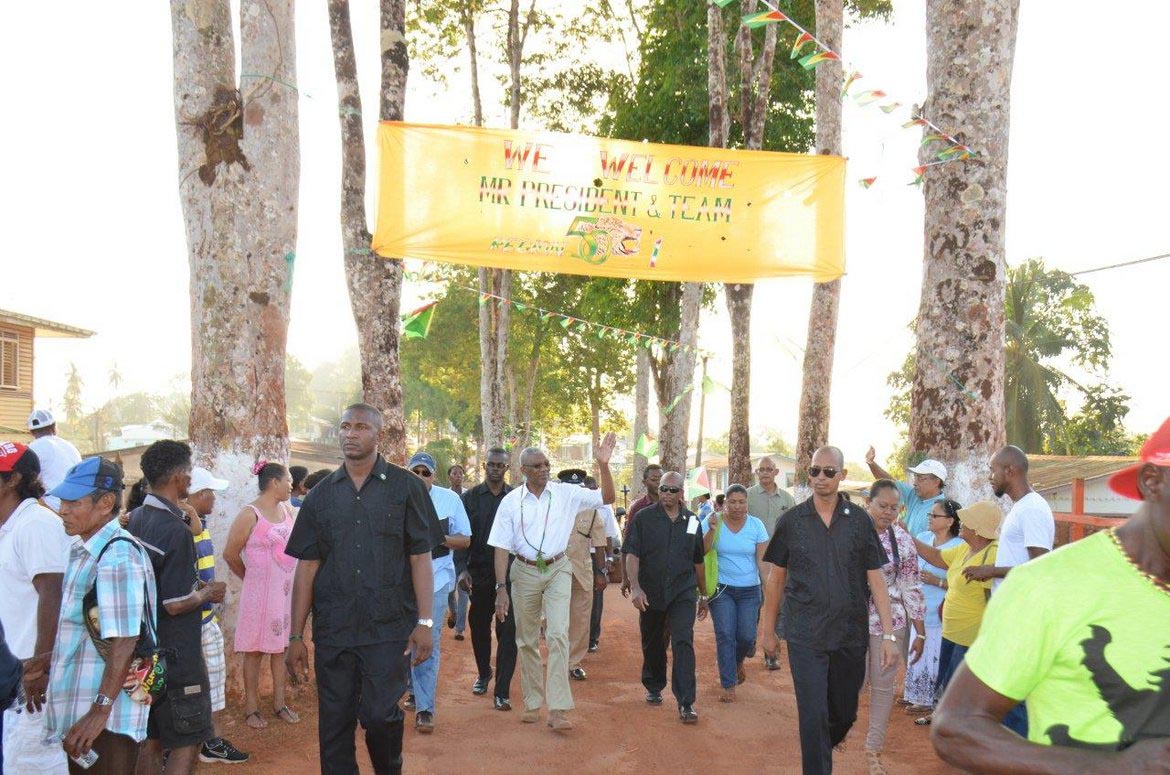 President David Granger on his way to meet with residents in Mabaruma.
The President said that Central Government will support the local administration to ensure that those plans become reality. He also said that the region has all the resources it needs to develop industries and his administration is keen to work with local leaders to support that effort.
"I have not come to make you civil servants. I have come to open doors for entrepreneurs to enter… I want to see Mabaruma as a centre of business for this great region… Your town council is going to be like a chamber of commerce developing this great region," he said.
Minister Cummings also spoke at the meeting and noted that Mabaruma and Barima-Waini as a whole became a casualty of a corrupt system that stymied the region's development but that on March 18, that will come to an end. "We return the powers of local authority to the people of Region 1, where it belongs," she said.
Meanwhile, Minister Hastings-Williams, who also spoke at the meeting, used the opportunity to call on residents to pursue agro-processing as a means of income generation. The Minister also handed over agricultural tools to residents of Smith Creek and Thomas Hill after having visited those communities on a previous visit. During that visit, community members had asked for the tools to help them to increase their agriculture output.
President Granger will visit Rose Hall today and Anna Regina and Lethem over the next few days.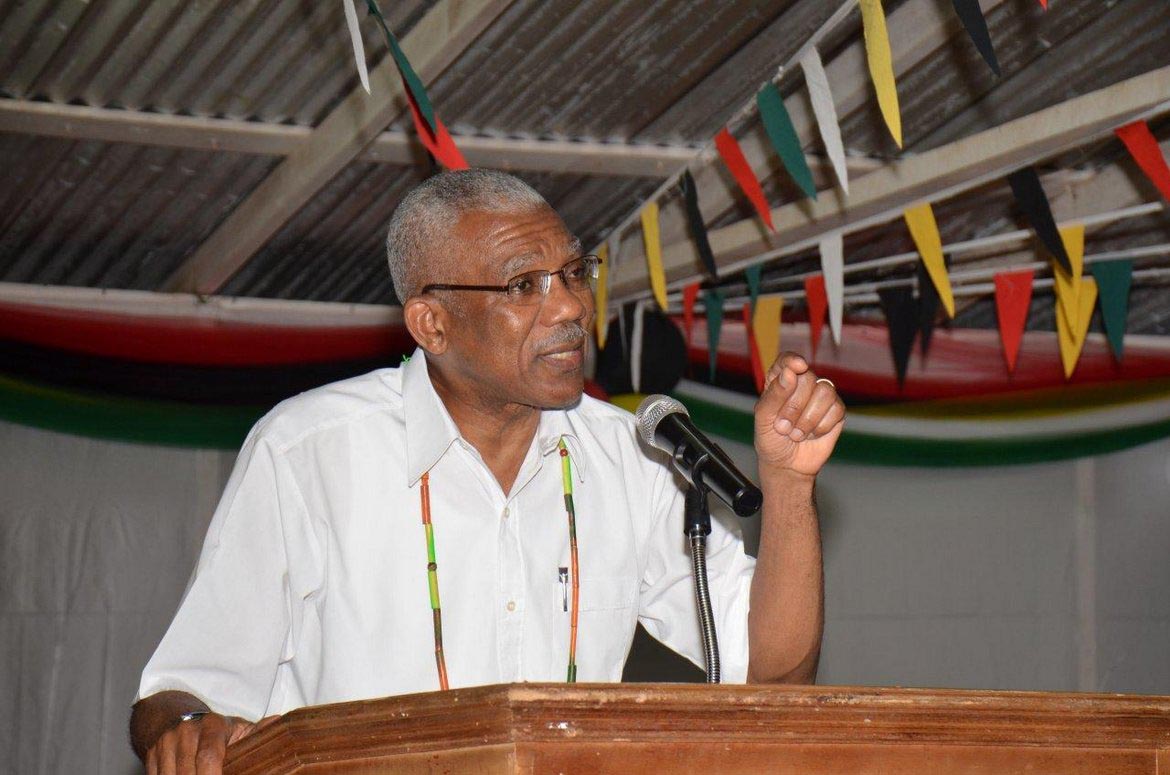 President David Granger told residents that they have all the resources they need to ensure economic development for their region during his address at the meeting in Mabaruma.