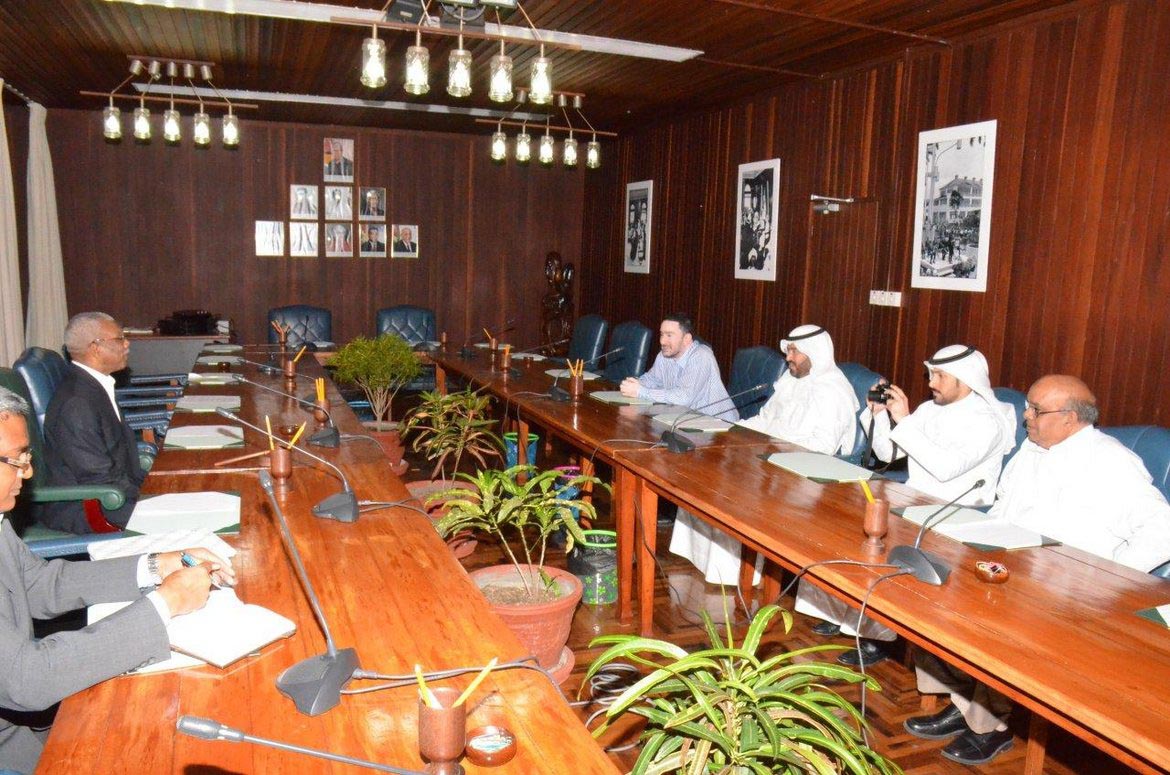 Georgetown, Guyana – (March 10, 2016) President David Granger was, today, paid a courtesy call by two officials from the Zakat House, a charitable government agency based in Kuwait, which has expressed an interest in supporting the 'Five Bs' programme.
The officials were accompanied by Director of the Central Islamic Organisation of Guyana (CIOG), Shaikh Moen ul-Hack and General Secretary, Mr. Khakan Ramjohn, at the Ministry of the Presidency.
Director of the External Affairs Department of the Zakat House, Mr. Adel K.S Al-Jeri and Mr. MH Ali Fahad said the organisation is interested in providing assistance to the President's "Boats, Buses, Bicycles +Breakfast and Books" ('Five B's) programme to enable children to attend school. Zakat House has been sponsoring orphans in Guyana since 1995. It started with just 14 children and today that number has grown to about 126 in Essequibo, Demerara and Berbice.
The organisation spends a total of $1M per month on the provision of stipends alone. Additional costs are incurred to provide education, healthcare needs and living accommodation.
President David Granger in discussions with (from right) CIOG's General Secretary, Mr. Khakan Ramjohn, Mr. MH Ali Fahad and Mr. Adel K.S Al-Jeri from the Zakat House and CIOG's Director, Shaikh Moen ul-Hack.
​
In a brief comment, the CIOG's Director explained that the mission of Zakat House is to alleviate poverty and promote literacy, an objective which is consistent with that of President Granger's 'Five Bs' programme.
"The success story is that today some of the [beneficiaries] are accountants, pharmacists, teachers, nurses and so on. So it's not just about giving them financial assistance, it is about making it possible for them to have an education, so that they can stand on their own two feet," Shaikh Moen ul-Hack said.
Zakat House, established in 1982, sponsors about 30,000 orphans from various part of the world and engages in humanitarian and relief activities. In addition to providing support to underprivileged children in Guyana, the organisation has also constructed two mosques; one at Meten-Meer-Zorg, West Coast Demerara and the other at Hogg Island in the Essequibo River.