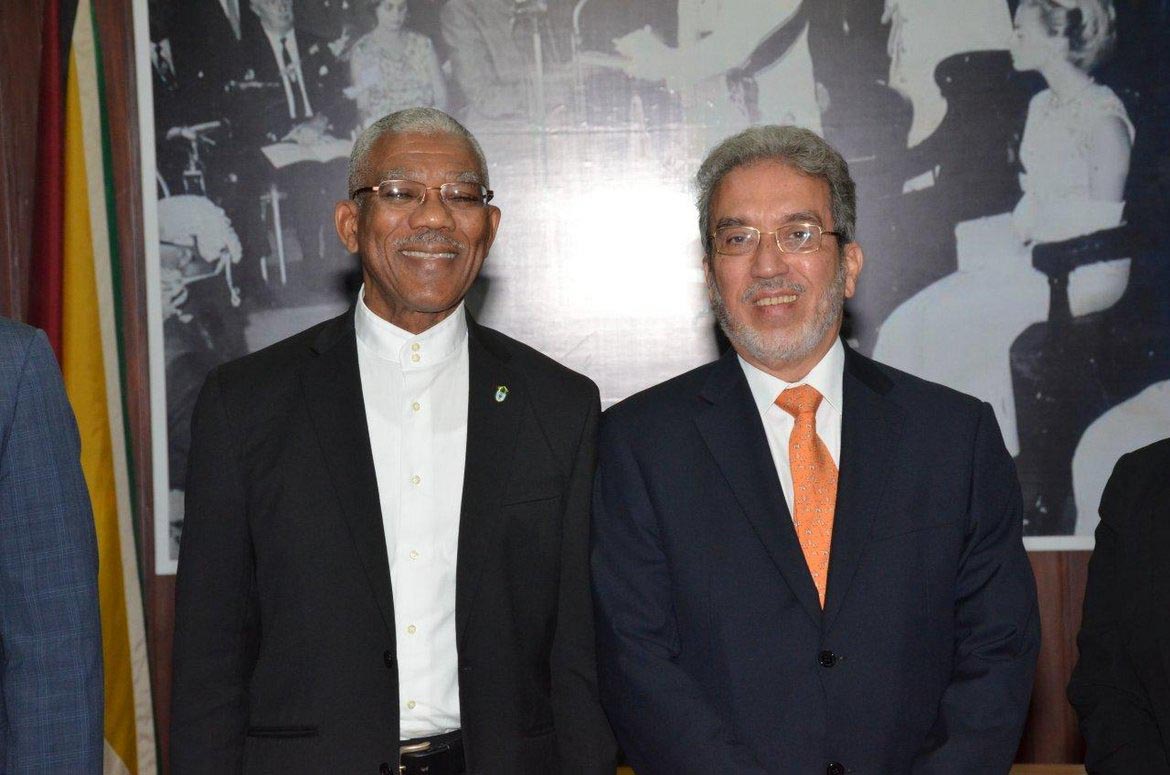 Georgetown, Guyana – (January 20, 2016) Newly accredited Ambassador of Ecuador to Guyana, Mr. Rafael Quintero, pledged to pursue stronger bilateral relations between the two countries, at a simple installation ceremony held, this morning, at the Ministry of the Presidency.
The new non-resident Ambassador made these remarks as he presented his Letters of Credence to President David Granger. He noted that solid bilateral ties are part of the solution to the problems that plague this region. To this end, he pointed out that the many organisations, including the Organisation of America States (OAS), the Union of South American Nations (UNASUR) and the Southern Common Market (MERCOSUR), in which Guyana and Ecuador share membership, provide a platform for even greater collaboration.
"For us, multilateralism acquires a particular importance when it is combined with bilateral arrangements and relations so… we are not only interested in bilateral relations but the multilateral relations that Guyana has," he said. The Ambassador also said that his country looks forward to cooperating with Guyana economically, socially, culturally and politically.
President David Granger and newly sworn-in Ambassador of Ecuador to Guyana, Mr. Rafael Quintero.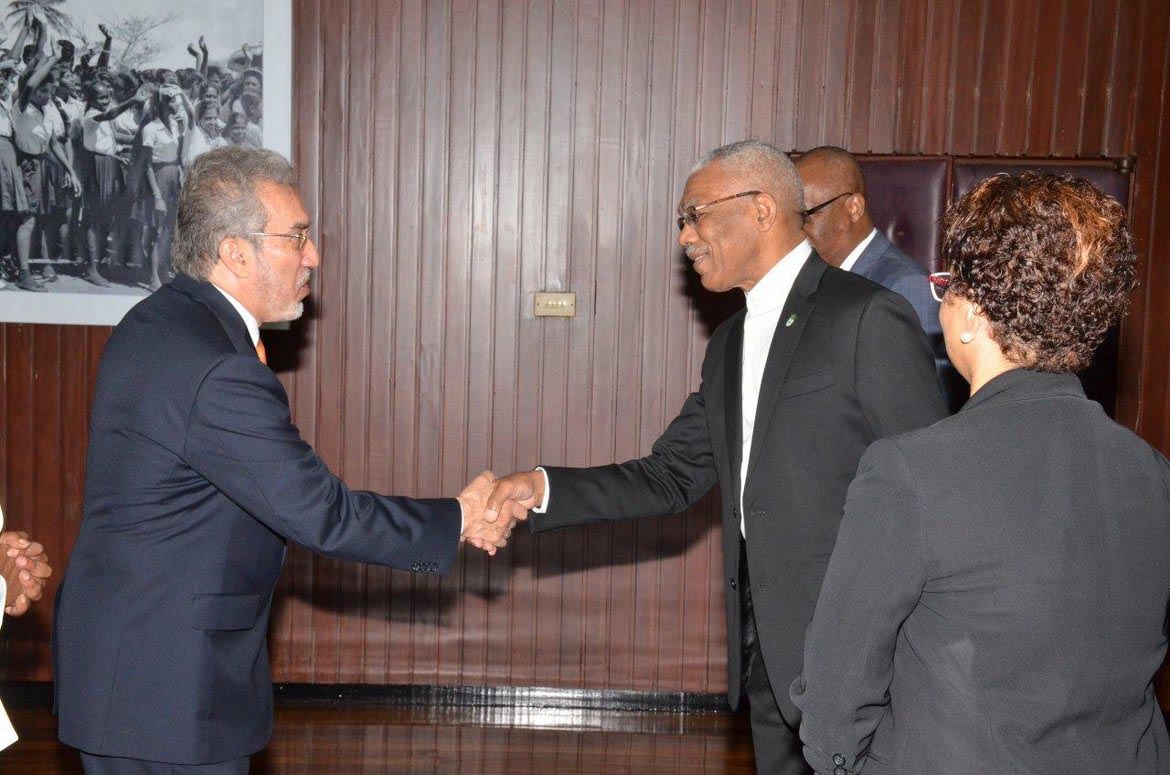 His Excellency, President David Granger shakes hands with Ambassador, Mr. Rafael Quintero, at his office this morning. Minister of State, Mr. Joseph Harmon is partly pictured in the background (behind the President).
Meanwhile, President Granger, in brief remarks, said that Guyana values the strong ties of friendship and close cooperation, which exists between the two countries and peoples since the establishment of diplomatic relations in 1974.
"Our relations over the past 42 years have been fruitful. Our friendship flourished because of our shared goals and ideals. We have a common desire to work together at the bilateral and regional levels to improve the well-being of our peoples and the integration of our continent. Guyana and Ecuador have strengthened their relations especially in the area of people-to-people contact, through the introduction of reciprocal visa-free travel for our citizens. We are satisfied with the recent initiatives to strengthen bilateral cooperation through the proposed agreements on Scientific and Technical Cooperation and on Culture," President Granger said.
The Head of State also noted that the two countries have enjoyed excellent relations at the regional level, apart from the advances made at the bilateral level.
"Our principled policies – especially our adherence to democratic government; our respect for human rights; our concern about climate change; our commitment to regional integration and our pursuit of the peaceful resolution of international controversies – have contributed to our mutual understanding. This is especially so within the framework of the Union of South American Nations (UNASUR), the Southern Common Market (MERCOSUR) and, more recently, the Community of Latin American and Caribbean States (CELAC)," the President said.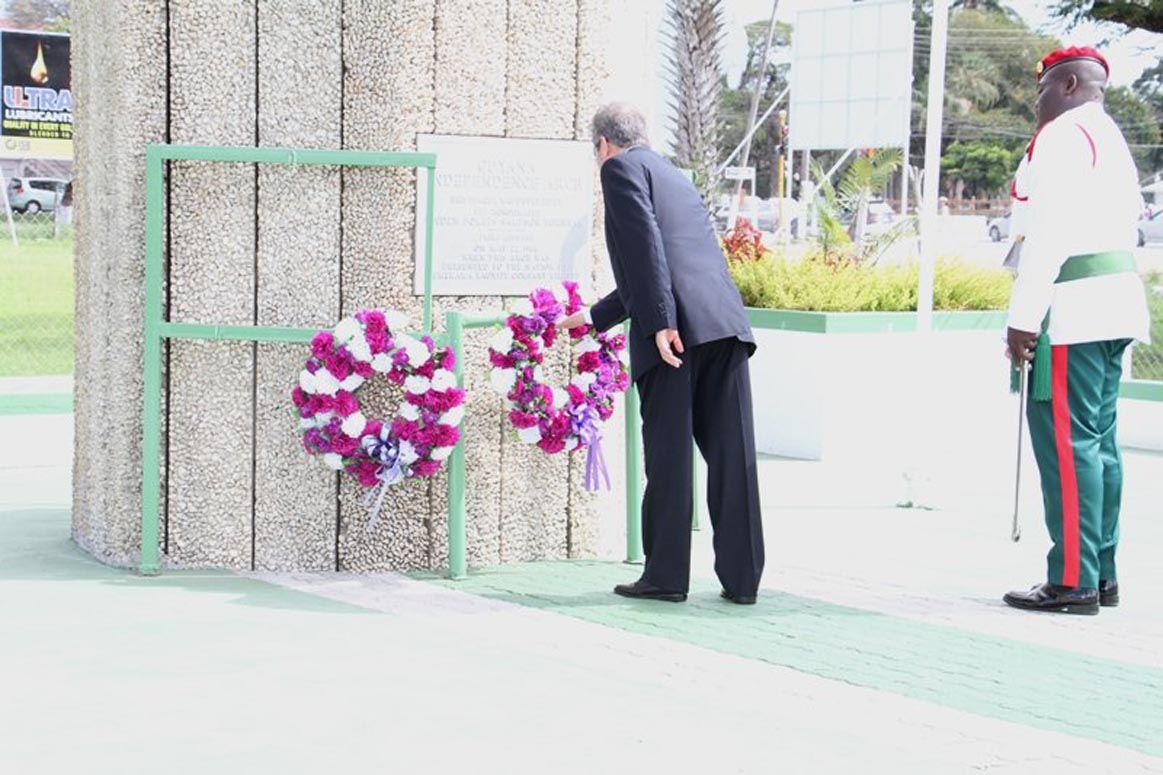 Ecuador's Ambassador to Guyana, Mr. Rafael Quintero, lays a wreath at the Independence Arch, Brickdam after presenting his credentials to President Granger this morning.