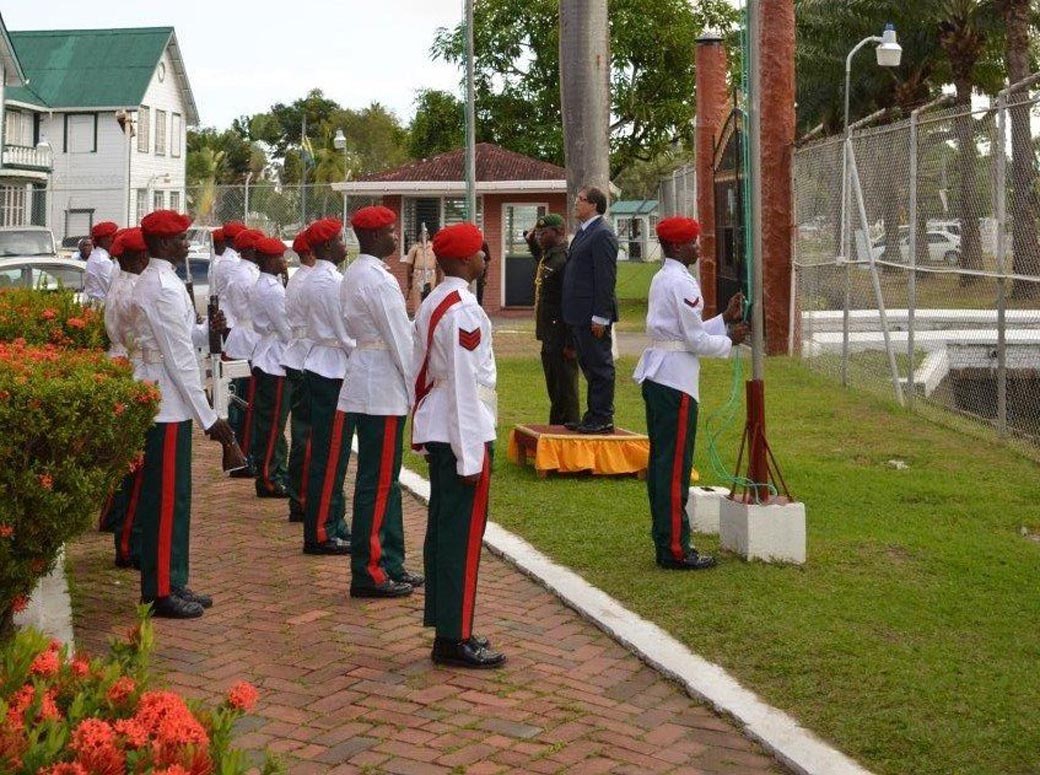 Georgetown, Guyana – (January 6, 2016) President David Granger said that the appointment of a new Italian Ambassador to Guyana provides many opportunities for collaboration, particularly in the area of agriculture, public health, public infrastructure, and telecommunications.
The Head of State made these remarks as he accredited His Excellency, Silvio Mignano as the non-resident Ambassador of the Republic of Italy to the Republic of Guyana, at a simple ceremony held earlier today, at the Ministry of the Presidency.
"Guyana's focus for the next four years will be on economic development through these four fields. We would value and welcome Italy's cooperation to enhance our national economy," President Granger said.
Ambassador Silvio Mignano being welcomed at the Ministry of the Presidency with a military salute by ranks of the Guyana Defence Force
Guyana and Italy have enjoyed friendly bilateral relations for the past 49 years. The two countries established diplomatic ties in 1967 and have since cooperated at the bilateral and multilateral levels. This level of cooperation will continue in the future as Guyana will be considering the candidature of Italy to the United Nations Security Council for 2017-2018.
"Guyana, like Italy, shares fundamental values and is committed unreservedly to the purposes and principles enshrined in the Charter of the United Nations. We are guided by the principles and purpose of the United Nations, especially for the settlement of all international disputes by peaceful means and for the avoidance of the threat, or use, of force against the territorial integrity or political independence of any State," the President said.
He also spoke of Guyana's commitment to achieving the 2030 Sustainable Development Agenda and to continue to engage other countries on global issues such as climate change. "We are committed to work with the Italian Republic in order to achieve our developmental goals…We are confident that your appointment as Ambassador of the Italian Republic to the Cooperative Republic of Guyana will serve as a catalyst for enhanced cooperation and strengthened bilateral relations between our two countries," he said.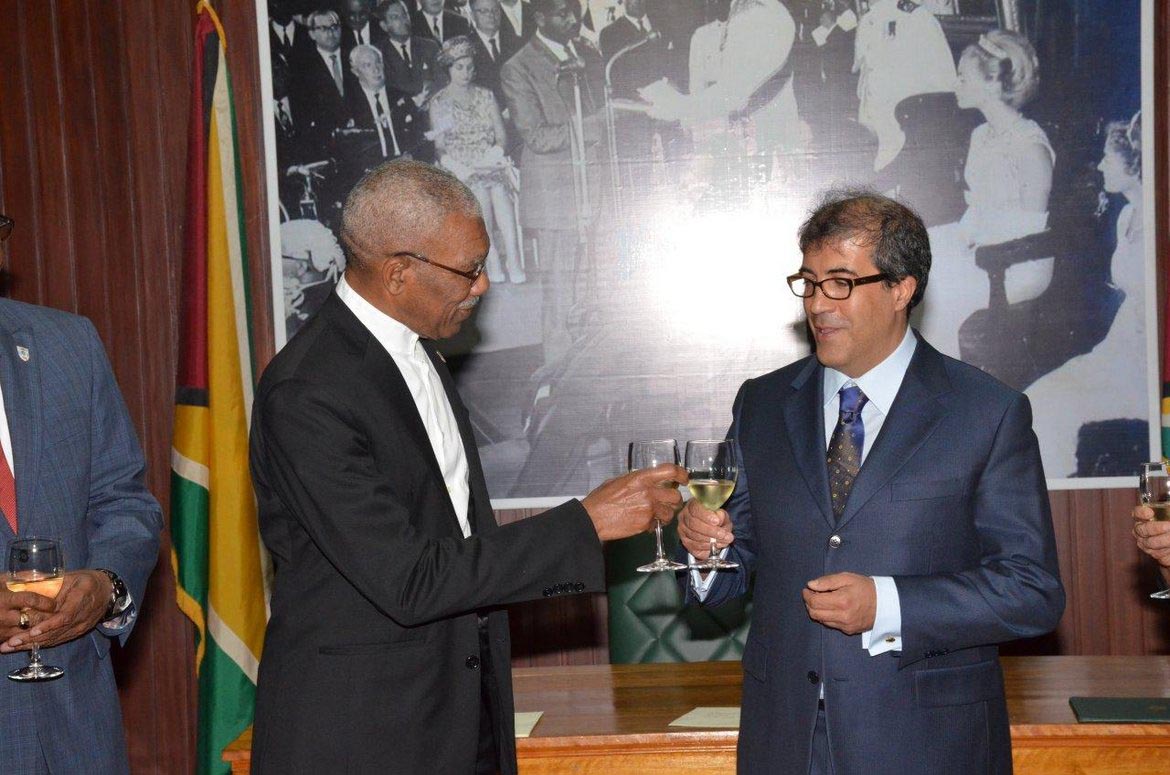 President David Granger shares a toast with Ambassador of Italy to Guyana, HE Silvio Mignano, after the accreditation ceremony, today.
The Head of State also took the opportunity to express Guyana's appreciation to Italy for its initiative for increased cooperation with Caribbean States through the CARICOM and other regional organisations.
Meanwhile, the Ambassador, in his remarks, said that Guyana and Italy follow converging paths that lead to peace, stability and the reduction of poverty in the world. He too spoke of his Italy's cooperative initiative for CARICOM countries. "It is our view that one of the wisest and useful approaches to meet the challenges of globalisation must be economic and commercial opportunities…" the Ambassador said.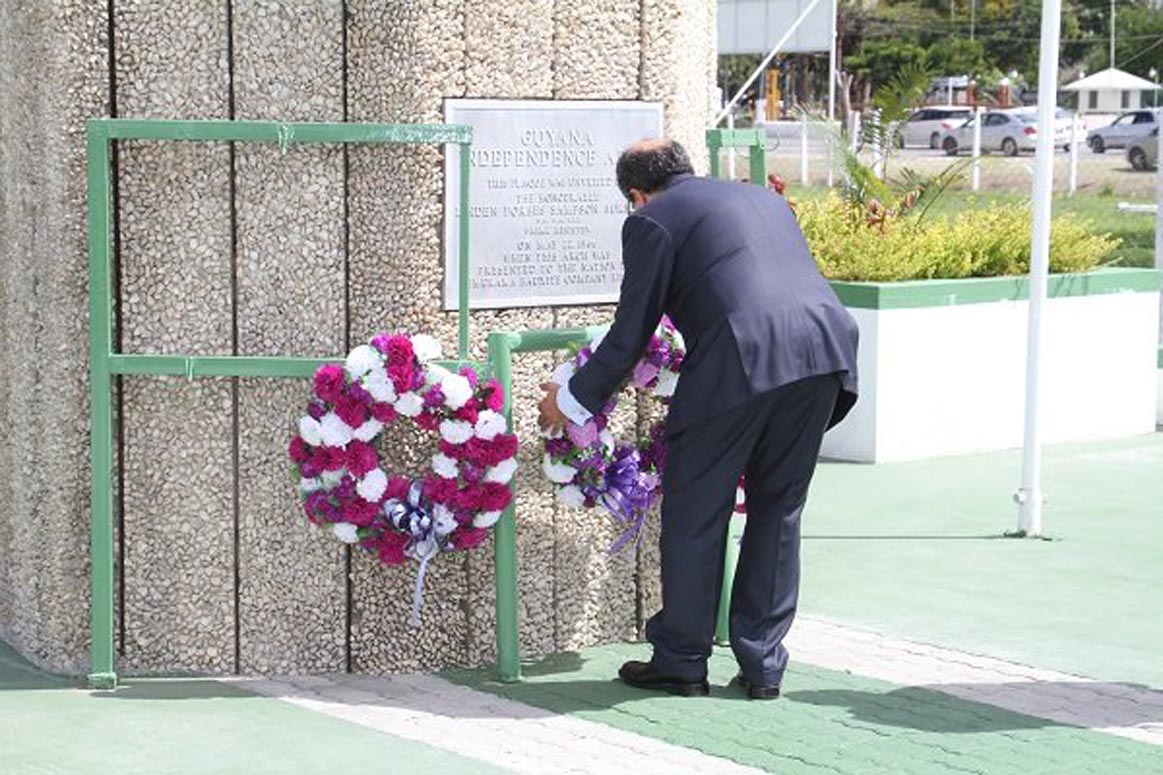 Italian Ambassador to Guyana, HE Silvio Mignano lays a wreath at the Independence Arch, Brickdam as a mark of respect for the country he has been appointed to serve.