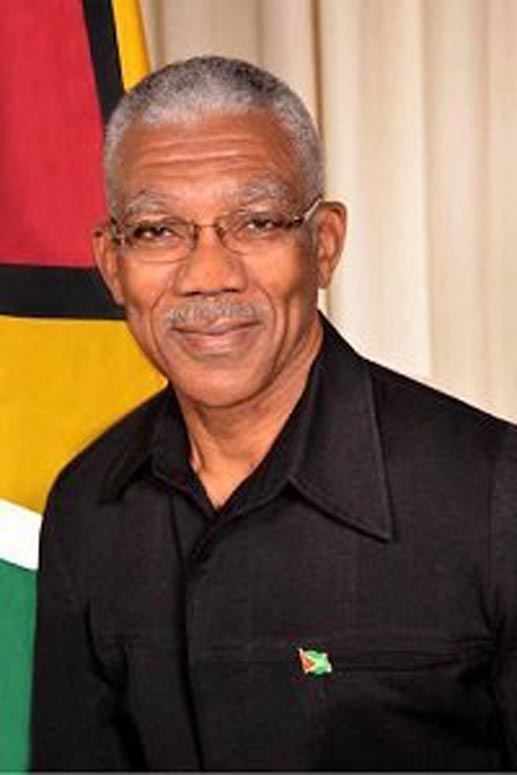 Georgetown, Guyana – (January 7, 2016) In the wake of protest action from vendors, who usually ply their trade on the section Merriman's Mall where operations have been temporarily ceased, President David Granger has said that vendors must be provided with suitable spaces to operate but the City Council must also be able to enforce the City's by-laws.
The President was at the time responding to a question posed by Ms. Onicka Jones, a Journalist employed by the National Communications Network (NCN), during a recording of the television show, "The Public Interest".
"The City Council has responsibilities. It has by-laws and regulations. I have been advised that the Town Clerk actually had meetings with the vendors. Warnings were actually given months ago," he said.
On this note, President Granger said that it is understood that a change in location can affect their livelihoods and the City Council must put arrangements in place to ensure that those displaced are given accommodation at appropriate locations to ply their trade.
"…There is a large vending population in Georgetown and we must accept that. Some people prefer to buy from vendors, but vendors must conform to the laws. They must not leave debris and rubbish [scattered on the ground] and they must not go into prohibited areas. The City Council must provide areas for them and they must abide by the municipality regulations," the President said.
In an invited comment, Town Clerk, Royston King said that City Council was forced to temporarily suspend vending in the section of Merriman's Mall between Cummings Street and Orange Walk, since vendors were not adhering to waste disposal and other guidelines that had been communicated to them last November.
"We told them that their stalls should be made to a specific height, colour and size; that they should have appropriately covered receptacles to dispose of their garbage in an environmentally friendly way; that they should not drop their waste into the North Road or Church Street Canals; that they should not park their vehicles on that stretch… and the area should be left clean at the end of the day. That was not adhered to. And so out of an abundance of concern, we suspended vending so that we can clean the environment," he said.
However, a temporary area on the Mall, between Cummings and Light Streets, was identified for them to operate, while the Council evaluates their operations to ensure that it falls in line with City by-laws. Meanwhile, the area that was temporarily suspended will be cleaned and based on the vendors' adherence to guidelines; a decision will be made on whether they can return to that location.
He said, "They are providing a valuable service to the people, [for] which we are grateful. Also, they have a right to make a livelihood. What the intention is; is to strike a balance between their rights to make a livelihood and our responsibility to deliver a clean and healthy environment… During this time, the council will fabricate the stalls, the council will install receptacles and other facilities that will allow those vendors to ply their trade in a way that will not offend the aesthetics of the environment or compromise the health of the communities that are contiguous to that stretch."