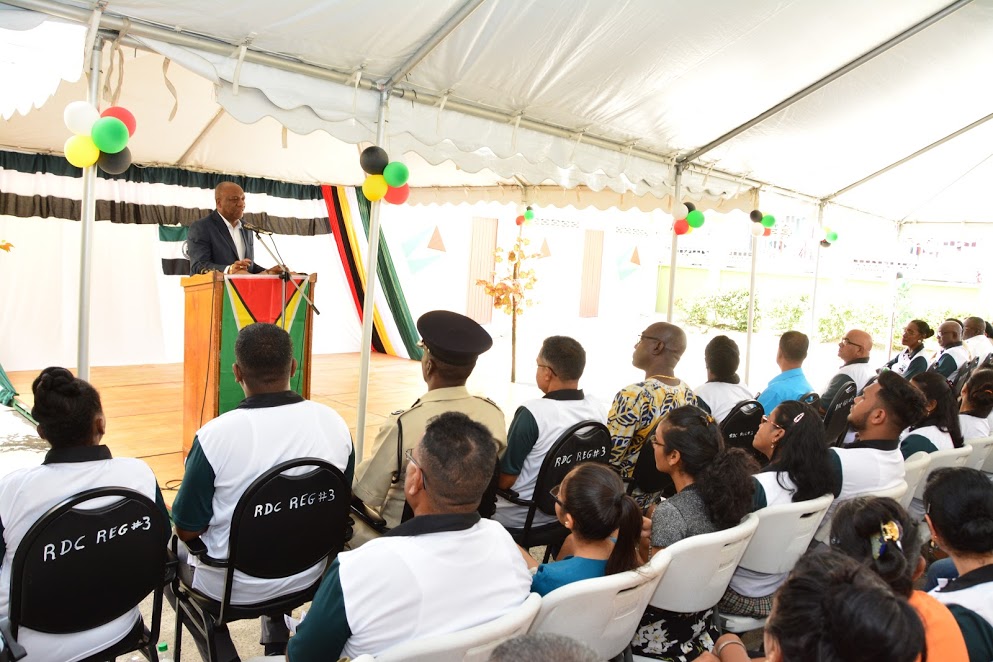 Georgetown, Guyana – (December 12, 2015) Minister of State, Joseph Harmon, says a new dawn is breaking for Guyana and especially the people of Bartica, in his keynote address at the commissioning of the multi-million-dollar Aruwai Whitewater Resort in the Cuyuni/Mazaruni area today.
Minister Harmon said the opening could not have come at a more opportune time, since Bartica will soon become Guyana's first 'green' town, mere months away from the country's 50th Independence Anniversary.
"This resort in a very short time has transformed a small, insignificant island into a magnificent edifice. It truly comes at a time when Guyana has so many new beginnings politically and otherwise," he said, before unveiling the plaque and declaring open the resort.
The newly opened Aruwai Resort located in Region Seven, minutes away from Bartica.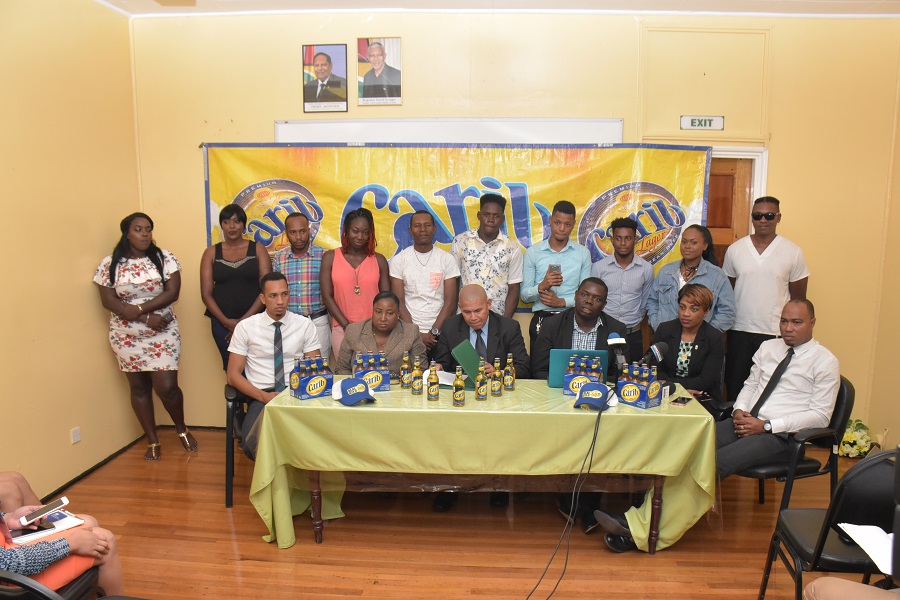 Minister of Tourism, Catherine Hughes
Minister Harmon said proprietor Chunilall Baboolall should be regarded as a true pioneer and his investment should be lauded and emulated. The investment will be a significant boon to the economy and morale of Bartica since it will provide employment for many, while earning revenue from visitors, he added.
In brief remarks Baboolall said he got the idea to build the resort after the price of gold started to decline, and works started on the structure four years ago. He heaped praise on his family for their support and at the same time, called for government support which he says plays a major role in the success of the venture.
Meanwhile, Minister of Tourism, Catherine Hughes, in her remarks said that the Government was proud of such an achievement and was excited to see the benefits which would accrue from having such a facility here in Guyana.
"It is absolutely fantastic to be here. This deserves a round of applause. In these times, you have to be committed to make such a huge investment and we in the tourism industry, in Guyana, recognise the import of the decision you have made and we thank you for adding quality and value to our tourism products," Minister Hughes said.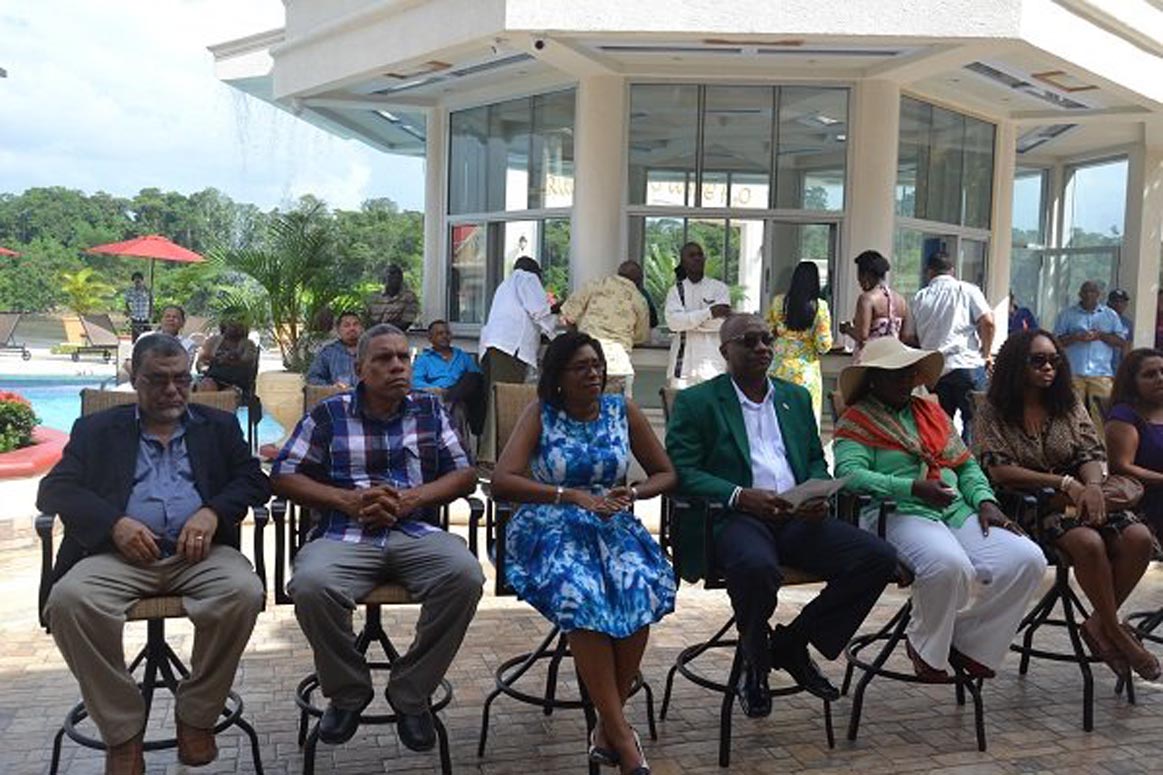 From right: Head of Political Affairs, Ministry of the Presidency, Fredrick McWilfred, Chairman of Region Seven, Gordon Bradford, Minister of Tourism, Catherine Hughes, Minister of State, Joseph Harmon and Minister within the Ministry of Social Protection, Simona Broomes at the resort's opening earlier today.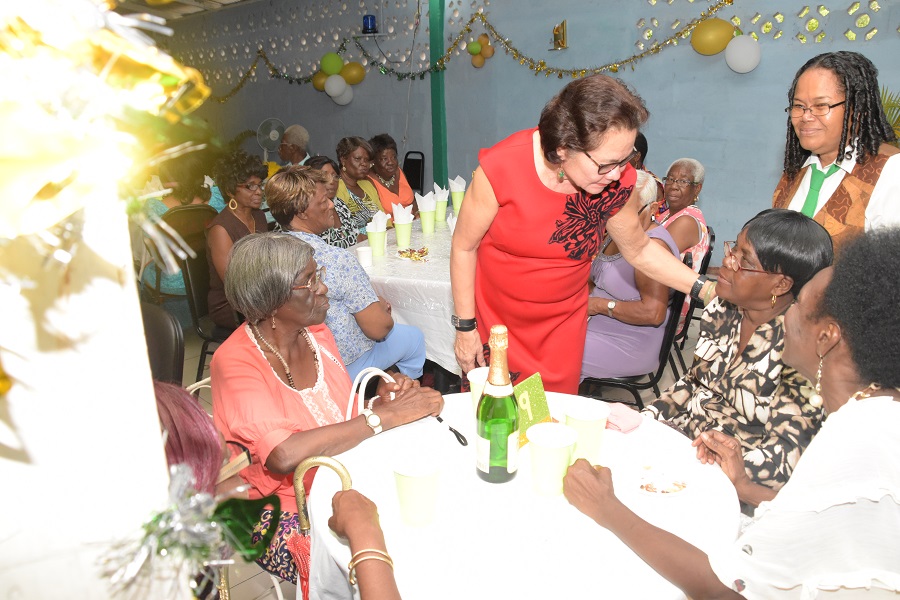 Minister Harmon greets former Prime Minister, Samuel Hinds, who was also present at the Opening of the resort today.
She further noted that the Government stands willing and ready to assist in whatever way it can to ensure that the tourism and hospitality sectors in Guyana become thriving and budding ones.
To this end, Mrs Hughes said from January 2016 the Government will be implementing a plan of action which will see Guyanese businesses especially those in the tourism sector, being able to benefit from various forms of governmental support.
"We will unfold a massive marketing plan that will target Guyanese and those in the diaspora and those that come from the other countries….We have been working to ensure that they know about Guyana," she said.
Head of the Guyana Tourism Authority Mr. Indranauth Haralsingh, also praised the initiative, noting that it is the definition of luxury and comfort.
Currently, the Aruwai Whitewater Resort boasts 35 rooms, but once expanded and completed it is expected to have 50 luxurious rooms including a Presidential Suite.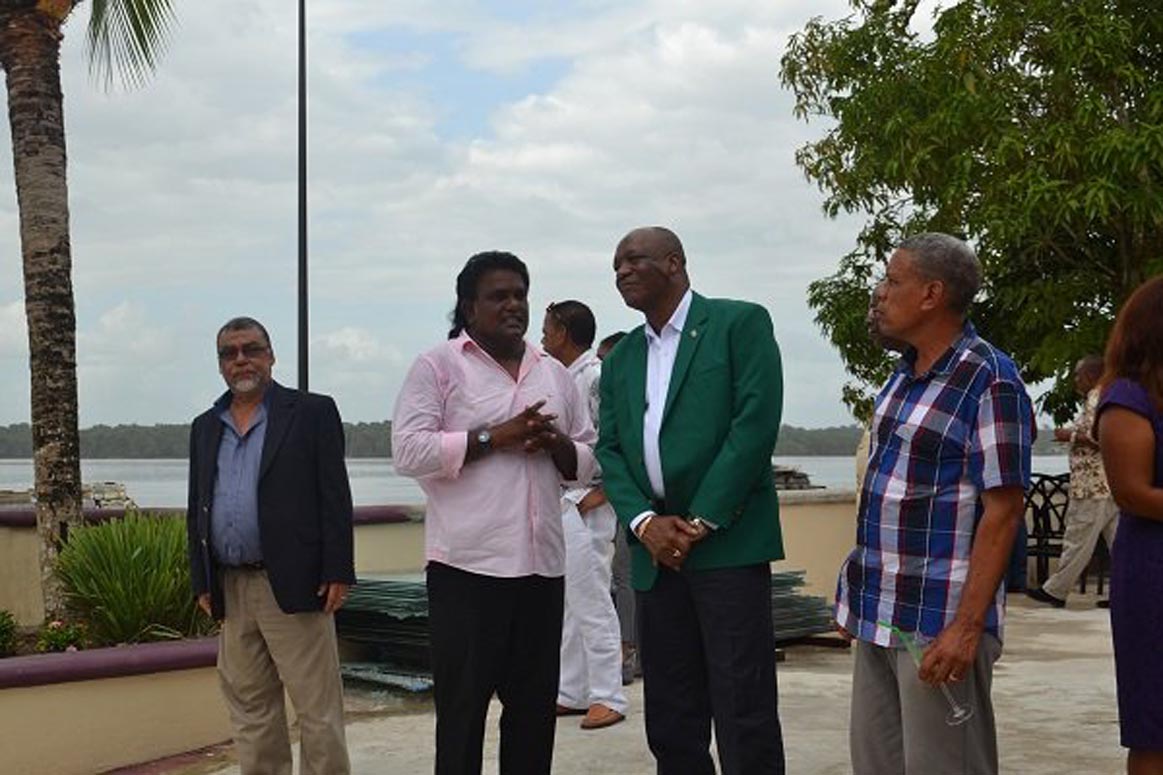 Mr. Baboolall explains to Minister Harmon, the operations of the facility