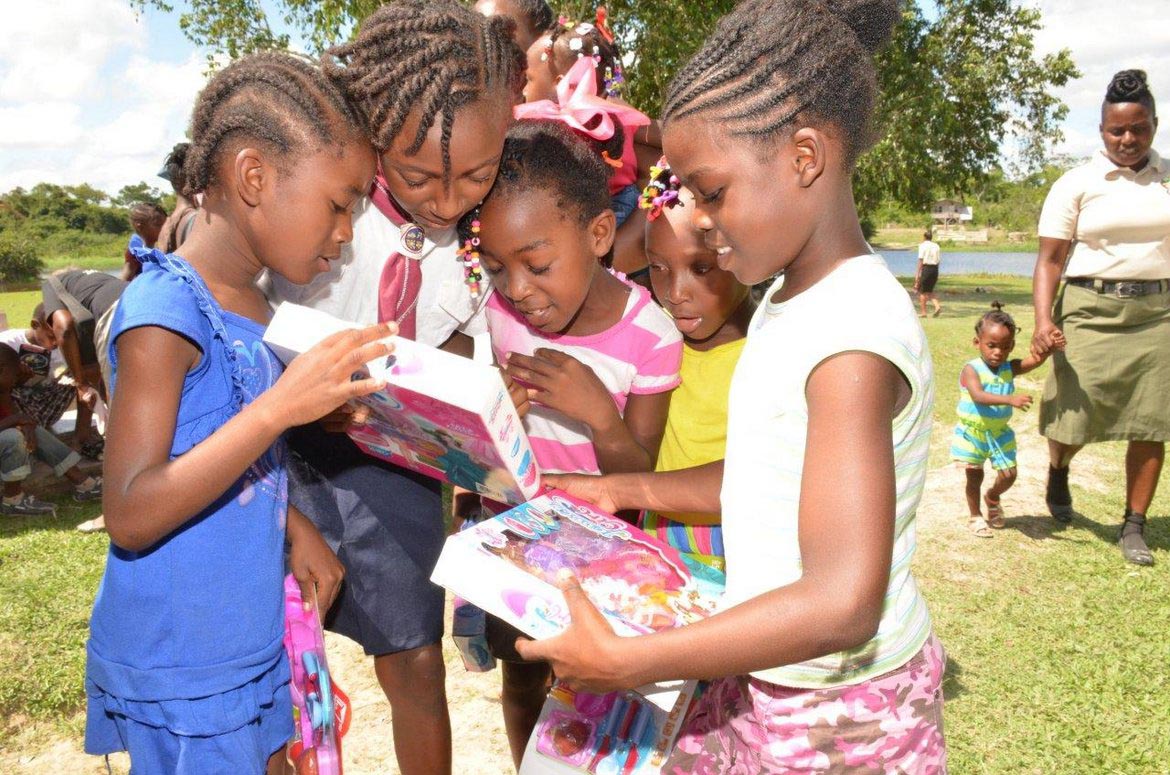 Georgetown, Guyana – (December 13, 2015) Marking the first time a sitting President has visited the Baracara Community in Canje, Region Six in about 33 years, President David Granger arrived in the community to a warm welcome from residents, who were elated that he had kept his campaign promise to return "win lose or draw."
The President was joined by Minister of Social Cohesion, Amna Ally and said that while the main purpose of his visit was to bring Christmas cheer to the children, he was also there to ensure that the community was no longer left behind and that they are ensured equal access to the assets of Guyana.
"I am President of all Guyana and I don't want to see any part of Guyana left behind. I don't believe in hinterland and coastland. I don't believe in 'bush' and 'town'. I believe in Guyanese living in their communities. If I believe that, I cannot allow Baracara to be left behind. If I believe in equality…", the President said.
Little girls enjoying their new toys today at Baracara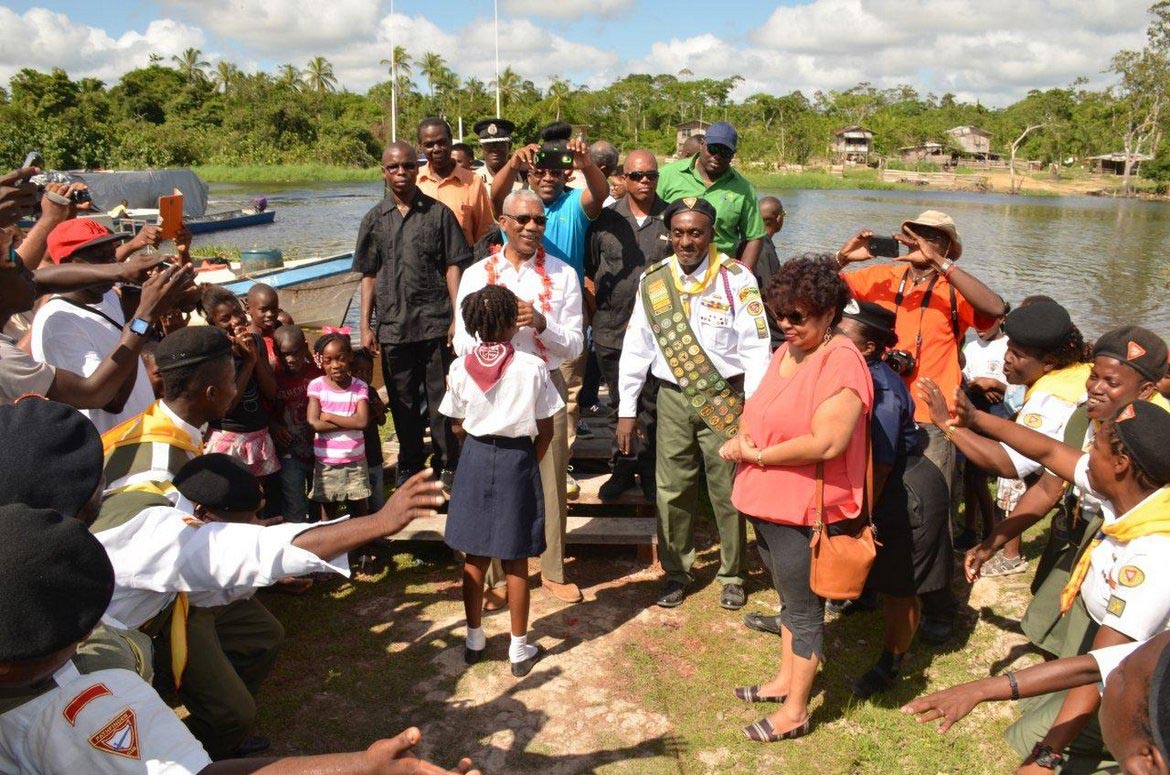 President Granger and Minister Ally arriving at Baracara, today.
Adding that what Baracara needs is to become a productive economic unit, he delivered a message of self reliance and indicated that Government is prepared to work with the community to determine the feasibility of the development of possible agro-processing opportunities.
President Granger said, "If you are producing pumpkin, cassava, banana, mango and you can't get them sold, don't throw up your hands in despair. You've got to be innovative. Every single plantain can be made into plantain chips. Every single cassava and sweet potato could be made into chips. Every single mango, every single orange can be made into juice. What you need here is the equipment to do agro-processing."
Residents of the community, who are primarily involved in logging and farming, were urged to become producers as building a strong economy would ensure that they are no longer dependent consumers and are able to escape poverty. The residents welcomed the suggestion for agro-processing opportunities.
President Granger came bearing gifts in the form of a 46-inch television and a DVD player for the community and toys for the children.
More importantly though, the President announced that the community will benefit from the gift of a school boat, under the "Three Bs Programme" before Guyana's Independence Anniversary, next year. The "Buses, Boats and Bicycles" programme is part of the President's push to ensure that every child is able to attend and complete school. He said, "We are opening up a new chapter in the history of Baracara and on the first page of that chapter, the word that is written there is education… you can only free yourselves from poverty if you acquire education.
The Head of State added that because of the importance of access to the information super highway in a technological world and the need for adult learning opportunities, he is prepared to discuss with community leaders the setting up of a Learning Centre for adults, which will provide access to computers.
"We have to ensure that you have the power, you have the machinery, you have the equipment, you have the computers to enable your access to the World Wide Web", he said.
President Granger also used the opportunity to encourage residents not to take threats to Guyana's territorial integrity for granted. He said, "I've gone to MERCOSUR in Brazil. I've gone to the CARICOM Heads of Government in Bridgetown. I've gone to the United Nations General Assembly in New York. I've gone to the Commonwealth Heads of Government in Malta. Why? I am not traveling because I like to travel. I am traveling because I want to protect the territorial integrity of this country. I want the whole world to know."
Members of the community welcomed the President enthusiastically with song and a military style display from the Seventh Day Adventist Pathfinders group. Community Development Council (CDC), Executive Treasurer, Carl Amsterdam said that the President keeping his campaign promise to return to the community has created a high level of confidence among community members, with regard to the administrations commitment to ensuring the development of Baracara.
Following the community activity, the President sat down with CDC members and other village leaders where a number of concerns including drainage, land titling and other issues.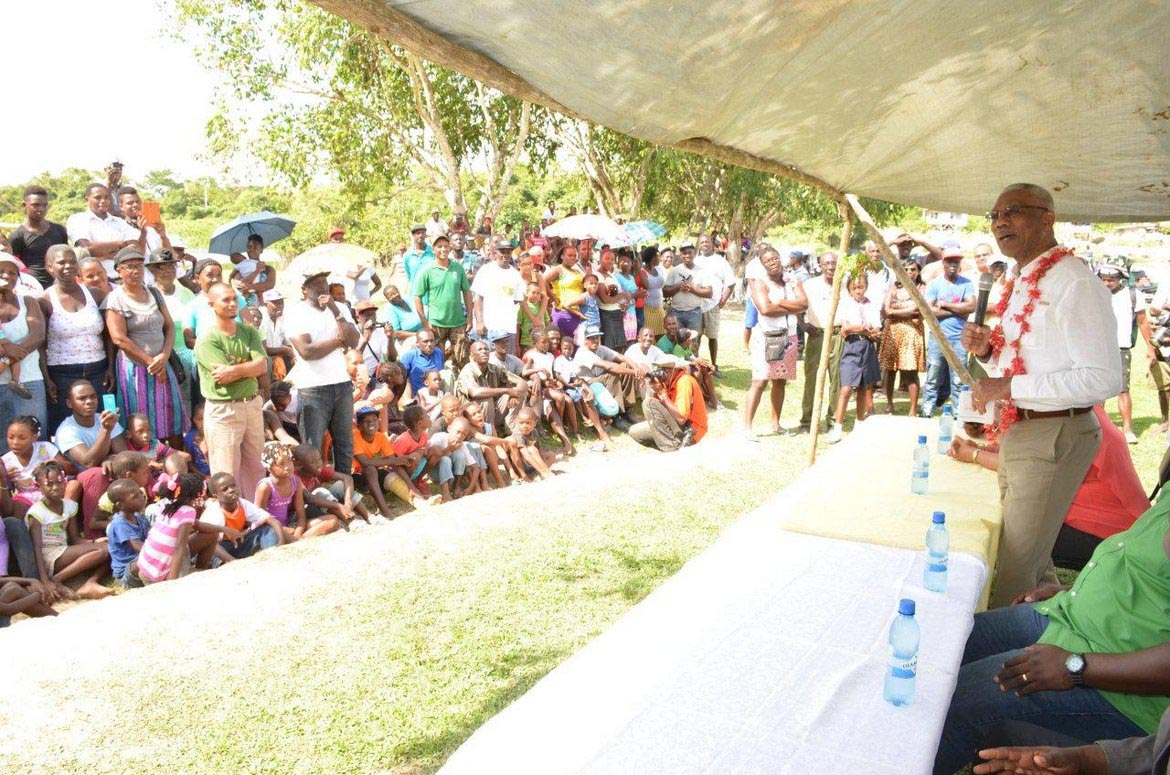 President Granger speaking to residents of Baracara during his visit there today.