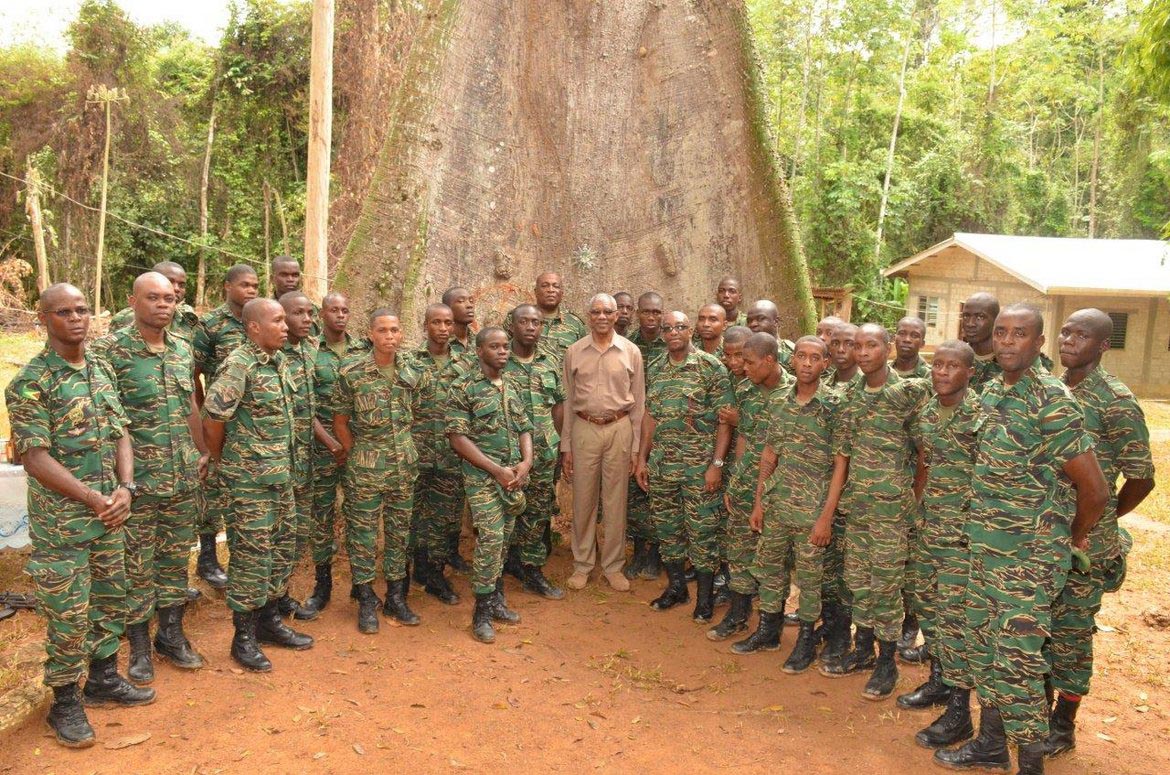 Georgetown, Guyana – (December 4, 2015) President David Granger and Commander in Chief of the armed forces, today told officers and soldiers based at the Guyana Defence Force's (GDF) Location Eteringbang in the Cuyuni/ Mazaruni area at their Christmas Lunch that they must be prepared to deal with both external and internal threats.
The President opined that between 2000 and 2010 crimes such as drug trafficking, Trafficking in Persons (TIP), gun running and smuggling brought the greatest destruction Guyana has seen in fifty years. It is for this reason, President Granger said, the Chief of Staff of the GDF, Brigadier Mark Phillips, launched Operation DRAGNET.
"Between 2000 and 2010 more Guyanese were killed by violence, by terror than any other time in our history. More policemen died in the first decade of this millennium than in the whole history of the police force… Not because the Venezuelans attacked, not because the Surinamese attacked but because there are Guyanese criminals, who are pushing their drug trade and they were prepared to kill fellow Guyanese in order to take control of the narcotics trade. They were prepared to bribe members of the police force and the Defence force. They were prepared to bribe public servants", he said.
Commander in Chief, President David Granger and Chief of Staff of the GDF, Brigadier Mark Phillips pose for a picture with ranks at Location Eteringbang
The Head of State said that Operation DRAGNET is an ambitious approach to total national defence and that the GDF and the Guyana Police Force (GPF) have a responsibility to prevent internal civil violence [and] internal terrorism from ever returning to this country.
Referencing acts of terror internationally, President Granger said, "We have to ensure that no form of terrorism, domestic or otherwise, is allowed to take root in this country; any form of extremism. We live as brothers; Christians Muslims and Hindus… we have never had religious wars in this country and we never will if you continue to do your work."
The President also used the occasion to thank the members of the GDF for their service and congratulated them for making to sacrifice to defend Guyana's territorial integrity. He noted that were it not for the GDF, Guyana would not be what it is today.
"We have suffered aggression from the east and from the west even within recent memory… these waters belong to us and your duty is to make sure that the country you inherited from your parents and fore parents is the country you pass on to your children and grandchildren. That's your job and I am proud to say that is what you have been doing for the past 50 years", President Granger said.
However, the Head of State noted that national defence is a work in progress. He told the soldiers that at this time of year, while they may all prefer to be with their families, that as members of the military, service to country is more important. He said, "The price of security is eternal vigilance."
President David Granger addressing Officers and Soldiers at Location Eteringbang today.
President Granger, who joined the army on December 29, 1965 declared, "…this year is important for me too because it marks my fiftieth year of signing on that dotted line; fiftieth year of attestation in the greatest profession that I have ever known; the Guyana Defence Force, the military profession of Guyana."
The Commander in Chief also reminisced on his time serving at Eteringbang, which was his second posting as a solder, telling those gathered of his memories of posting Guyana's Flag and signs along the river banks, which read "Guyana's territory".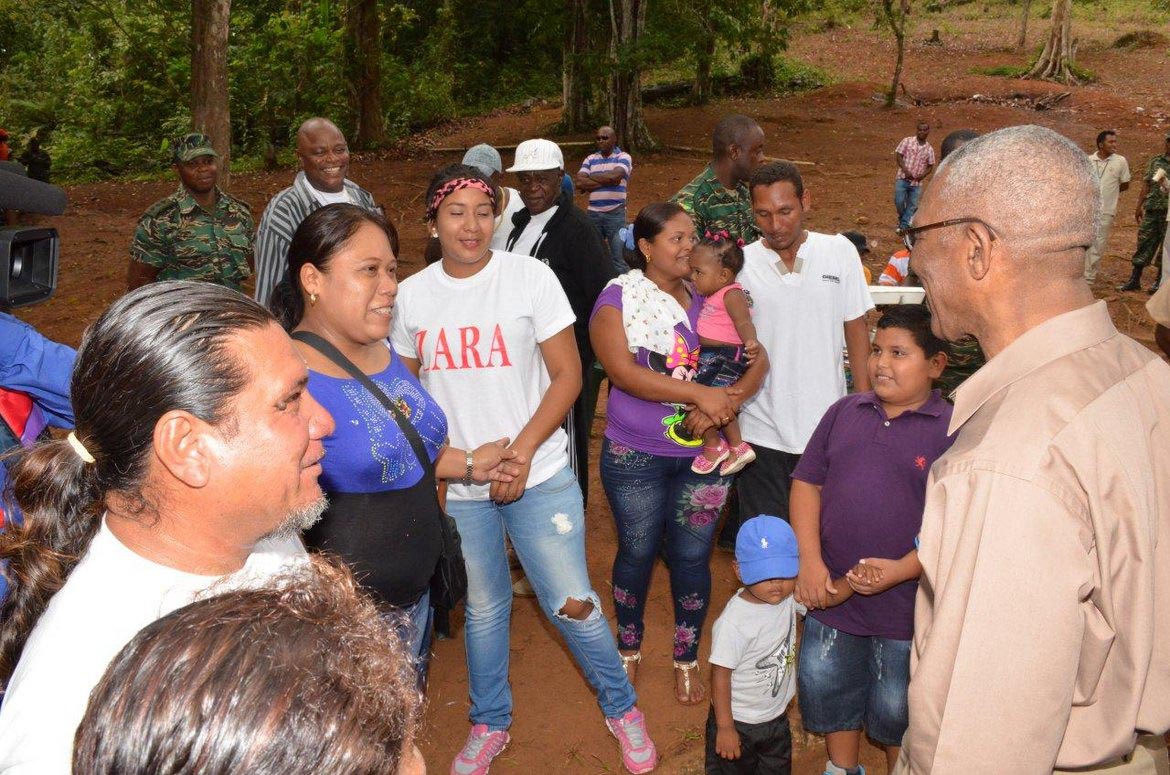 Residents of San Martin greeting President David Granger at Location Eteringbang
Brigadier Mark Phillips, who also addressed the gathering thanked the soldiers for their service and encouraged them to continue in the same vein. He said, "I would like to commend your service to Guyana."
Commanding Officer of the first Infantry Battalion, with responsibility for Roraima and Kutari, Lieutenant Colonel Fitzroy Warde expressed gratitude to the soldiers and noted that overall their service was of a high standard. "Through out the year you have demonstrated dedication and commitment in service to the Guyana Defence Force and in service to the nation as a whole", he said. Following some brief cultural performances by the soldiers, President Granger served lunched to the ranks.
Location Eteringbang lies opposite Ankoko Island, which is occupied by Venezuela. The Venezuelan settlement of San Martin lies on the northern bank of the Cuyuni across from Eteringbang.