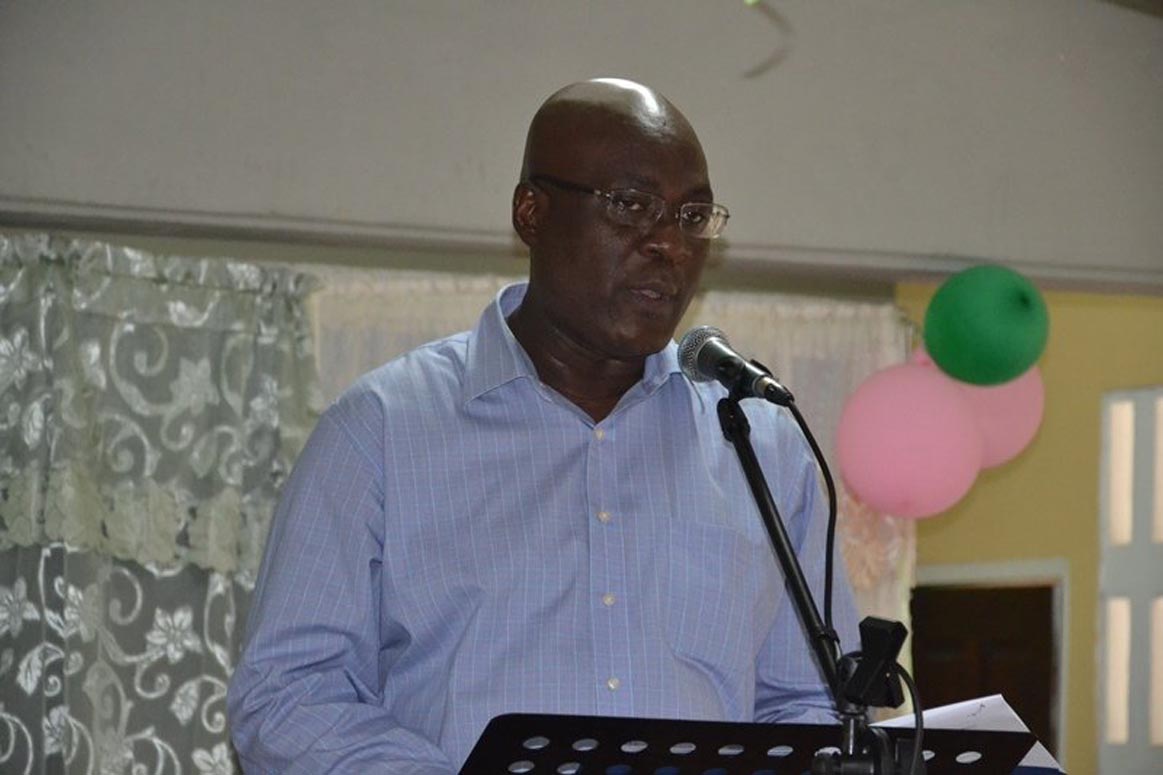 Georgetown, Guyana – (December 4, 2015) Twenty-seven persons from Buxton today graduated from the Information and Communication Technology (ICT) Programme started in September by First Lady, Mrs. Sandra Granger. The programme saw 59-year-old Sylvia Pitt, a retired Head teacher, excelling as the valedictorian after she achieved 983 points out of a possible 1000, with an overall pass rate of 98 percent.
Floyd Levi, Presidential Advisor on E-Governance, in his feature address at the graduation ceremony, held at the Friendship Primary School, praised the initiative as one that will make a great difference to the beneficiaries. He charged the graduates to capitalise on the opportunity and to see it as a stepping stone into their future.
"This programme ought to be repeated and replicated across this country. Communities like Buxton face numerous challenges, hurdles and obstacle[s] and programmes such as these offer opportunities to overcome these challenges ….and will also inspire our youth to achieve and to see the sky as a limit," Levi said.
Advisor of eGovernment, Floyd Levi
He told the graduating class that the road to success should not stop at the end of this programme, but advised them to use this opportunity as a catalyst for bigger and better undertakings. "This programme here today should be taken as a life lesson. You should dream positive dreams and through dedication, commitment and hard-work, you can achieve them," he said.
According to the Presidential Advisor, the initiative shows that government is serious about youth empowerment, especially in the area of ICT, which is now vital to development. As such, government plans to soon start providing job opportunities for young persons trained in this area.
"Many good things will come with this training… this government has plans on the horizon. As we move forward, I can assure you that government will come to you to promote information technology jobs and activities among the youth. There are many things on the horizon and committed youths, like you will surely benefit from these," he promised.
Meanwhile, Fitzroy Younge, one of the leaders in the execution of the programme, said it was crafted in such a way that participants not only benefited from ICT training, but in areas like business and time management so that they are also equipped with entrepreneurial skills.
A section of the graduating class of the First Lady's Information and Communication Technology Programme
"The programme was sponsored by First Lady Sandra Granger and began on September 14, 2015. For 13 weeks we worked with them and they were taught in the areas of sexual and reproductive health, micro- enterprise and business management, introduction to computers, how to use Microsoft Office Suite, how to design and make publications, time management, interviewing skills, telephone etiquette, literacy, numeracy, how to develop a business plan, how to make a financial plan, et cetera," Younge said. Many persons were surprised at the wide expanse of topics covered as the entire programme cost less than $745,000, he said.
Meanwhile, First Lady Sandra Granger, in her brief remarks, said that she was especially proud of the dedication and performance shown by the participants. She noted that the programme was one which was close to her heart since it was not only the first implemented by her office, but the first in Guyana. Mrs Granger also said the programme was the brainchild of the residents of Buxton and praised their initiative. The First Lady disclosed too that based on the response, she is considering extending it to other areas.
"This programme is due to the people of Buxton. It is their ideas and innovation that I worked with. I am looking at learning from this and taking it [to] other communities because I think it is important that people in the communities must want the things that are being done in, around and with their place," she said.
Mrs Granger also said the certificate awarded at the end of the project is recognised by the Board of Industrial Training. To this end, her team has been looking at placements for the participants to practice their skills and it is hoped that this will prove successful, she said.
In the meantime, Valedictorian Sylvia Pitt, who was also named the Best Graduating student, said she did not allow her age to take away from her drive to learn. Despite working during the day, the mother of two, and grandmother of two, said that she ensured that she attended classes, which would begin at 4.30pm and last until 9pm.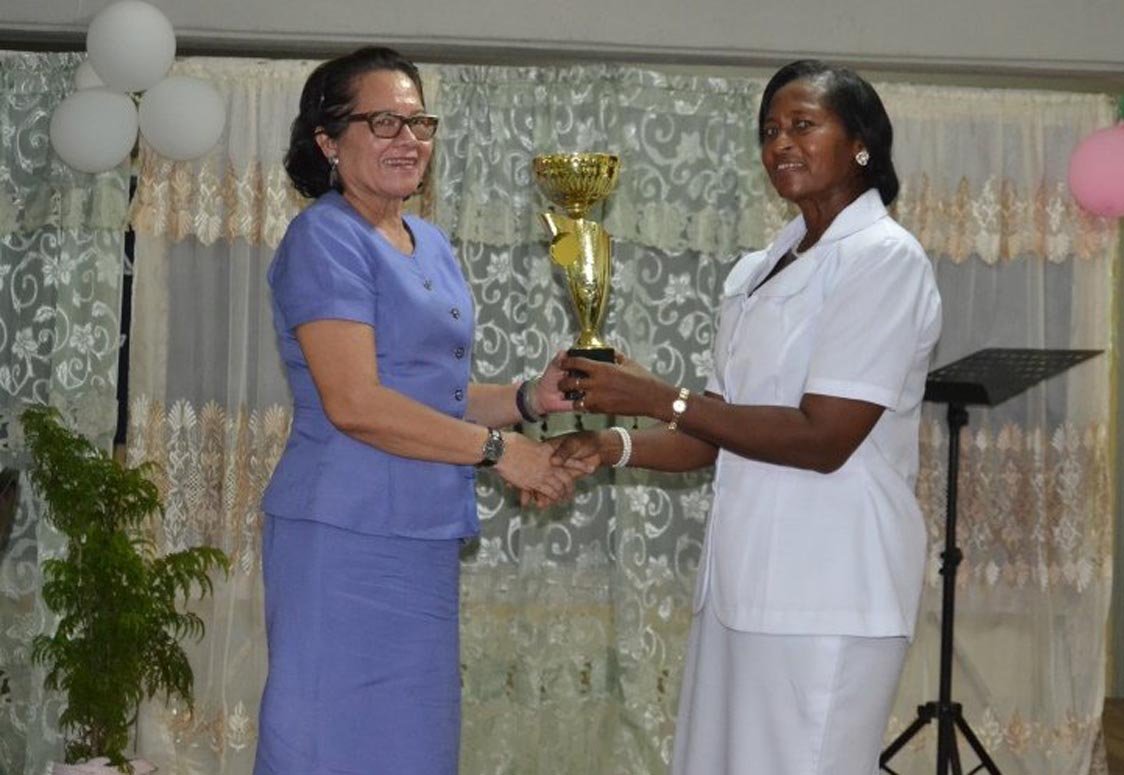 Mrs. Granger handing over the Best Graduating Prize to Sylvia Pitt.
"The world is becoming technology and computer inclined, and I realised that I needed to keep abreast of what is going on and so I was motivated to be here. I was very focused. I knew what I wanted and I practiced due diligence to get what I want," the woman said.
When asked to give some advice to the younger generation, Pitt said, "They need to know what they want and place their focus there. They should aim high. Age didn't prevent me from doing what I did and so they can do way better and achieve more than I did."
Additionally, Wendella Hubert, won the prize for the Most Improved Student; graduating with a 96 per cent pass, while Alison Philander copped the Perseverance Prize for completing the programme despite being heavily pregnant.
Chairman of the Board of Industrial Training, Clinton Williams also attended the ceremony.