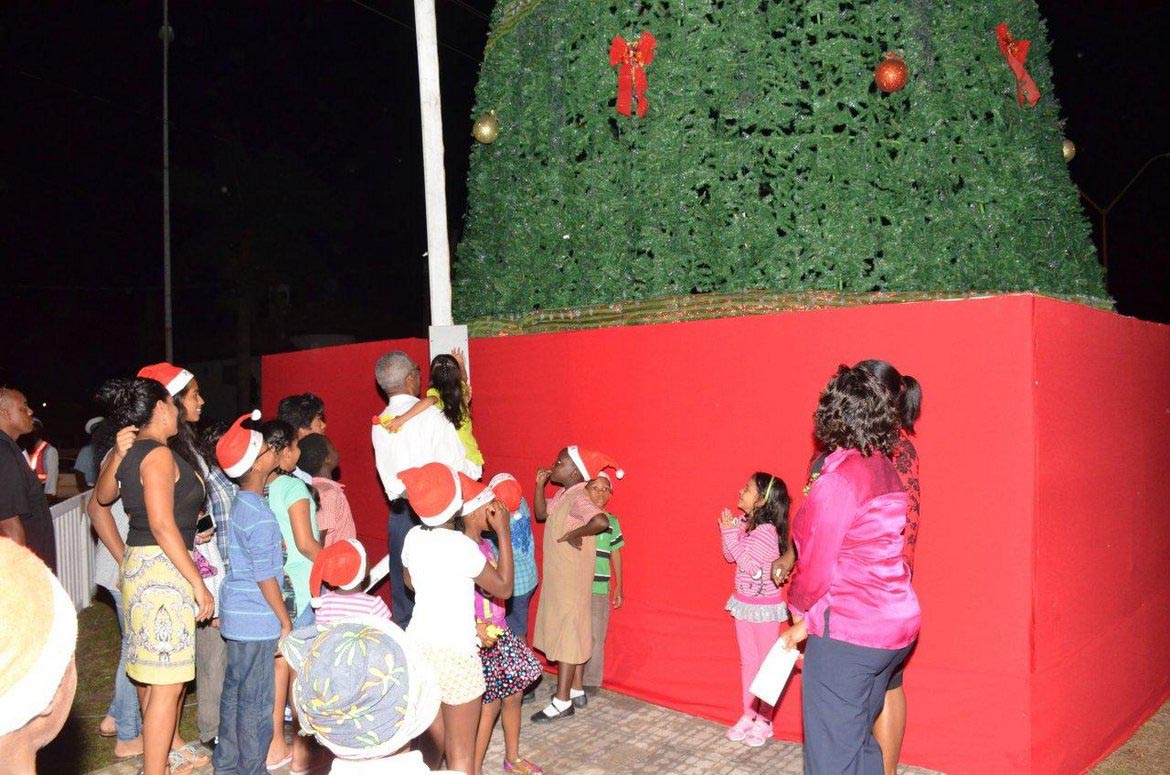 Georgetown, Guyana – (November 20, 2015) President David Granger this evening said that everyday Guyana is restoring the symbols of nationhood, its monuments and its self-respect. Speaking to the large crowd that braved the wet weather to gather at Rahaman's Park, Houston for the annual tree lighting ceremony, the President said that this year, Guyanese will be celebrating this festive season in a clean environment that is fitting for the celebration of the birth of God's greatest gift to the world.
He told the crowd that while the tradition of a decorated tree has its genesis in German legend and is not actually related to Christmas but it has been adopted by the world as an evergreen symbol of faith and hope.
"Christmas is a time of hope for our country. We have had a long struggle of hopelessness and desperation… Let this Christmas be one of happiness, one of hope and one of charity," the Head of State said. He noted that the message of Christmas has a common theme that is shared by all religions. That is, that good will prevail over evil, right will overcome wrong and that peace will triumph over the world.
While commending the Rahaman family for starting what he terms "a public ritual", President Granger issued a call to wider the Guyanese public to take time to remember the less fortunate so that they can overcome their trials and tribulations and share in the joyous festival.
After his remarks, the President, with the aid of a little girl, pressed the switch to illuminate the 60 foot tall Christmas tree. This was followed by more than five minutes of fireworks, compliments of the Guyana Defence Force. This annual ceremony has become a much-anticipated annual tradition, which, for many, signals the ushering in of the festive season.
Minister of Tourism, Catherine Hughes said that this is arguably the biggest Christmas tree light up in Georgetown. "We did this for the children of Houston, Eccles, Ruimveldt, Meadow Bank, Grove, Agricola and further down the East Bank corridor and we do this for all Guyanese wherever you are," she said.
President David Granger getting some assistance from a special little lady to flip the switch to light up the Christmas tree.
The Rahaman's Park tree lighting ceremony first started 10 years ago by the Rahaman family, who are now joined in this venture by several prominent private sector organisations such as Giftland, Banks DIH, Pritipaul Singh Investments, Demerara Distillers Limited and Candy Corner in a generous effort to spread holiday cheer to children, particularly those living along the East Bank. The Ministry of Tourism became associated with the tree lighting ceremony in 2006.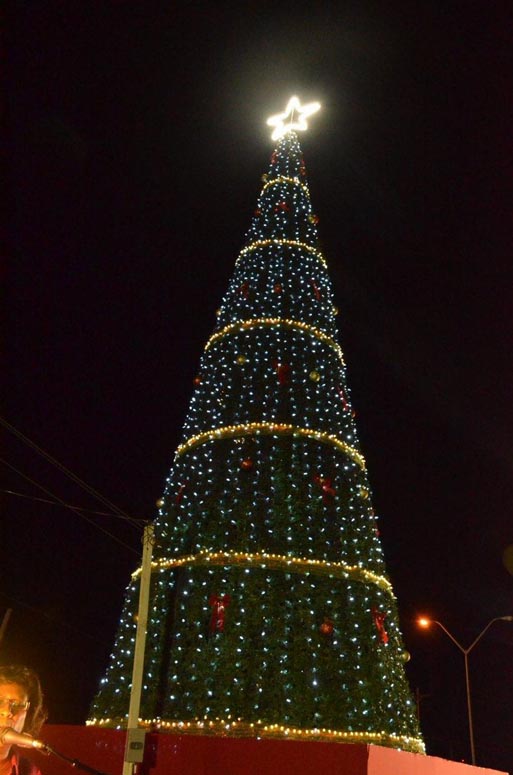 The 60-foot lighted Christmas tree at Rahaman's Park, Houston