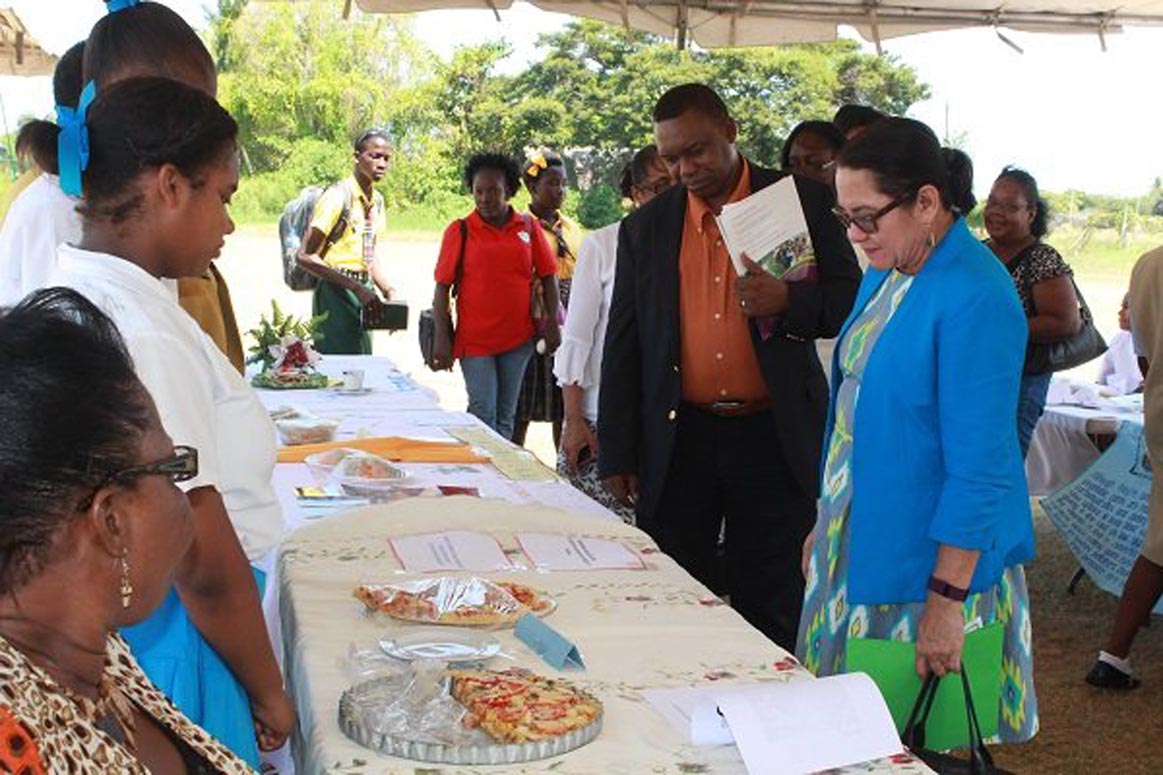 Georgetown, Guyana – (October 21, 2015) "The proper development of the agricultural sector can play a crucial role in breaking the cycle of rural poverty", said First Lady Sandra Granger to students and teachers, today at the Ministry of Education and the Food and Agricultural Organisation (FAO) of the United Nations' Secondary Schools Home Economics Competition. The event was held at the Ministry of Education's ground on Carifesta Avenue.
Applauding the efforts and creativity of the students and their teachers, the First Lady noted that the students have demonstrated not only their creativity but their interest and capability in providing tasty, quality food from locally grown produce. She added that it is important that the country begins to utilise what it produces.
"Given the country's dependence on food imports and the extreme poverty of our fellow citizens…our vast potential for agriculture development and the pressing need for food security in a world buffeted by the crisis caused by; climate change, economic, social, political challenges, exhibitions and competitions such as these show us that we can justly be proud of what we produce but we have to produce in enough quantity at a reasonable price and distribute it so that every citizen can enjoy nutritious, satisfying meals every day," she said.
In this vein, the First Lady said that the competition, which was organised to observe World Food Day, held on October 16, under the theme "Social Protection and Agriculture; Breaking the cycle of Rural Poverty", emphasises the need for agricultural development.
"The theme of this competition resonates because we are conscious that vulnerable sections of our society struggle to make it through the day and sometimes days in both our urban and rural areas. Agriculture production and productivity will in particular benefit the poor but focusing on agricultural development benefits us in several ways. First it produces employment. The sale of produce provides rural, social and financial stability for farmers. A farmer who can earn a decent living will not abandon his farmlands and migrate," the First Lady said.
Turning her attention to the relationship between meals consumed and a person's health and well-being, Mrs. Granger noted that locally produced fruits and vegetables were of a far more superior quality than those being imported and supports the prevention of Non-Communicable Diseases (NCDs), leading to a healthier, more prosperous nation.
"We have to realise that for our children to be fit and strong they need a steady, daily diet of fresh wholesome food. It boggles the mind that we are not a happy, fit, well fed nation. We can do it with the bounty available in this country but we must ensure that food is affordable and accessible to all citizens… A healthier nation is a more productive nation… In the context of benefiting the nation, agricultural development achieves the aim of breaking of rural poverty. It is a win-win situation for all," Mrs. Granger posited.
First Lady, Sandra Granger and Reuben Robertson, Representative of the Food and Agriculture Organisation of the United Nations (FAO) take an interest in one of the displays on show.
In the meantime, Reuben Robertson, Representative of FAO in Guyana, in brief remarks, shared similar sentiments. He noted that food security was tied to the eradication of rural poverty.
In this regard, he said that competitions such as this should not only be used to showcase the skills and creative sides of the students, but should also be used as a vehicle of change in the eating choices of Guyanese.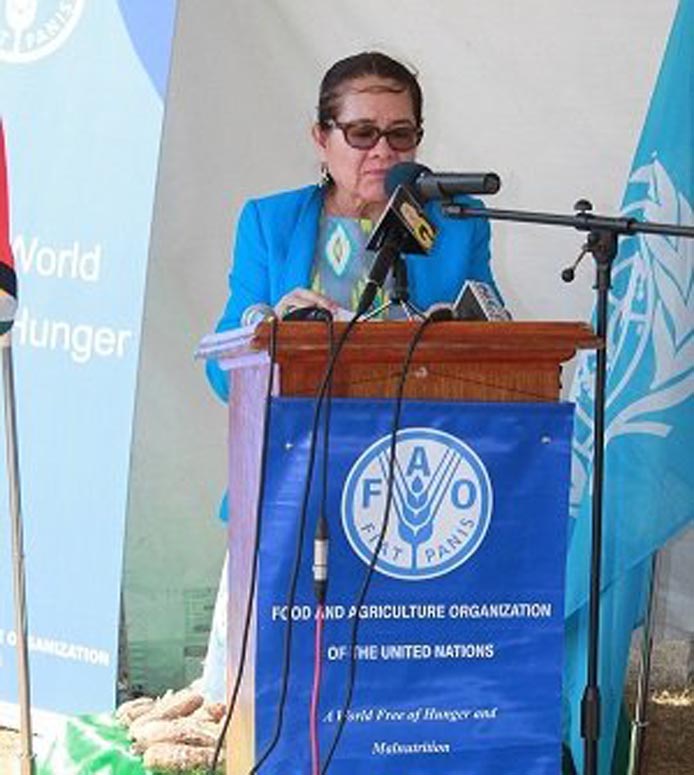 First Lady, Sandra Granger addressing the participants.
"Guyana is self-sufficient in most foods but we are seeing health challenges. These are present in the presentation of NCDs and what is important to note is that it's not just the old and elderly affected. It is the young people too and eating healthy is critical to living a healthy lifestyle. I want you to reflect on it not as a competition to win but a competition to be attracted to local food stuff and a healthy lifestyle," he said.
The competition saw the North West Secondary School winning the competition, while the New Amsterdam Multilateral and the Beterverwagting Secondary Schools took the second and third place respectively.