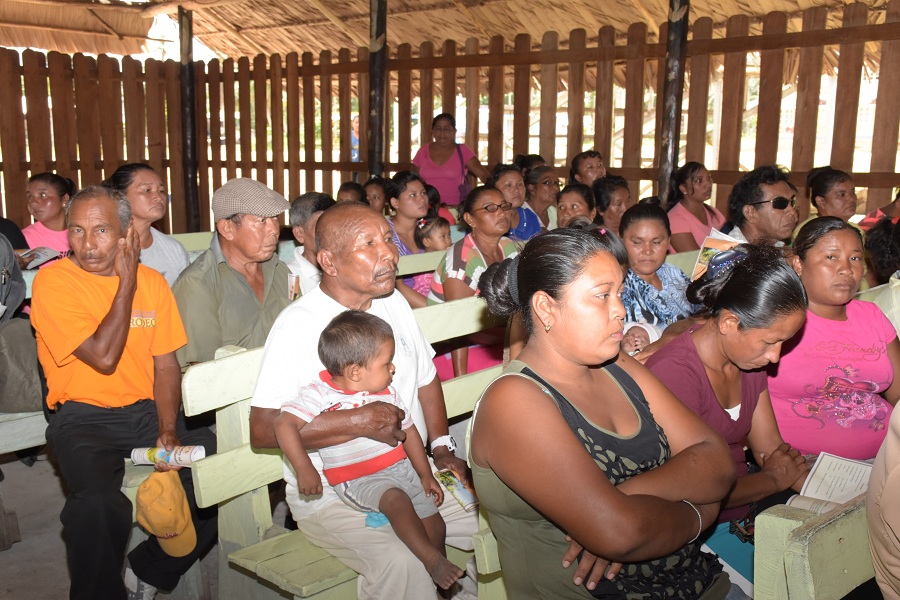 Georgetown, Guyana – (July 27, 2017) Ninety-two stakeholders at the Moraikobai/Saint Francis Mission in Mahaica-Berbice (Region Five), yesterday, participated in the Ministry of Social Cohesion's sensitisation workshop, which aimed at informing them about the Ministry's role in fostering a unified Guyana. In addition to the sensitisation session, the Ministry collaborated with several other ministries in order to address needs in five areas; health, education, sport, neighbourhood security and social security within the community. The meetings were facilitated by the Regional Democratic Council.
In his address, Minister, Dr. George Norton said that social cohesion acknowledges and celebrates individual identities and cultural differences, even as it promotes cooperation. He said that the process starts with the individual and that the only way to truly foster unity is by first identifying and erasing personal biases. "When we know who we are, we won't have any trouble accepting other persons', cultures," he said. The Minister also said that previously some sections of the population, including Indigenous villages, may have been marginalised, but this Government has committed to ensuring that all of its citizens benefit equally from the available services and opportunities.
Similar sentiments were expressed by Regional Community Enhancement Officer of Region Five, Mr. Dolston Hutson, who delivered remarks on behalf of Regional Executive Officer (REO), Mr. Ovid Morrison. Mr. Hutson said that the RDC views the Ministry as the driver of its objectives as it promotes a system of cooperation for national development. He also said that the Region is partnering with the Government to ensure that all the communities are served.
Mr. Hutson also encouraged the residents to embrace the President's vision for a cohesive and 'green' Guyana and to commit to undertake sustainable enterprises to develop their village as "it is not all about what your Government can do for you, but it also includes what you can do for yourself as a people". He also said that the Office of the REO will be working closely with the community in this endeavour and will be establishing two management committees, one for the Moraikobai guest house, which will be tasked with overseeing its operations and one that will focus on advancing the electrification of the village.
A section of the audience at the Ministry of Social Cohesion's sensitisation and outreach exercise hosted at Moraikobai/Saint Francis Mission
Meanwhile, Regional Health Officer, Dr. Steven Cheefoon said that providing health care is not only about providing services, but about putting facilities in place to sustain health over the long term. As such, he said that the Region is providing a medical evacuation (medi-vac) boat for the community and from next month a full medical team will be conducting outreaches to complement the work being done by the resident medex. Dr. Cheefoon also said that the region has budgeted for the purchase of all-terrain vehicles (ATV) that will be used by medical personnel to provide weekly health checks to residents of lower Moraikobai.
In keeping with the Region's plans to enhance services to the community, a team from the Guyana Water Incorporated (GWI) is also conducting a two-day exercise during which they will be servicing the Mission's water pump station that serves its schools, health centre and guest house, the central standpipe and other pipelines in order to ensure that the residents have access to potable water.
Residents were pleased that the Minister and his team had travelled to their far-flung community to meet with them. Several of them expressed the view that if the Mission's youth in particular, embrace their education and co-operate they would soon have a community that they could be proud of.
During the interactive session, Ms. Celine France, caretaker of the Moraikobai guest house, requested that education and/or training opportunities be made available to the persons with learning disabilities. In response, Mr. Hutson said that the National Commission on Disability will soon examine the findings of a recent survey done in the region to identify persons with disabilities with a view to putting measures in place to enhance their lives.
Additionally, District Education Officer-Nursery, Ms. Deon Lyn Lewis said that the Ministry of Education recently appointed a Special Needs Education Officer in the Region to address those concerns. Meanwhile, the Ministry continues to advocate for inclusive education and as such children with special education needs and those, who are differently abled must be enrolled in schools. She added that the Ministry is working to ensure that school buildings are more accessible for persons with disabilities.
Sports Organiser, National Sports Commission, Mr. Alex Bentham, pledged the Commission's support of sport development in the community. Minister Norton and Mr. Bentham both presented a collection of sporting gear to the community and to the Moraikobai Jaguars Sports Club, respectively.
Inspector Richard Mentore of the Mahaicony Police Station then provided guidance on making police reports and advice on how to start community policing groups in the Mission. Also, Ms. Marilyn Cummings, Senior Preservation Officer, General Register Office – Department of Citizenship started 31 registration processes in six categories, including late registration of births, re-registration of births, minor clerical corrections, marriage applications and birth and death certificates.
At the close of the exercise, Minister Norton pledged that officers from the Guyana Revenue Authority and the Ministry of Social Protection will visit the community next month to provide more assistance. Reverend Malcolm Andries, Deputy Toshao, Ms. Mary Joseph, Chairperson of the Board of Guardian for Sub-Region One, Ministry of Social Protection, Ms. Gloria Lindo-Wolfe and village councillors also attended the meeting.