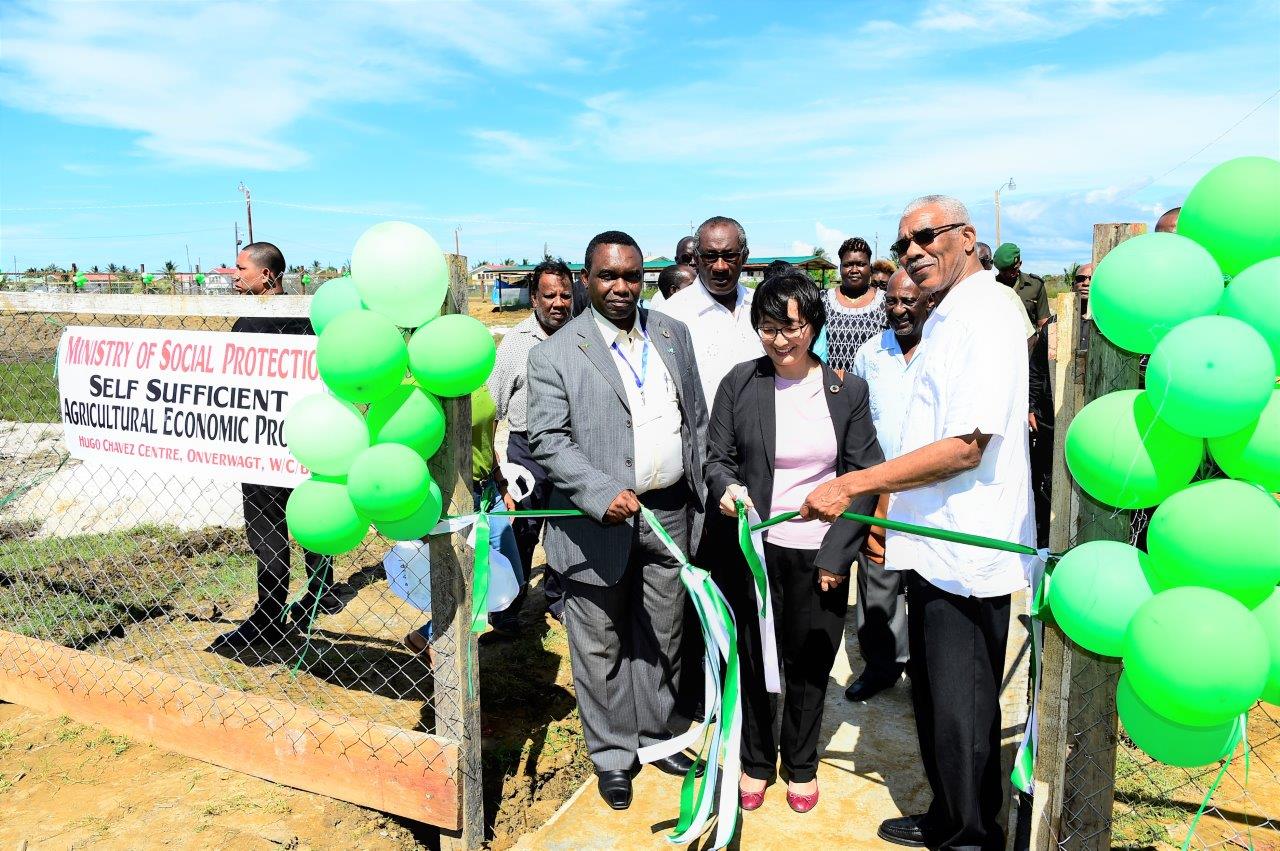 Georgetown, Guyana – (June 3, 2017) President David Granger said that in a world where one in every nine persons does not have enough to eat and where approximately 795,000,000 people are starving, it is his Government's mission to ensure that no Guyanese citizen is left hungry. He added that while Guyana is on the brink self-sufficiency, the country must, as a matter of priority, achieve total food security whereby citizens, at all times, can have physical, social and economic access to sufficient, safe and nutritious foods, which meet their daily dietary needs.
The Head of State, who was at the time delivering the feature address at the commissioning of the Ministry of Social Protection's Self-Sufficient Agricultural Economic Services Project at the Hugo Chavez Centre at Onverwagt, West Coast Berbice, called on citizens to ensure that this initiative does not become a side-show, noting that this is the direction the entire country needs to be heading, not just to feed their own families but the entire region as well.
The President said that despite the strides that Guyana has made, much more attention must be paid to the availability and accessibility of wholesome food. He noted that no one should go hungry because of poverty, inequality or geographic location.
President Granger and Food and Agriculture Organisation (FAO) Representative, Mr. Reuben Robertson assist United Nations Resident Coordinator, Ms. Mikiko Tanaka in the ceremonial ribbon-cutting to officially commission the Self-Sufficient Agricultural Economic Services Project.
"This is what food security means, the availability of food for all, the accessibility of food to all and acceptability of food for everyone in the country, from babies to young adults to the elderly…we have the climate, we have the land, we have the labour, we have the fresh water, which will enable us to provide food on a large scale," he said.
Speaking of Guyana's 'green state' agenda, President Granger said that food production is central to this new trajectory as he issued a call to all Guyanese citizens to make a conscious effort to grow more food. He said that the Government spends billions of dollars to provide food for institutions such as schools, the Guyana Police Force, the Guyana Defence Force, hospitals and the Guyana Prison Service, among others and an initiative such as this could be the key for reducing Government's expenditure in this area.
"This project could be the model for other institutions to follow. There is no reason why the Guyana Prison Service cannot have a model farm like this…Let us look carefully and closely at this model to see whether it could be replicated around Guyana," the Head of State said.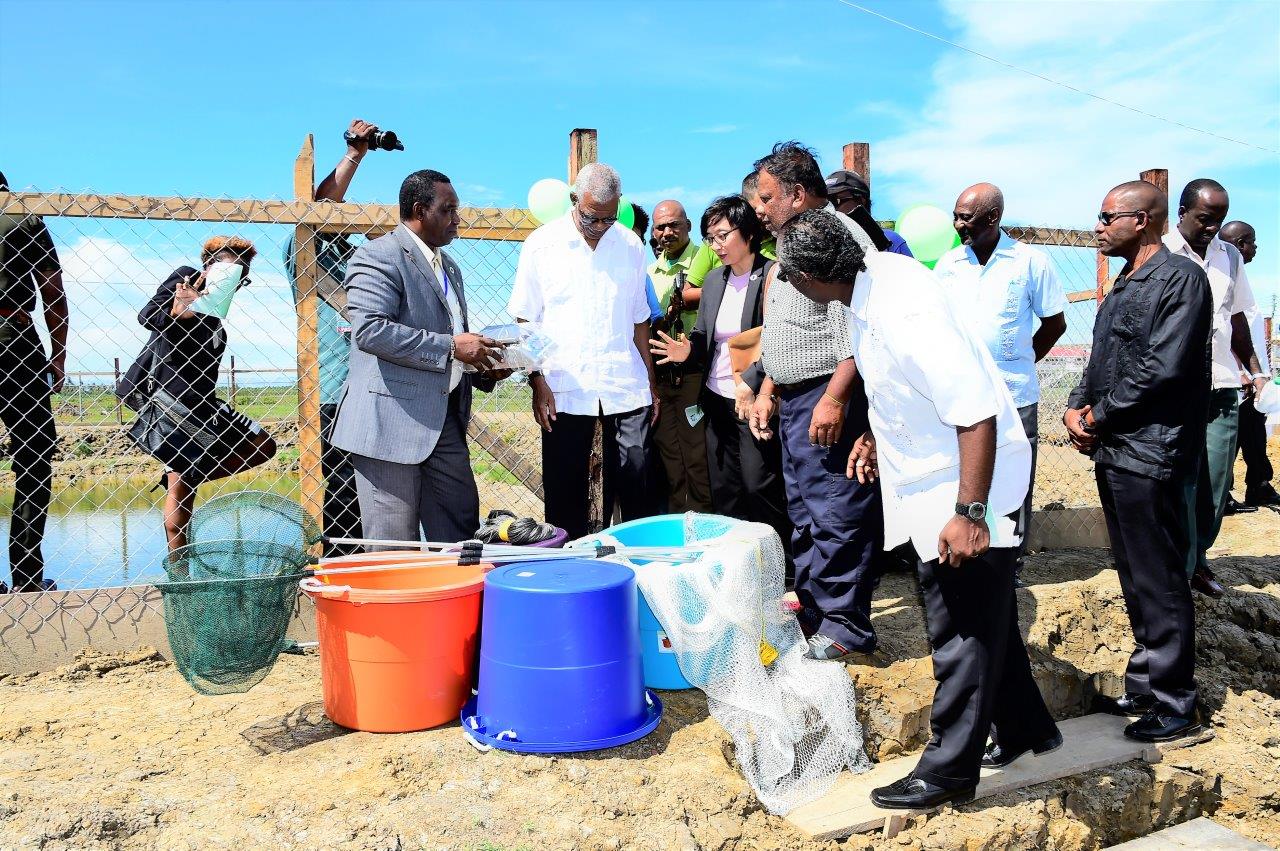 President David Granger looks at some of the fingerlings that will soon be ready for harvesting.
The President's sentiments were echoed by Representative of the Food and Agriculture Organisation (FAO), Mr. Reuben Robertson, who said that this initiative is at the core of his organisation's mandate to eliminate hunger, malnutrition and poverty, which are also the Sustainable Development Goals (SDGs) of the United Nations (UN). "We are elaborating with the Government, the programme for food and nutrition security because we believe that there is absolutely no reason why Guyana through good governance, effective public policies and smart partnerships, cannot be the first country in the Caribbean to zero hunger and poverty," he said.
Meanwhile, Minister of Social Protection, Ms. Amna Ally in her remarks, said that her Ministry is tasked with rendering services to children, adults, persons who are physically challenged, victims of domestic violence and other difficult circumstances as well as having responsibility for the Drop-in Centres, the Night Shelter, geriatric homes and various other homes for children. At all of these places, the Ministry provides among other necessities, food and shelter. It is for this reason that the Ministry moved to introduce this initiative.
"Opportunities and development under this Government is sure to give you that good life that President Granger promised you and with a little effort channelled in the right way, we can make it possible," she said.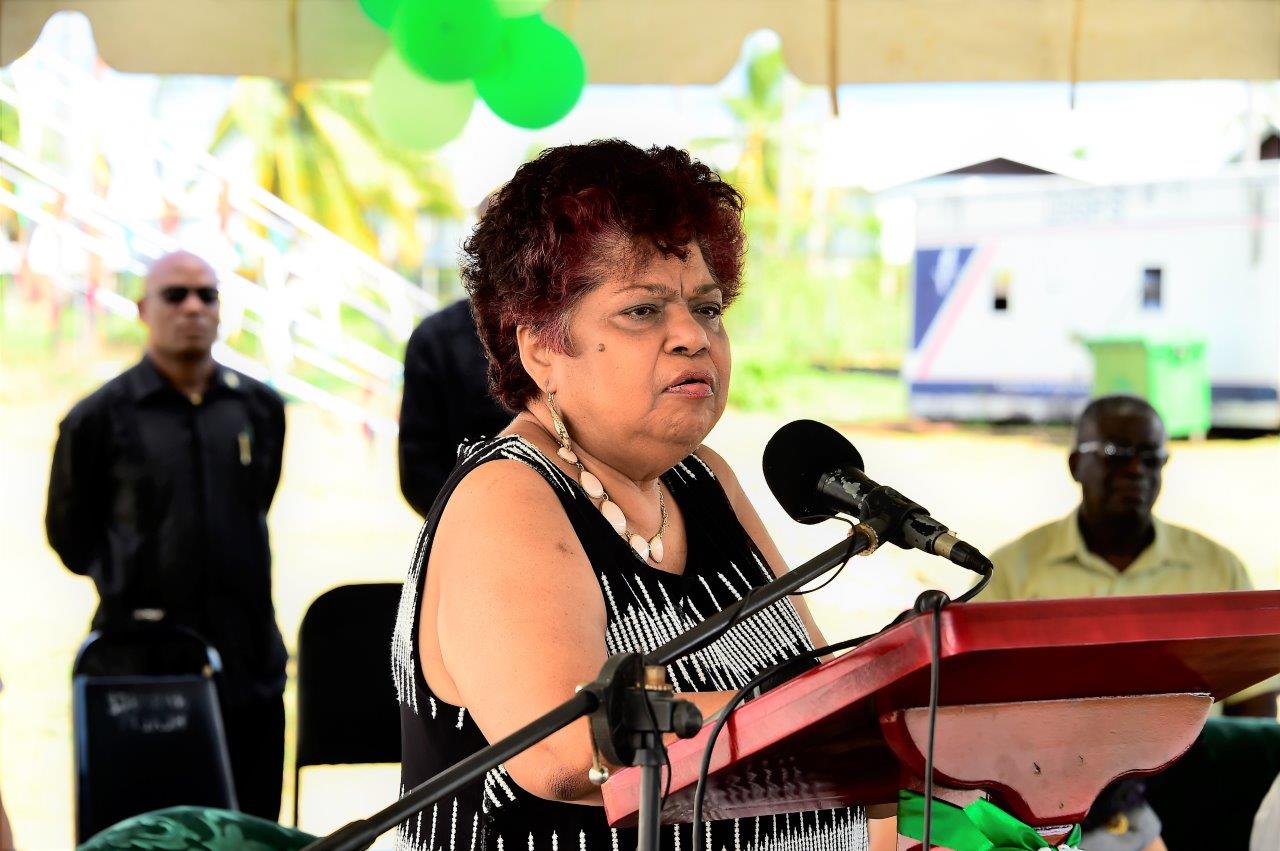 Minister of Social Protection, Ms. Amna Ally said with a little effort, self-sufficiency can be achieved.
In bringing this project to fruition, the Ministry partnered with a number of agencies such as the FAO, the Guyana Livestock Development Authority (GLDA), the National Agricultural Research & Extension Institute (NAREI), Food for the Poor (Guyana) Incorporated, the Mahaica-Mahaicony-Abary-Agricultural Development Authority (MMA-ADA) and a number of private sector companies and individuals.
At present, the Economic Centre has three fish ponds with about 2000 fingerlings, a number of pens filled with livestock and poultry including ducks, chicken and sheep and a shade house where a number of crops are planted. Minister Ally added that the Ministry has already procured a plucking machine but construction of the plucking unit is still ongoing.
First Lady, Mrs. Sandra Granger, Minister of Indigenous Peoples' Affairs, Mr. Sydney Allicock, Minister within the Ministry of Public Health, Dr. Karen Cummings, Minister within the Ministry of Finance, Mr. Jaipaul Sharma, Minister within the Ministry of Social Protection, Mr. Keith Scott, Minister within the Ministry of Public Infrastructure, Ms. Annette Ferguson and UN Resident Coordinator and United Nations Development Programme Resident Representative, Ms. Mikiko Tanaka also attended the commissioning ceremony.