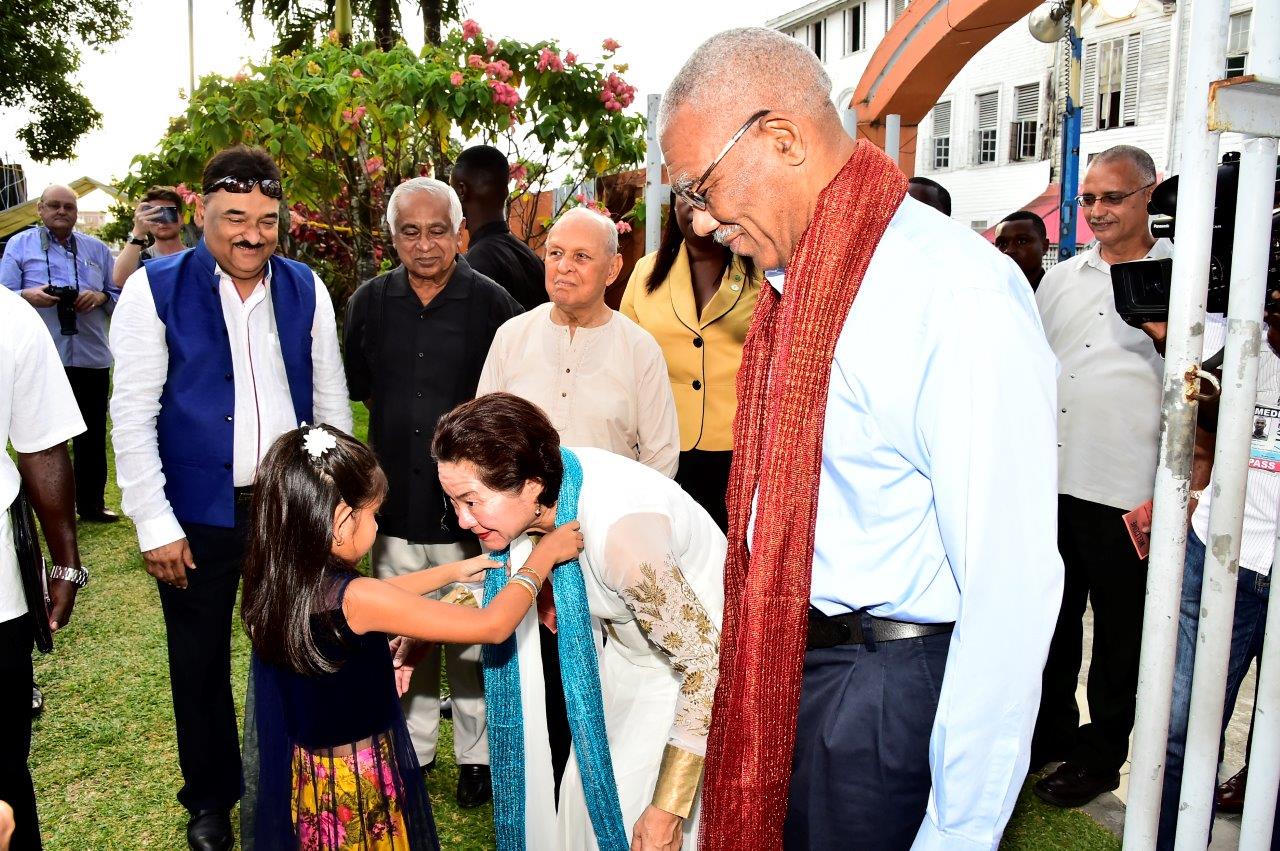 Georgetown, Guyana – (May 5, 2017) President David Granger said that Arrival Day serves as a sharp reminder to all Guyanese that social cohesion cannot be taken for granted and that they should not hesitate to pay homage to each group that makes up the rich and diverse tapestry of the Guyanese society. He noted, too, that a cohesive state is the most fitting homage and the best tribute that Guyanese can pay to their ancestors. "It is only in giving recognition and by paying respect to people that differences will not be obscured, that ignorance will be eradicated and that real social cohesion will be assured," he said. The Head of State made these remarks today at a ceremony at Plantation Highbury, East Bank Berbice, in commemoration of the 179th anniversary of the arrival of Indians to Guyana. It was organised by the Berbice Indian Cultural Committee (BICC).
He said that from early on, as residents of a strange land, the then British Guiana, Indians realised that they have to share a common space and to live in harmony with other ethnic groups. In so doing he said, Indians contributed to a common culture of tolerance and mutual respect and laid the basis for strengthening social cohesion. "Social cohesion, therefore, still needs to be strengthened in each social stratum, in each occupational sector and in each geographical region. Social cohesion must be enhanced within and between communities. The Indian presence in Guyana teaches that improved relations must be predicated on respect for each other and must be guided by a sense of shared responsibility for the common good," President Granger said.
President David Granger and First Lady Mrs. Sandra Granger were welcomed by this little lady upon their arrival at Indian Monument Gardens
He explained that Arrival Day is also an important reminder that not only must Guyanese be inspired by their past but also they must choose a path towards a shared future. "Arrival Day teaches that we can build a cohesive society by eliminating poverty and eradicating inequality. Arrival Day is a time for coming together. All have contributed to nation-building. All have to embrace a common destiny; one in which diversity is respected," the Head of State said.
These sentiments were also expressed by Regional Chairman, Mr. David Armogan, who said that, "we have a country to build and we must all put our heads together… I want to call on all of us; the descendants of East Indian labourers, the descendants of slaves; our African brothers and sisters, the Portuguese, the Chinese and all other groups, we must all put our heads together and build Guyana so that we can be proud of our country," he said. President of the BICC, Mr. Chandra Sohan pointed out that freed African slaves and Indian indentured labourers were able to understand each other's struggles and co-exist in harmony until years later when politics caused a rift between the two groups. He called on citizens to reflect on that cohesion that existed among their ancestors and try to emulate it in order to move the country forward.
Meanwhile, speaking of Guyana's diversity, President Granger explained that the people who immigrated to this country mingled with those who already inhabited it and together, they spawned the cultural, economic and social diversity that is recognised as the Guyanese nation. "Diversity is a precious asset. "Diversity, however, must be prized and protected by ensuring that everyone could co-exist in peace and mutual respect for the validity of each other's culture," he said.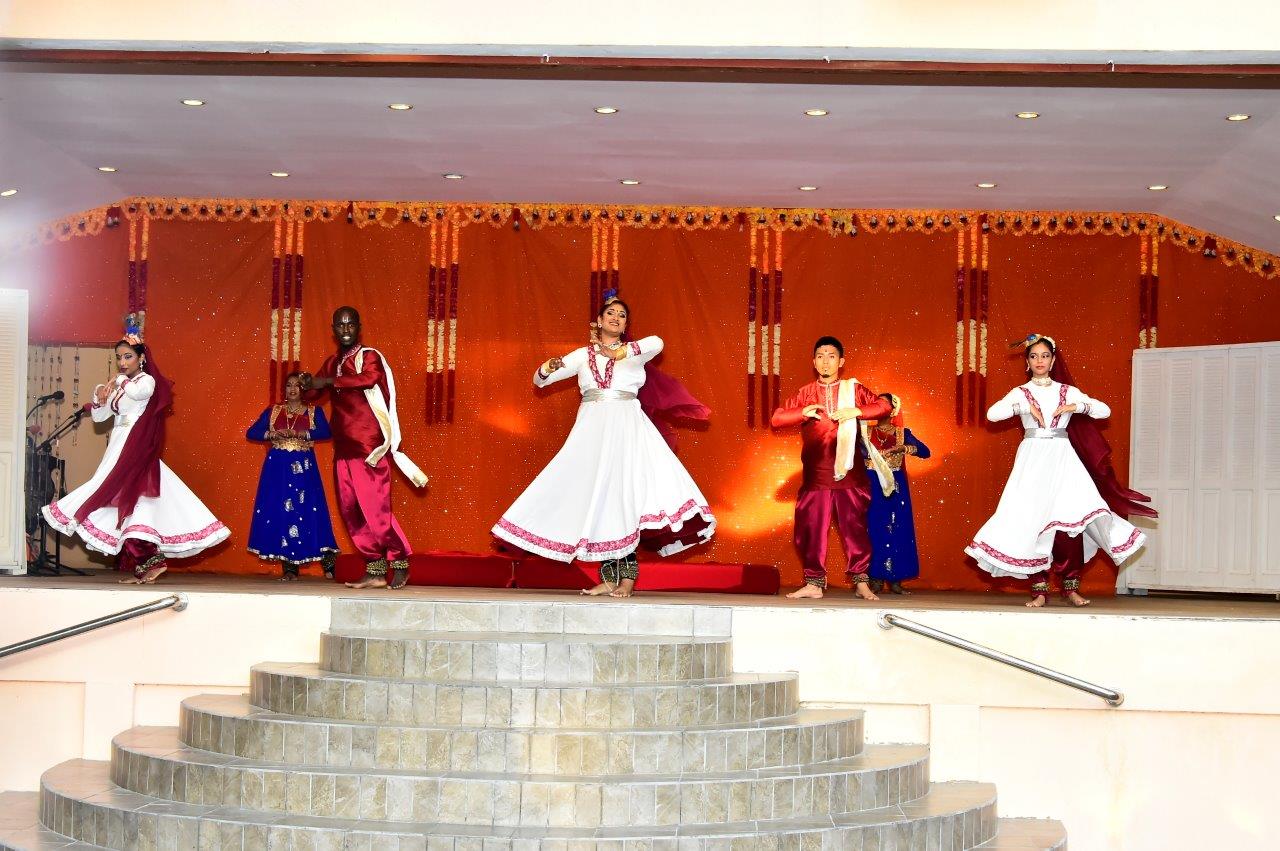 The Nrityageet Dancers entertaining the audience with a classical Indian dance at Pushpanjali 17 organised by the Indian Commemoration Trust
The President noted that Indian Arrival Day is observed rightfully on May 5, as it was that day in 1838 that the S.S. Whitby brought to Guyana, the first batch of Indian indentured labourers. This year's celebration, however, is even more significant owing to the fact that it coincides with the centenary of the end of Indian indentured immigration. President Granger said Indians have made an indelible impact on this country's cultural, economic and social life.
"Indian cultural values encouraged strong bonds of personal, familial, communal and social solidarity. It welded the Indian community closer together. The re-creation of the traditional Indian village practices and relationships furnished a familiar setting, thereby enhancing social integration… Their industry and thrift enabled them to improve their livelihood. They contributed to the diversification of the rural economy by venturing into cattle-rearing, cash crop and coconut cultivation, paddy-growing, rice-milling and fishing. Indian village economies and settlements, indeed, have reshaped our country's economic and social landscape," the President said.
He also spoke of the country's 'green' state transition, noting that its biodiversity is the legacy of Guyanese ancestors, which must be protected and preserved for future generations. "Our coastland, hinterland, highlands, islands, wetlands, grasslands, lakes, rivers, rainforests and waterfalls are our birthright, our inheritance and our heritage… The 'green' state must embody the cohesiveness that arises from our unique, shared past and that will lead to a prosperous and common future for all," he said.
The first batch of Indians arrived in Guyana 179 years ago to work as indentured immigrants on the sugar plantations. Almost 240,000 Indians came to Guyana between 1838 and 1917, the year in which indentured immigration was finally abolished. However, more than 70 percent of the Indians chose to give up their return passages and settle here to make this country their home.
Following the ceremony at Plantation Highbury, the President also attended Pushpanjali 17, another annual event, which is organised by the Indian Commemoration Trust and is held at the Indian Monument Gardens in Georgetown. Both of these events allow citizens, particularly those of Indian origin, to honour their ancestors and reflect on their struggles. They also highlighted all aspects of Indian culture including their food, music, dance and clothing.