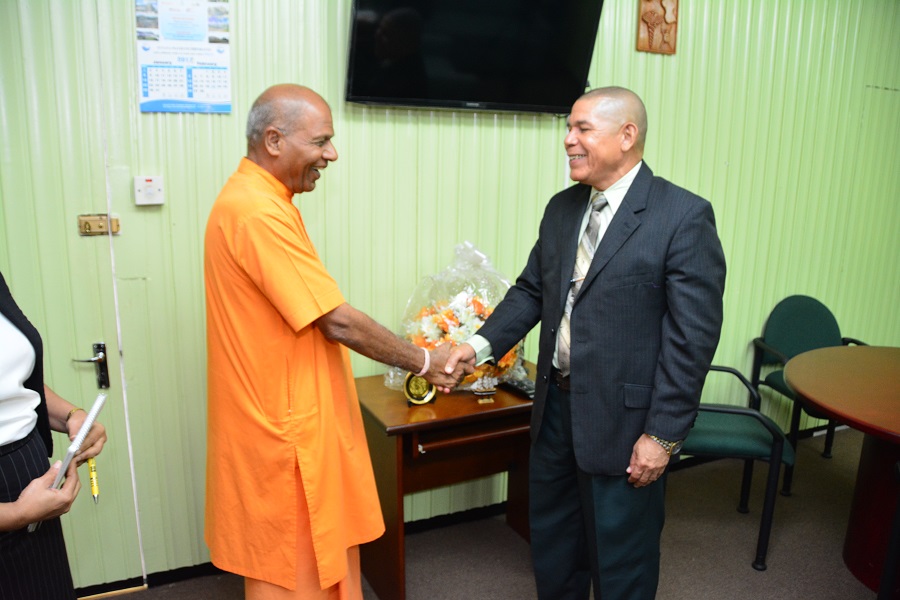 Georgetown, Guyana – (February 2, 2017) Minister of Social Cohesion, Dr. George Norton, today, met with several stakeholders from various groups to discuss possible areas of collaboration in advancing the government's social cohesion mandate.
The Minister first met with Head of the United Republican Party (URP), Mr. Vishnu Bandhu. His second meeting was with Founder of the Saraswati Vidya Niketan School, Swami Aksharnanda. Both meetings occurred as a result of invitations extended by Minister Norton. The Meetings centered on discussions of how they could collaborate on future ventures to help to advance national unity that ensures an equal stake in the countries development for all Guyanese.
Minister Norton shares a light moment during a handshake with Swami Aksharnanda of the Saraswati Vidya Niketan School
"I wanted to get their thoughts on social cohesion on the whole and how they can contribute to it. There is no doubt that they support the idea of social cohesion and its necessity for the development of Guyana," Minister Norton said. "They agreed that we have still made progress with regard to social cohesion and that we have not reached a rock bottom that other societies would have experienced," he said.
The Minister said that the discussions in these meeting have added positively to the other such engagements he has had with stakeholders and groups and that his interactions will serve to help him in his new post as Minister of Social Cohesion. "All my invitees have appreciated the fact that we can speak to each other openly and they appreciate that they can come and have a say and be listened to. I am happy about the advice about their on the ground approach to meet with the people. That is part of my own approach in how we can get social cohesion to work for us," he said.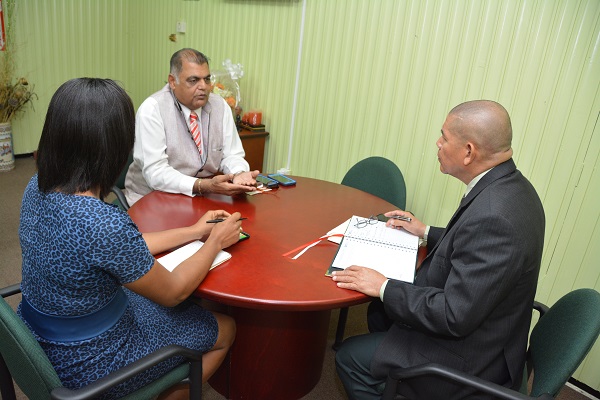 Minister of Social Cohesion, Dr. George Norton met with United Republican Party Head, Mr. Vishnu Bandhu to exchange ideas relating to social cohesion in Guyana
Minister Norton said that he will continue to meet with stakeholders as well as visit communities to learn about their challenges, cultures and other elements that can contribute to learning about social cohesion in Guyana and how the country can move toward achieving a more cohesive society.