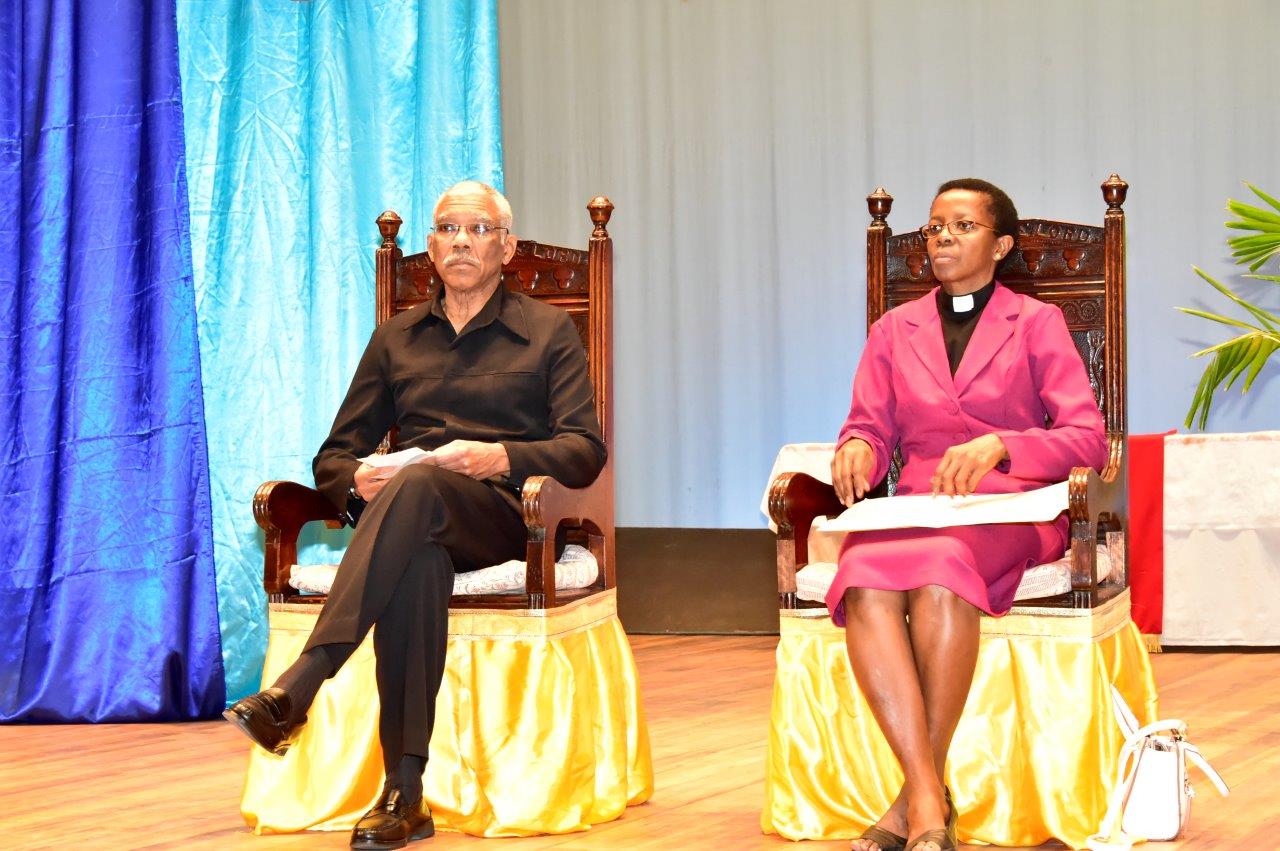 Georgetown, Guyana – (January 29, 2017) President David Granger said that one of the main objectives of his Government is to ensure that the youth demographic in Guyana is provided with increased opportunities to enable them to be the best in whatever field their choose to venture into. He noted, however, that young people must be educated, employed and empowered if they are to optimise these opportunities. The Head of State was at the time addressing the congregation of the Guyana District of the Methodist Church in the Caribbean and the Americas at its Annual Conference held at the National Cultural Centre.
The President urged young people to thread along the path of self-actualisation and emphasised the importance of safeguarding the four principal pillars of society; the home, the school, the church and the workplace, which helps to instil values of virtue, love, faith and compassion required for a 'good life'. "The church's youth ministry has to go beyond worship and church services. It has to prepare young people to participate fully as responsible members of society… If there is no respect in society, these pillars will fall down," President Granger said.
President David Granger and President of the Guyana District, Bishop Glenna Spencer at the Conference, which was held at the National Cultural Centre
Speaking on his vision to transform Guyana into a more cohesive society, he explained that mutual respect, love and compassion are values that must be inculcated from childhood. He lamented that because of disrespect between men and women that Guyana is plagued with a high incidence of interpersonal violence, suicide and other societal ills such adolescent pregnancy and human trafficking. "When we speak about good life we speak about a society that is cohesive, we speak about relationships that are based on respect," the President said.
With an alarming school dropout rate of 4000 students per year, President Granger called on the church to play a greater role in ensuring that children, regardless of where they live or even those with physical disabilities, are given an opportunity to attend school. "We live in a world of increasing complexities and a person, who is uneducated will find it difficult to get ahead in this world. Equally we live in a world of crime and hatred and unless we come to a place like this and worship, unless values are inculcated in the young people, that hatred will fester and will create a society, which is full of violence and crime," he said.
The Methodist Church first came to Guyana in year 1802 and has been playing a significant role in the education, spiritual formation, cultural development and social organisation of citizens, particularly young people. Today's conference saw participation of worshippers from churches at West Demerara, Linden, Essequibo, Berbice, Georgetown, Mahaica and Friendship. It was held under the theme, "Vision 2300- Heritage and Mission Celebrating God's Faithfulness- Claiming God's Future; Rekindling the Flame."