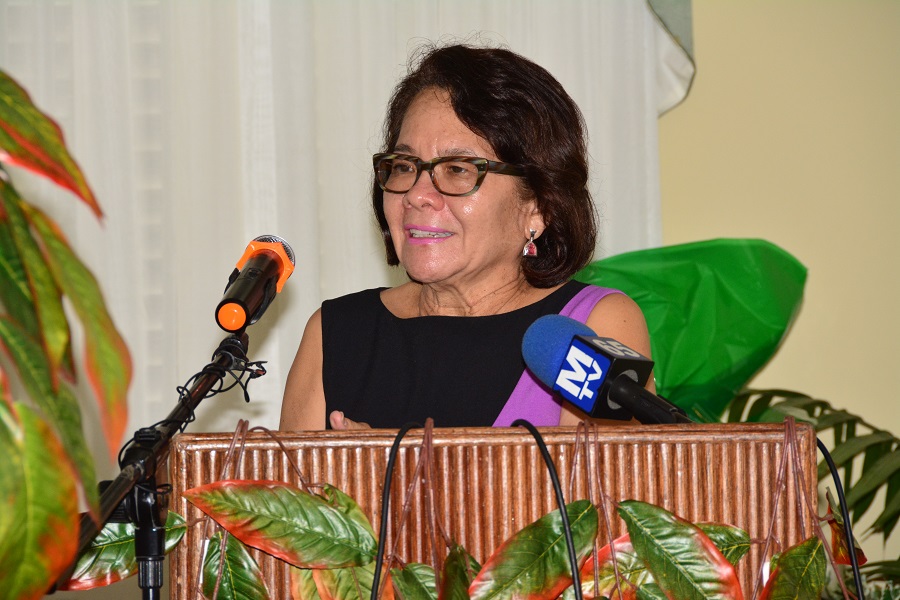 Georgetown, Guyana – (January 31, 2017) First Lady, Mrs. Sandra Granger, today, congratulated entrepreneurs Ms. Sophia Dolphin and Ms. Miranda Thakur of Eco Atlantic Investment, on the launch of the Seventh Generation Product line and encouraged them to consider using locally made products when expanding their business. Minister of Social Protection, Ms. Amna Ally also attended the launching ceremony, which was held at the Cara Lodge, Quamina Street, Georgetown.
The Seventh Generation brand is a United States Department of Agriculture (USDA) certified biobased product line that manufactures household products such as laundry and dish washing detergents, baby and feminine hygiene products and other items.
The First Lady urged the partners to make good use of their product by implementing reusable items that can be of benefit to Guyanese.
"While you are promoting important eco-friendly products, look at what we are producing here [in Guyana]; there are so many things happening that we feel excited about. I feel excited about it because I know a lot of women are producing stuff locally… Use what we have … You have to start thinking and go back to those old tales and old habits that we had… you use what you're bringing in, but you also see how you can expand from it," Mrs. Granger said.
First Lady, Mrs. Sandra Granger, delivering brief remarks
President of the Georgetown Chamber of Commerce Mr. Vishnu Doerga echoed the First Lady's sentiments. He too congratulated the women on their venture, particularly for marketing an eco-friendly product line that is in keeping with the Government's green agenda. He also urged them to make use of what Guyana has to offer when they are ready to expand their business.
"You taking that step in bringing these products to Guyana is also going to become a pioneering move… It deserves our recognition to see that young ladies like yourselves have seen this opportunity way ahead of many other organisations, who might have been in the field for quite a while… I encourage you, from a Chamber of Commerce perspective, to also look at what makes these products so special, look at what we have in Guyana that you can also start developing other products…that also meet the same [objective] of being environmentally friendly so that you can continue to grow your brand…," Mr. Doerga said.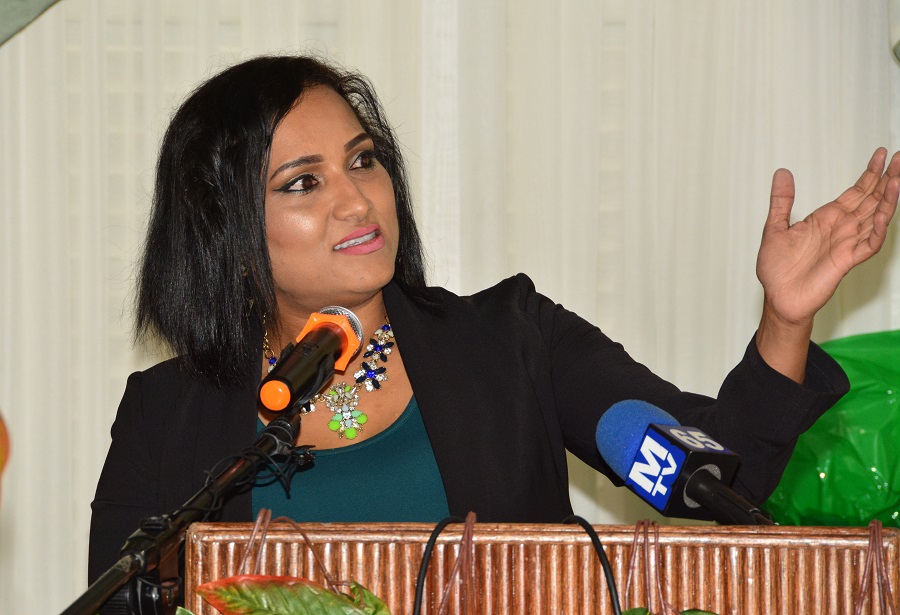 Ms. Sophia Dolphin, giving a brief overview of the product
Mayor of the City of Georgetown, Ms. Patricia Chase-Greene was also pleased that the women had launched the product line in Guyana. "Today I am happy to see that our women have been able to get this product [out] and the City's happy to have these kinds of products… All the bio-degradable products that we're having in the city, we welcome it," she said.
Meanwhile, Ms. Dolphin said that with the launch of the environmentally friendly line of products, she hopes that consumers see the importance of going green in Guyana. "It is our mission at Eco Atlantic Investment to promote and sustain a greener lifestyle… It starts with our daily consumer choices… it is necessary that we start demanding more organic products on our store shelves," she said.
The event was well attended by several business entrepreneurs as well as Regional Chairman, Demerara-Mahaica Region Four, Ms. Genevieve Alleyne.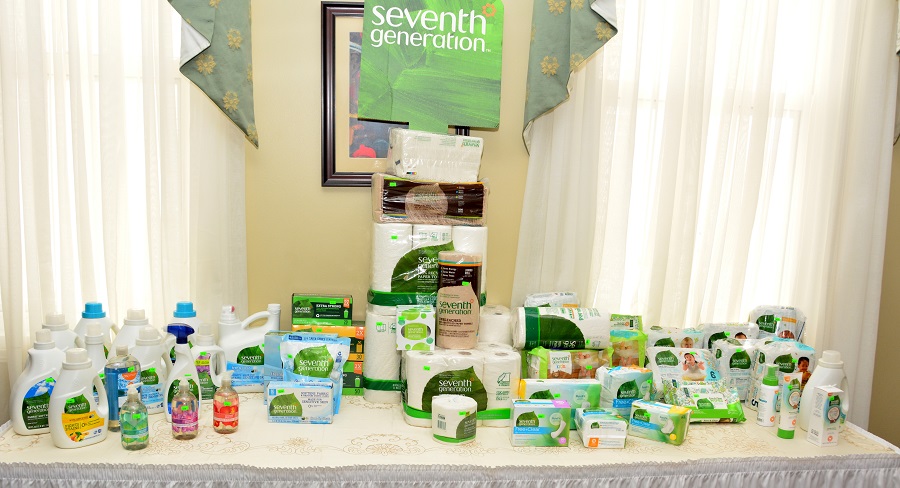 The products on display