Georgetown, Guyana – (December 1, 2016) President David Granger and First Lady, Mrs. Sandra Granger, today, met with the Governor-General of Barbados, His Excellency Sir Elliott Belgrave, GCMG, KA, CHB, QC, at his official residence, Government House, Barbados.
President Granger's meeting with Sir Elliott is part of his official visit to Barbados for that nation's 50th Independence Anniversary Celebrations. Guyana's Consul General to Barbados, Ms. Cita Pilgrim, accompanied by her husband, Mr. Cecil Pilgrim, also attended that meeting. Mr. Pilgrim is a retired Guyanese diplomat.
President David Granger, Governor-General of Barbados, Sir Elliott Belgrave and First Lady, Mrs. Sandra Granger, today, at Government House, Barbados
The Governor-General's daughter, Ms. Susan Matheson, who resides with him, also attended the meeting.
Sir Elliott is a retired High Court Judge, who has served as Governor-General of Barbados since June 1, 2012. The Governor-General, which is a Constitutional post, represents the Queen Elizabeth II on ceremonial occasions in Barbados.
During their two-day visit, the President and First Lady met with Prime Minister Freundel Stuart and joined with Barbadians to celebrate their Independence Anniversary at three national events. Prince Henry of Wales, KCVO, familiarly known as Prince Harry, also attended the anniversary events. The Prince will be arriving in Guyana on December 2, 2016.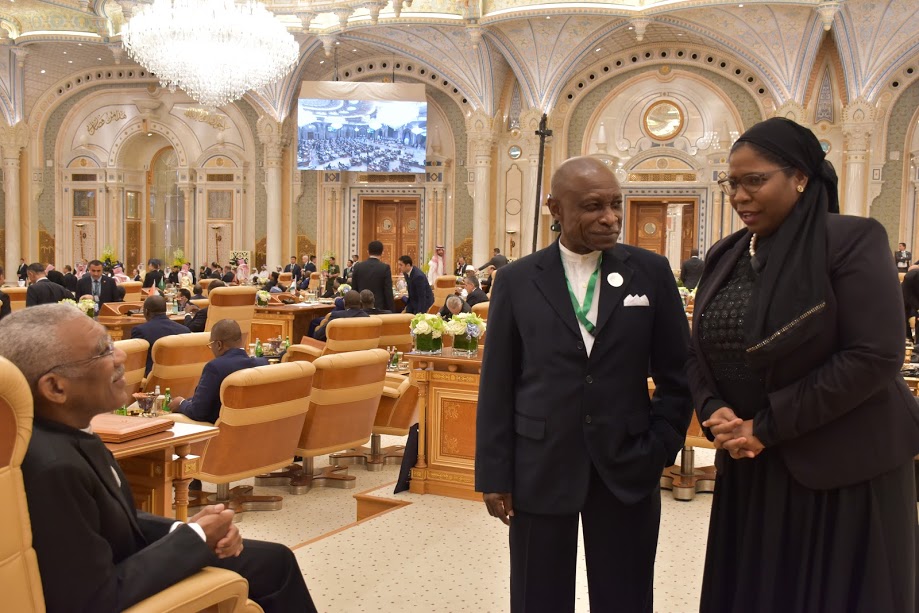 From L-R: First Lady, Mrs. Sandra Granger, President David Granger, Sir Elliott Belgrave and an official from the Barbados Foreign Affairs Ministry, today, at Government House Barbados