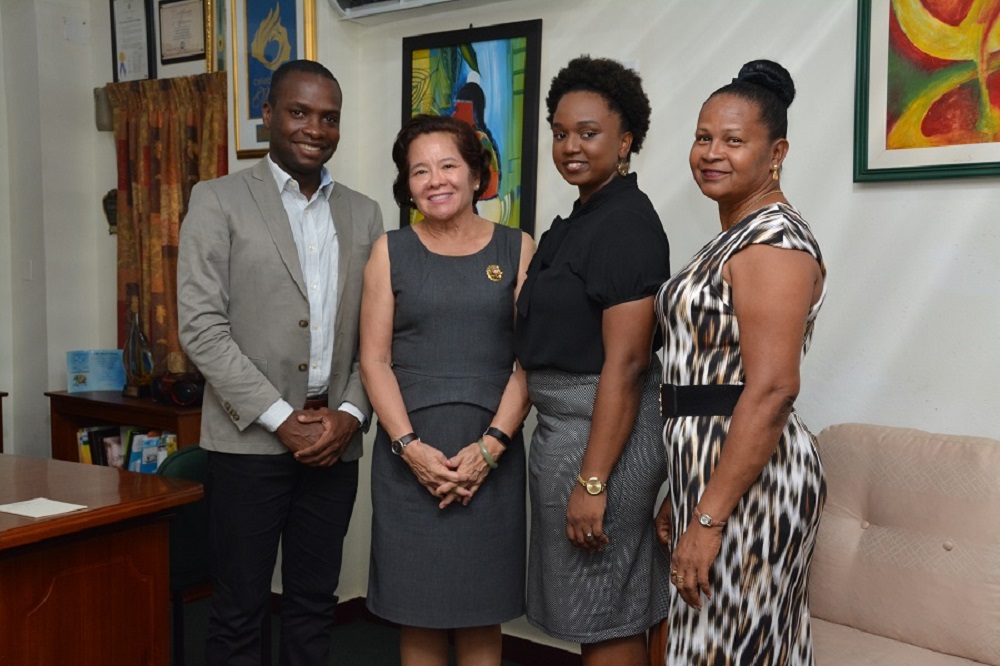 Georgetown, Guyana – (September 26, 2016) Minister of Social Cohesion, Ms. Amna Ally, on Friday, met with the Director of the Society Against Sexual Orientation Discrimination (SASOD) Mr. Joel Simpson and Social Change Coordinator, Mr. Jairo Rodrigues, to discuss possible areas of collaboration between SASOD and the department of Social Cohesion.
Among the items on the agenda which were of particular concern to SASOD, were education, especially as it relates to the Lesbian, Gay, Bisexual and Transsexual (LGBT) community, the youth population and the high number of school drop outs, employment and discrimination in the workplace and the programmes, which have been undertaken by the organisation to tackle the suicide epidemic in Guyana.
The representative of SASOD highlighted discriminatory treatment that was meted out to young persons in the education sector who displayed a 'different' sexual orientation. SASOD also noted that they were dissatisfied with the way in which the LGBT community in Guyana is treated by members of the society and the high level of homophobic attitude which persists in the country.
Minister of Social Cohesion, Ms. Amna Ally in discussions with SASOD representatives: Ms. Schemel Patrick, Advocacy and Communications Manager (first, left), Mr. Joel Simpson, Director (second, left) and Mr. Jairo Rodrigues (first, right).
Mr. Simpson and Mr. Rodrigues also used the opportunity to outline various initiatives and programmes, which can be undertaken in communities to prevent suicide even as they noted that counselling was a priority for the organisation.
Minister Ally assured the team that the Government does not practice discrimination and as such will not condone it. She assured the representatives of SASOD that the Ministry of Social Cohesion will take the lead and give guidance to its sister Ministries to ensure that no form of discriminatory practices are permitted or allowed within Government institutions.
In an invited comment, Mr. Rodrigues said that the organisation was pleased to have engaged with the Ministry about its burning issues and concerns, which were brought to the forefront and were noted by the Minister. He also said that the organisation will be looking to work closely with the Ministry in the near future to ensure that the rights of all citizens are upheld.
SASOD, is a member of the Ministry of Social Cohesion's peer group, which comprises representatives of the current government, Opposition, civil society, academia, the private sector, religious groups, women and youth, with a mandate of designing and guiding the citizens consultation process for the formulation of the Ministry of Social Cohesion's five-year strategic plan. The group is also a stakeholder in fostering social cohesion in Guyana.