Georgetown, Guyana – (April 25, 2016) As part of the 'Green Bartica' Campaign, the Office of Climate Change (OCC) kicked off the 'Inter-School Green Bartica Debating and Spelling Bee' competition in Bartica, Cuyuni-Mazaruni (Region Seven).
The series commenced with a Debate Competition and a Spelling Bee contest held on April 20 and 21 respectively, with the aim of promoting environmental awareness and highlighting the roles and responsibilities of the citizens of a 'green' community. Both activities were done in collaboration with the Education Ministry.
Winners of the debate with their Head Teacher, Ms. Deborah Gomes
The Bartica Secondary School and Three Mile Secondary School proposed and opposed, respectively, the moot, "Waste separation should be done at home." Three Miles Secondary School emerged victorious, with Oshea Mingo being adjudged the best speaker.
The following day, students from the St. Anthony's, St. John the Baptist, Two Miles and Agatash primary schools took part in the Green Spelling Bee contest. Of the four schools, students from the St. Anthony's Primary copped the first, second and third places.
Presidential Advisor on the Environment, Rear Admiral (ret'd) Gary Best said that, "the effort behind this is to ensure that at least at the level of the students at the primary and secondary levels should become more familiar with the term 'greening' and with the activities surrounding the greening of Bartica."
He added that the selection of Bartica for a model green town is testimony to the level of confidence that President David Granger has in the community. Bartica, he said, stands in a good position to demonstrate to the rest of the country how a town can incorporate sustainable practices in its daily activities.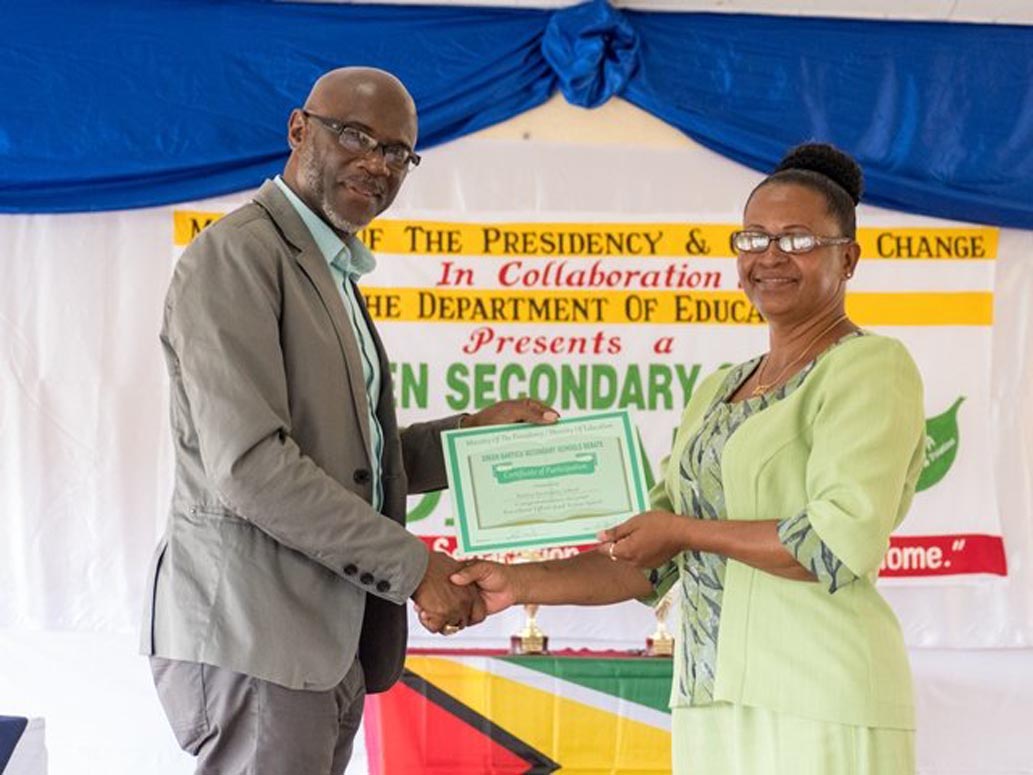 Presidential Advisor on Environment, Rear Admiral (ret'd) Gary Best presents the Head Teach of the Bartica Secondary School, Ms. Carmel Williams with a certificate.