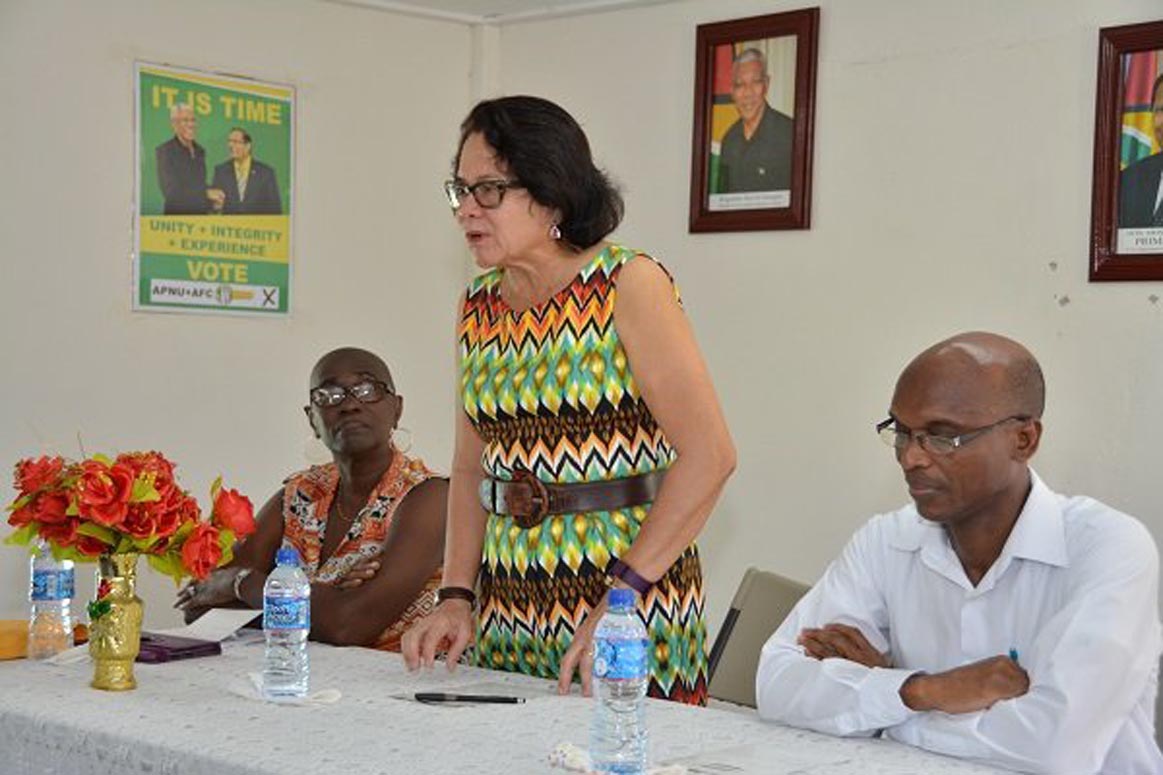 Georgetown, Guyana – (March 07, 2016) First Lady, Mrs. Sandra Granger, today, at the opening of her Self-Reliance and Success in Business Workshop in Rosignol, Mahaica-Berbice (Region Five), invited participants, who can make local confectionery to embark on a small enterprise, in time for Guyana's 50th Independence Anniversary.
In her address to the more than 20 women, who will benefit from entrepreneurial and management training at the fifth such workshop, The First Lady announced that she will be embarking on a project, which is aimed at bringing back 'old time sweets' for Guyana's 50th Independence Anniversary and invited the participants to come on board.
"If you have people in this village who can make 'stretcher', 'sour drops' and 'toffee balls' and so on that we the older people know and enjoyed, then we have the 50th Anniversary coming up. If we can make these things and package them, do you know the markets we can get? The amount of visitors we will have during that time will certainly be interested in these things. We will see how we can help you package it and market it to empower yourselves," First Lady said.
First Lady, Mrs. Sandra Granger addresses the participants at the opening ceremony of the fifth Self Reliance and Success in Business Workshop, held today in Rosignol, Mahaica-Berbice (Region Five).
Mrs. Granger said she dreams of a Guyana where all of the women are equipped with the skills to become independent.
"Thank you all for being here and for helping me to fulfil the dream of seeing the women of our country independent and empowered. I have this vision of all the women throughout the regions of Guyana being able to provide for themselves. When you are able to earn and have money in your hands, then nobody can disrespect you. In that way, you know you are empowered, you know how to live your life, you know how to manage your budget," Mrs. Granger said.
While noting that her office isn't able to facilitate training for as large a numbers of participants as she would like, the First Lady said the beneficiaries, who were drawn from Mahaicony, Calcutta, Hopetown, Rosignol, among other areas, are expected to share their knowledge within their communities.
Further, she said, the programme will be taken across the country. "We are hoping to go to Mahdia, Kamarang, Bartica and other areas… Women are productive [beings]. If we are not knitting, we are making something else," she said.
The workshop in session this morning
Meanwhile, Ms. Jennifer Wade, Member of Parliament for Region Five, praised the initiative, noting that it is the first such programme to be launched in that region. "This visionary Government has begun the better life that has been promised to us all, regardless of our race, religion, sex, social origin, physical conditions… and you are all a part of whatever is to be done. And so this morning, we are here in Region Five to have our first empowerment programme," she said.
She told the participants that the onus is now on them to ensure that they capitalise on the opportunity and use it to become independent.
"Those of you who will be remaining for the rest of the week, I trust that you will make full use of this programme and I say full use, because the First Lady has invested time and finances into this project and I don't want anyone to let us down. Punctuality and regularity must be a part of the programme," Ms. Wade said.
Ms. Carol Smith-Joseph, a councillor on the Regional Democratic Council (RDC), echoed these sentiments. "Today we are happy. Region Five is happy because we are benefiting from the wife of our President… I am following her and seeing her everywhere else. I was wondering when she would come here, but she is here today. Our young women have been starved [of] this type of initiative and this is so timely," Ms. Smith- Joseph remarked.
The workshop is being held under the auspices of the Office of the First Lady, and is funded by the Ministry of Social Protection and Ministry of Indigenous Peoples' Affairs. Many of the participants are small business owners who need management skills training to advance their businesses.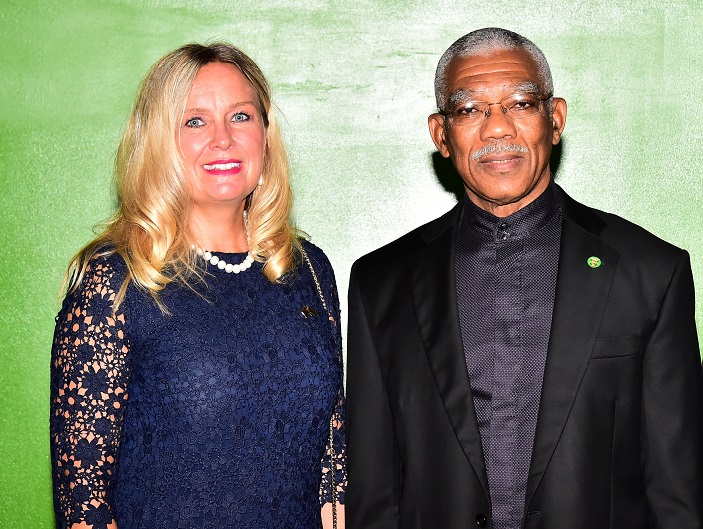 A section of the participants and other special invitees at this morning's opening ceremony.
The sessions are being conducted by Mr. Wayne Barrow of Interweave Solutions, who said that at the end of the training, the women will be empowered to manage a small business, develop small business plans, and write grant proposals, among other skills.
Thus far, over 120 women have completed the programme and are on their way to establishing themselves as successful small businesses owners. The biggest success story of the workshop is Ms. Annie Roopchand, who participated in the Good Hope/Lusignan session and placed third in a National 'Business Pitch' Competition that was held during the inaugural Business Expo hosted by the Government.
The second workshop was held in Linden, Upper Demerara-Upper Berbice (Region Ten) and the third in Lethem, Upper Takutu- Upper Essequibo (Region Nine) while the fourth was held in Mabaruma, Barima Waini (Region One).