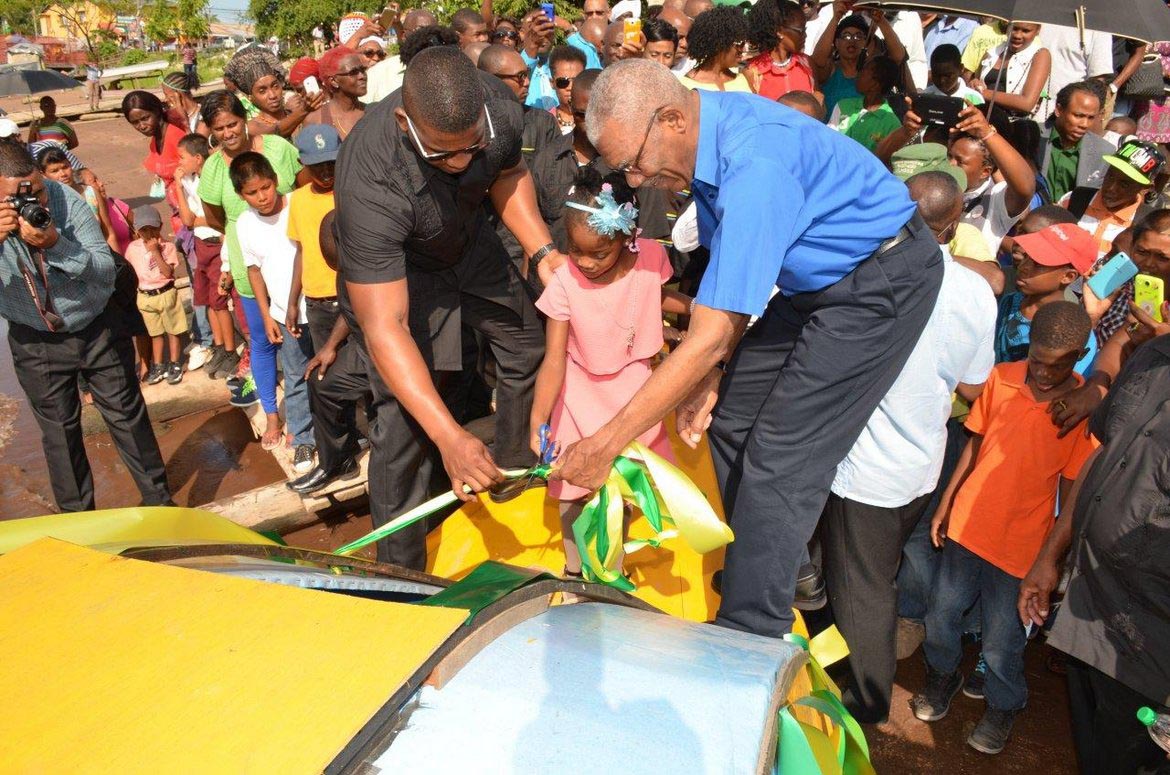 Georgetown, Guyana – (January 23, 2016) President David Granger, today, pledged to add two more 'B's to his 'Boats, Buses and Bicycles' programme, in the form of books and breakfast, to ensure children from across the country are not hindered from attending school. The President was at the time speaking at the commissioning ceremony in McKenzie, Linden for a school boat, which has been donated for use by children who live in the Upper Demerara River area.
The ceremony was also attended by Minister of Social Cohesion, Amna Ally, who has been instrumental in the implementation of the 'Three Bs' initiative, and Minister within the Ministry of Communities.
The 'David G II,' which was donated by CGX Energy Incorporated, last year, and was originally for use in the Pomeroon River, but was determined to be better-suited for the children in the Upper Demerara River. Additionally, the regional administration has allocated finances in the budget to purchase a bus for the children in the Christiansburg, Linden area.
President Granger assisting this little girl from the Region in the ceremonial ribbon cutting, to officially commission the boat.
The Head of State also used the opportunity to call on the Upper Demerara- Berbice, Regional Democratic Council (RDC) to establish the Upper Demerara Education Scholarship Trust, in which he promised to heavily invest.
President Granger said that the initiative, which was born out of the need to ensure that every child has equal access to school, has an even greater role, that is, to place Guyana on the map as a leading education nation.
"Guyana must once again become the education nation. We are building a new civilisation; one that is based on solving problems, based on working together, based on working to build a stronger economic approach," he said.
The President noted that every month, approximately 400 children drop out of the school system and man do not complete a secondary education. This, he said, must not be allowed to continue, and every effort should be made to ensure that the hindrances to education are eliminated.
"It is when I come to regions like this that I get ideas. The children have to get up in the morning and paddle to get to school. Some of them never go to school because they cannot afford to go to school. Part of the problem is that some parents lack money to provide transportation for the children to get to school and part of the solution is for us to provide transportation for them to get to school and it is my job to solve these problems. I want to ensure that every child get to school…it's a simple mission. The Constitution says education is an entitlement and I want to fulfill that constitutional requirement. Children must not be kept at home because they can't afford to go to school," President Granger said.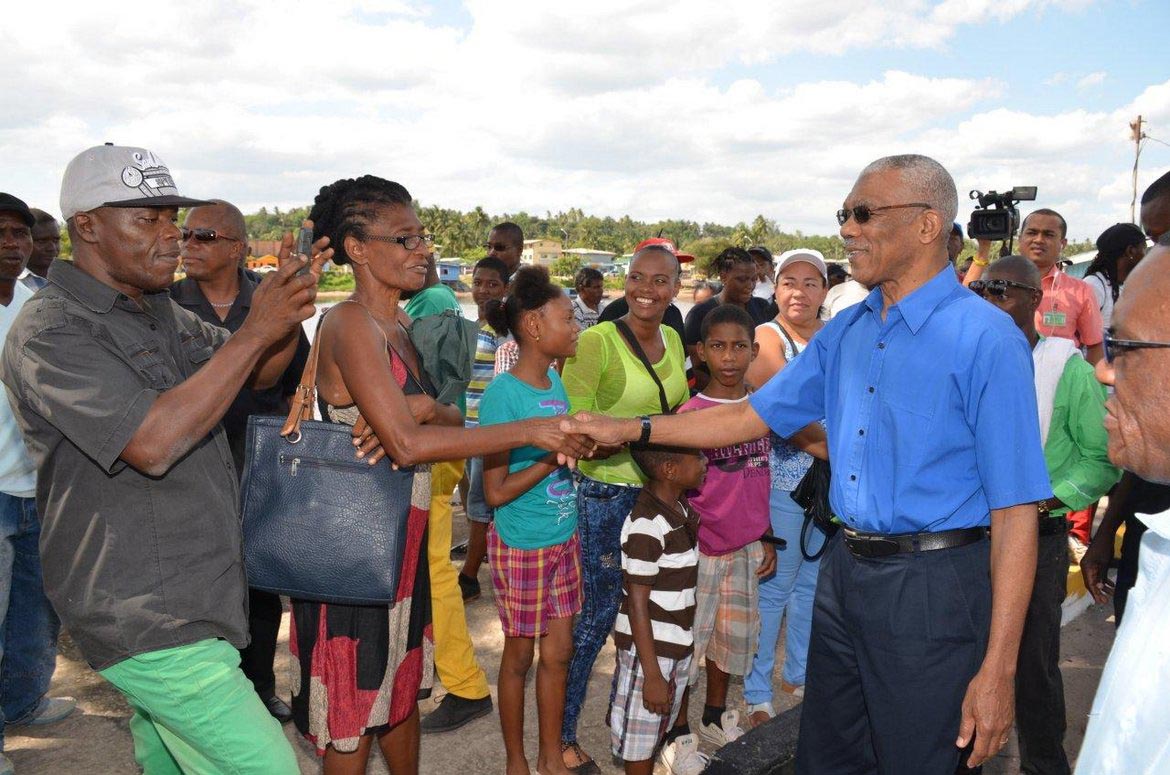 President David Granger meeting and greeting some of the persons who were present at the event, earlier today
Breakfast, Books and Scholarship Trust
It was on this note that the President announced that he was exploring the idea of introducing books and breakfast in the schools across the country so that the students can start the day with a full stomach, and without the burden of worrying how to get to school.
"We will have another 'B' for books and eventually yet another 'B, breakfast. My officers are already working on it. Every child must be in school. I believe in an equal society and you become equal by ensuring that everybody has equal access to education. If we want to build an equal society, we have to give our children equal access to education. It is the basis for equality… You can choose any profession but if you do not have the education, you cannot be employed," he told those present.
Additionally, the President asked the Regional Chairman, Mr. Renis Morian to ensure that a scholarship trust is set up in the region to support those students, who are most financially vulnerable.
"I had established the Burnham Education Scholarship Trust (BEST) awards. Every year, $1,500,000 is given out to keep children in schools and I am using this opportunity to invite the Upper Demerara region to launch an Upper Demerara Education Scholarship Trust and I will put real money into the trust managed by the RDC to ensure that children are kept in secondary schools and do not become drop outs," President Granger said.
He also issued a plea to the residents to ensure that every possible avenue is explored in ensuring that the children are able to get to school and stay in school.
"Promise yourselves to do everything that is possible to keep your child in school and if you can't afford it then we will see what we can do in terms of providing a bicycle or if you live in a riverine area, provide a boat and if you live on part of the highway, by providing a bus for you. If you don't have food, we will provide breakfast. If you don't have money, we will provide a bursary. We must do everything possible to keep our children in school to deliver that good life that was promised to all Guyanese…," he said.
In the meantime, the Regional Chairman noted that the boats will go a long way in ensuring that the region's children are granted an education, which can only lead to the overall development of the country.
"This boat will be used as far down the Demerara River as possible. It is going to benefit at least 60 children. This will ensure that children are in school because when they are not in school, we have work for the police, for the courts, for the magistrates. So we don't want the deviant behavior. We would like our children to be educated. Once you are educated, it is easy to get you into a developmental programme than anything else," Mr. Morian said.
Karen Garraway, a resident of McKenzie, Linden, also praised the initiative, noting that the region had been stifled for far too long and it is refreshing to see that changes which are taking place, in the interest of everyone involved.
"We are grateful for what the President is doing. For the months that he has been there, a lot has been done. Over a number of years, we only lived off of promises but now we can be thankful for what he is doing; he is doing a great, great job. I think it is a very good thing in this community," she said.