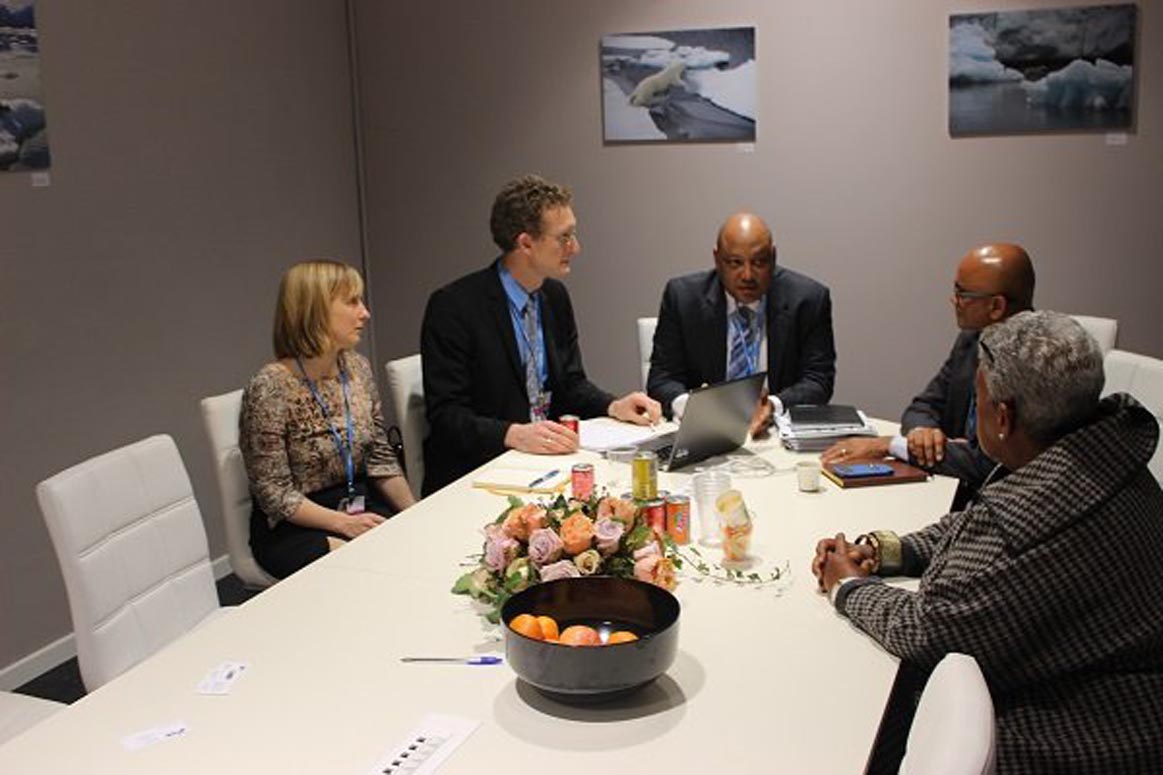 Georgetown, Guyana – (December 8, 2015) Minister of Governance, with responsibility for Natural Resources and the Environment, Raphael Trotman, said while he is "encouraged" by the progress Guyana has made with the Norwegian Government at the United Nations' Framework Convention on Climate Change Conference (UNFCCC), it is imperative that the 2015 Paris Climate Change Conference (COP21) reaches a legally binding agreement to protect vulnerable countries as climate change is one of the greatest threats to humanity.
The future of the Guyana-Norway agreement, which had been surrounded by some uncertainty, was discussed at a meeting held in Paris, France today between the two countries, in the presence of key representatives of the Inter-American Development Bank (IDB). Minister Trotman said both parties agreed to formulate a document, which will look at the future of the relationship and how best it can serve both countries. Once this is done, further discussions will be held.
In the meantime, Minister of Finance, Winston Jordan, who is also attending the UNFCCC conference to aid in the negotiations for financing for Guyana, said that the meeting was fruitful for both sides as it discussed its current status with a view to determining what would be possible in the future.
"Our position remains the same, which is that the Amaila [Falls] conception [is flawed], we cannot go ahead with it. We think that it is too costly. It hasn't been properly studied, it has environmental, engineering and other issues, and so what we are saying is that if those can be solved, we would be happy to reconsider the project and that is what we said in the meeting and it was accepted by all sides," Minister Jordan said.
He also revealed that the Norwegians would like to have an independent study conducted on the project so that it can be brought to finality, but this is still to be decided on. The minister said Guyana was particularly interested in how the US$80 million can be unlocked for the development of the country.
"We welcome that as it would bring some sort of finality. This will ensure that once for all, we will know if it's viable and how can we find a sponsor and if it is not, how we can get the money to facilitate it. We got a confirmation in the meeting that this money (US$80 million) was for Amaila but if the Amaila does not go through, it can be channelled into clean and green energy initiatives," Minister Jordan said.
Guyana is expected to have follow-up meetings in January, while Norway has invited the Guyana Government to visit the country for further discussions in June of 2016. However, Minister Jordan noted that Guyana has made it clear that it would prefer timely discussions and has asked for all future actions to be placed in a timeframe.
"We made clear that these have to be time-bound. We just cannot sit and say six months or one year. We have to map out the steps that need to be taken and how long so that we can get to the final point," he said.
Since the agreement was signed in 2009, Guyana has earned US$190 million. However, the Agreement comes to an end this year and as such it was necessary that the two nations meet. Of the total amount, US $69.8 million has been transferred to the Guyana REDD+Investment Fund (GRIF) while US$80 million was transferred to the Inter-American Development Bank for the delayed Amaila Falls Hydropower Power Project.
Meanwhile, Minister Trotman, in his address to the Conference, said that climate change is no longer an issue of the future, but it is one of the greatest threats facing humanity today. As such, he noted that the Conference is an opportunity for humanity and Paris must deliver an Agreement which is legally binding, based on the principles of the Convention, and which provides the resources for transformative action that will allow for the mitigation and adaptation to climate change. To this end, he said that Guyana has the potential to fight the global phenomenon.
"Guyana is committed to developing a Green Economy. Our abundant rainforests have, over the years, been conserved and sustainably managed. We are proud to say that we have among the lowest deforestation rates and highest forest carbon storage per capita in the world. In 2009, in a pioneering partnership with the Kingdom of Norway, Guyana formulated and commenced implementation of a low carbon development strategy and a REDD Plus initiative," he said.
However, Guyana is extremely concerned at the low level of ambition in emission reduction targets necessary to stabilise global emissions, he said.
"Among the lowest emitters in the world, Guyana developed and submitted an INDC (Intended Nationally Determined Contribution) ahead of the October 1 deadline. We are disappointed that aggregate targets and actions pledged in INDCs still take us to almost three degrees warming. This is unacceptable, as it will spell disaster for small islands and coastal-low lying developing states like Guyana, where most of our population and infrastructure exist at or below sea level. The Paris Agreement must serve to protect us," Minister Trotman advocated.
In this regard, he joined with the many other vulnerable countries in calling for commitments for medium and long-term emission reduction pathways that are consistent with a 1.5 degree goal.
Noting that the critical role of support in the implementation of the 2015 Agreement cannot be over-emphasised, Minister Trotman said that developed countries must continue to take the lead in providing scaled up, sustainable, new, additional and predictable climate finance to developing countries using the 2009 pledge of US$100 billion per year as a base.
"It is also imperative that we recognise that both SIDS and LDCs face particular capacity constraints in accessing financial resources. The Paris agreement must include a commitment to improve access, including direct access, for these countries. COP 21 will long be regarded as a crossroad in history. The outcome of these negotiations will chart the kind of future that succeeding generations will inherit. Let us leave Paris with an ambitious, balanced, equitable, legally binding Agreement that provides for the poor and the wealthy as equally as it provides for the strong and the vulnerable among us. Future generations will look back and ask, – 'Did we, in 2015 in Paris, do the right thing?'" he said.
Minister Raphael Trotman (center ) in discussions with (from left) Andreas Tveteraas, Deputy Director of Norway's Climate and Forest Initiative and another representative. To his right is Dr. David Singh, Head of Conservation International Guyana and Jocelyn Dow, a member of the Guyanese delegation. (Neil Marks Photo)