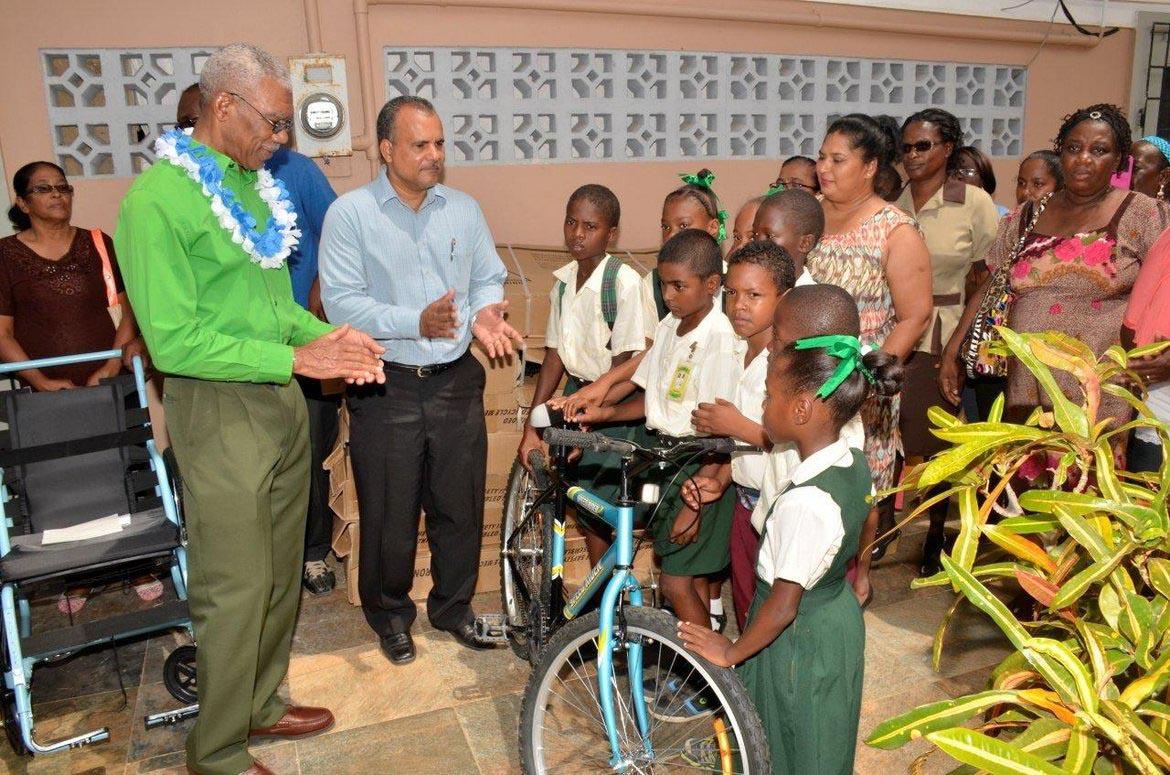 Georgetown, Guyana – (October 27, 2015) Civil society continues to aid the government in its quest to ensure that every school-age child is able to access quality education. One of the most recent gesture saw Food for the Poor Guyana Incorporated handing over eight bicycles to students from the East Bank Berbice. President, His Excellency Brigadier David Granger and Chief Executive Officer of Food for the Poor Guyana Incorporated, Mr. Kent Vincent made the presentation at a ceremony which was held on Sunday October 25, at Rose Hall, East Berbice Corentyne Region.
The students, two from Schepmoed Primary, three from Light Town Primary and another three from Plegt Anker Primary school, were presented with bicycles to aid them getting to and from school. Already twelve students from these schools have benefitted from this initiative which was initiated by President Granger. Mr. Vincent upon handing over the bicycles to the students said that his organisation is always cognizant of the need for transportation and to help those who are unfortunate in some aspect of their lives. "The President speaks about the need for all children to be in school and get an education and Food for the Poor is there to assist in whatever way we can," Vincent said.
Also on this occasion the President expressed his gratitude to Food for the Poor and other organisations, as he noted that anything to aid students in getting to school is welcomed by the administration. He also called on the children to make the best of the bicycles and to care them.
President His Excellency Brigadier and Chief Executive Office of Food For the Poor Guyana Incorporated, Mr. Kent Vincent handing over the bicycles to the students