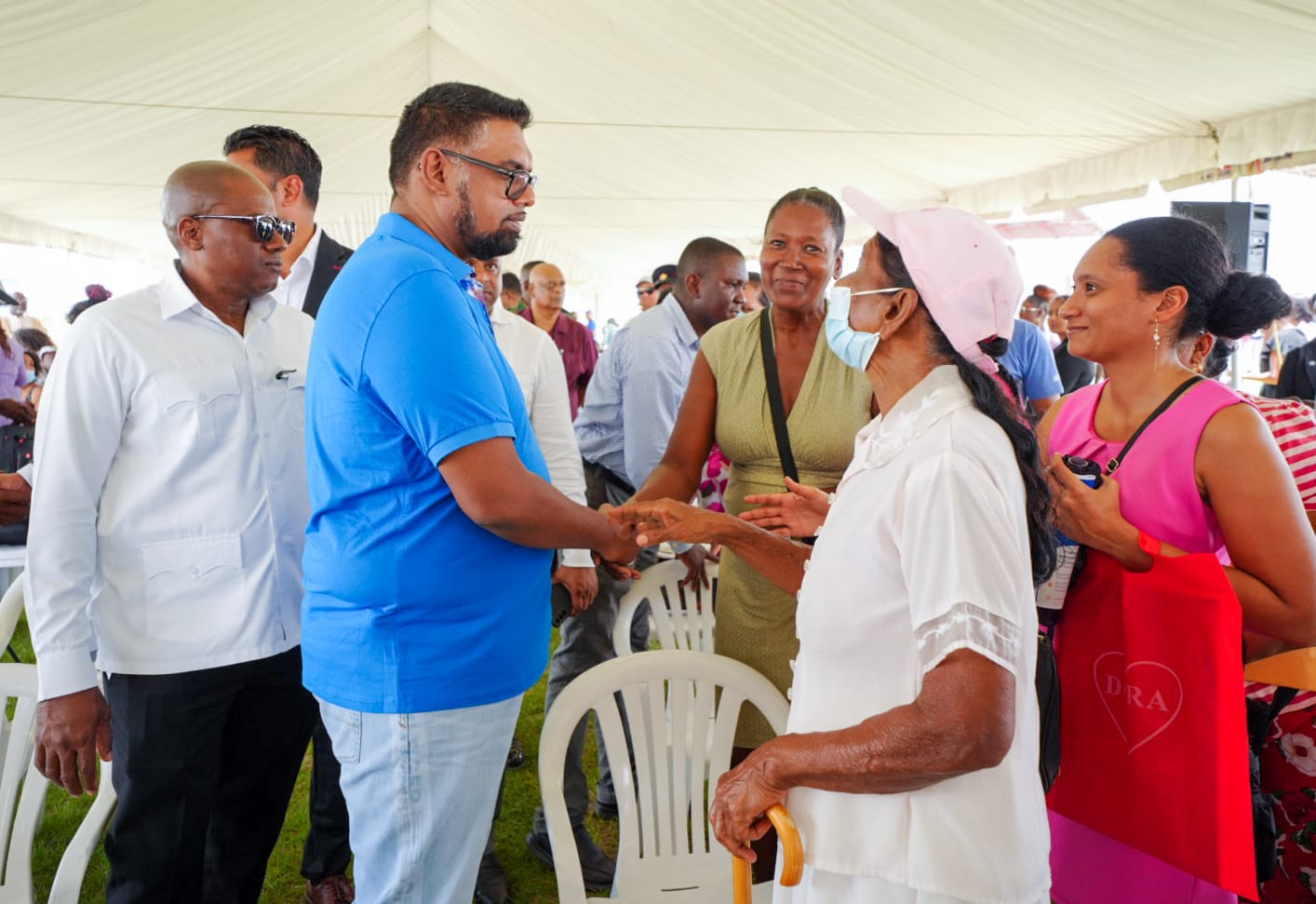 -Issues affecting hundreds of residents addressed on day one in Region Three outreach
Leonora, Guyana—(March 30, 2023) His Excellency Dr Irfaan Ali's quest to carry his Office and other Government services to residents of Region Three (Essequibo Islands/West Demerara), has resulted in hundreds of cases being addressed on day one of the two-day activity.
The Head of State and his team, who spent the entire day today at the National Track and Field Facility in Leonora meeting with residents throughout the region and listening to their concerns, were able to solve issues regarding land titling, pension payments, public assistance, education and other problems.
Among the matters, included a 30-year leasing issue affecting dozens of residents of Tuschen, who have been trying to get documents for their land.
The President assured the residents that the issue will be addressed by the Guyana Lands and Surveys Commission (GLSC).
He noted that it is essential to reduce the bureaucratic hassle and to understand the difficulties people face.
"I think this is very important in improving efficiency, removing bureaucracy and bringing governance to the people and allowing people to experience governance in their own environment. Sometimes people are not comfortable in an environment…seeing people in a suit and tie. But in an environment like this, they're more comfortable in handling matters…"
To advance the issues, each person that visited the outreach was given a number electronically, the President and his team were then able to point persons in the right direction to either resolve their issues or put measures in place to solve them, in the shortest possible time.
"Moving our Government system more to an electronic form, where technology is used…is what we have to get to."
He said that the Government, through the various ministries have been to numerous locations in Guyana in a quest to solve issues affecting Guyanese, so far over 6000 NIS issues have been rectified.
The President said that other concerns are also being addressed.
Activities continue tomorrow at the same venue.
This is the second Office of the President-Direct. The first, which was held in Region Six (East Berbice-Corentyne) in early February, attracted over 2000 persons, who had varying levels of issues.
According to the Head of State, so far over 70 per cent of the cases have been resolved.
Senior Minister within the Office of the President with responsibility for Finance, the Honourable Dr Ashni Singh; Minister of Housing and Water, the Honourable Collin Croal; Minister of Culture, Youth and Sport, the Honourable Charles Ramson; Minister of Local Government and Regional Development, the Honourable Nigel Dharamlall and Minister within the Ministry of Public Works, the Honourable Deodat Indar, were also a part of the activity.