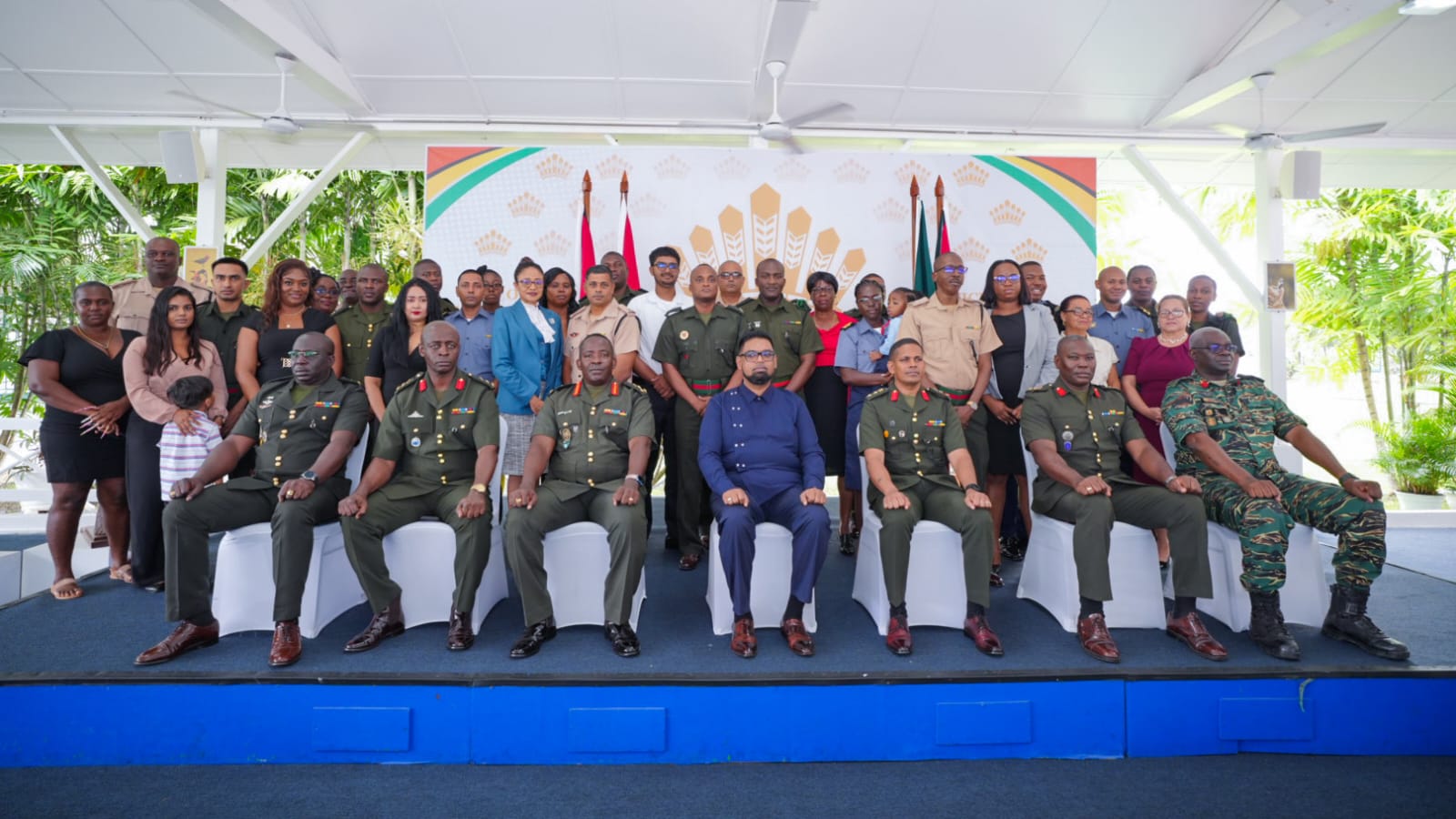 Georgetown, Guyana—(February 24, 2023) His Excellency Dr Irfaan Ali said that the Government is working on promoting defence diplomacy as a key feature in Guyana's foreign policy.
The Commander-in-Chief of the Armed Forces, who addressed newly promoted ranks of the Guyana Defence Force (GDF), at State House today, explained that as Guyana continues to develop, new strategies will be pursued.
He called defence diplomacy, one of the "most critical links between our foreign policy, our defence mechanism and our development strategy".
"We are now going to embark on having defence diplomacy as a key feature of our foreign policy and a key feature of our national architecture."
Another important strategy the Government is pursuing in its development agenda is to prepare members of the GDF for continued contribution to the development of the country.
He posited that it is the training and experience of the GDF that will be converted into an "additional knowledge set" to position the force to produce men and women to be a part of the country's defence diplomacy.
"So, as you embark on this journey, know that we are going to call upon you to contribute in a more significant way."
President Ali also thanked the Chief of Staff, Brigadier Godfrey Bess for his "very strong commitment" over the last two years in transforming the GDF and integrating it into the country's development plan.
This, the President said, has helped to bolster and improve the standing of the military in Guyana.
"There is greater respect. There is greater honour shown to military officers, because you're delivering a lot more positive development and contributions in communities themselves, and this is not going unnoticed."
Guyana's increasing international presence and partnerships, he explained, gives the GDF the opportunity to "shine" and stand out.
"There are many regional institutions that are asking me for officers by name, because of courses you would have attended and the way you conducted yourself and the way you presented yourself."
The Head of State implored the ranks not to take the massive exposure and training opportunities that the GDF, and by extension the Government, is providing, for granted.
"Stay true to your oath of office. Stay true to professionalism. Stay true to the rule of law. Stay true to democracy and trust me, once you stay true to those principles, nothing can ever block you and your future from being better."