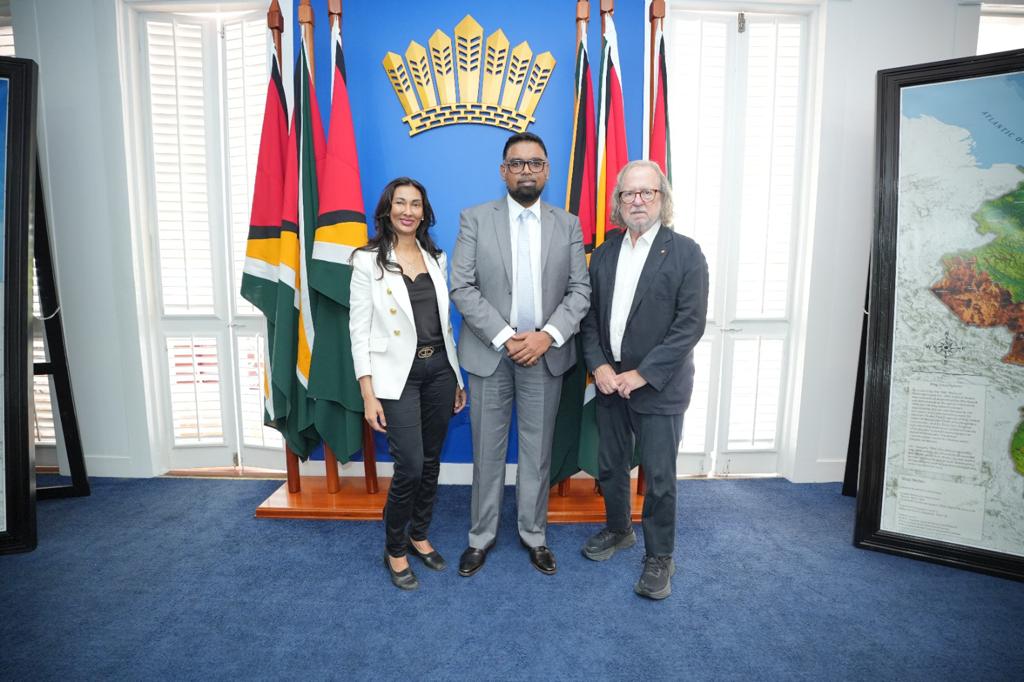 Georgetown, Guyana—(February 21, 2023) His Excellency Dr Irfaan Ali held discussions with two US-based scholars—Professor James Allison and Guyanese-born Professor Padmanee Sharma, on the development of a Presidential Advisory Council on Medicine and Science, at State House earlier today.
Professor Allison is a scientist in cancer research and was awarded the Nobel Prize in Physiology or Medicine in 2018, while Professor Sharma is currently a Professor of Oncology and Immunology.
According to the two scholars, the discussions with President Ali centred around the development of the Presidential Advisory Council on Medicine and Science, as well as the building out of the health and science sectors.
"We just had a conversation with the President on how to bring medical education and medical systems, particularly a vaccine development, to Guyana. We agreed to work with him and build a team to try to do that, to bring these things to the people of Guyana," Professor Allison explained.
Allison, who was awarded the Nobel Prize in Physiology or Medicine in 2018, said that President Ali laid out definitive ideas and plans for the health and science sectors, especially as it relates to the development of vaccines and drugs in Guyana. This development, the scientist continued, would propel Guyana into the "mainstream of modern technology and medicine".
Meanwhile, Professor Sharma noted that discussions also focused on President Ali's vision for Guyana, its people and the infrastructure of science and medicine in Guyana, and how they can contribute given their experience and research.
"We've been working a lot in developing cancer immunotherapy drugs for patients, and currently, our research work has led us also to education and how we can also get medical students and graduate students involved in medical research," Professor Sharma said.
"We've also had the opportunity to meet with the President to discuss the Presidential Advisory Council on Science and Medicine, and we would be honoured to be able to work with the President in Guyana to help put together a science and medicine programme, not just in primary and secondary education, but also in a medical school setting whereby we can bring in not only people in Guyana, but foreign students to come to Guyana to train in medicine and science and we move forward and build the future of Guyana," she added.
The two scholars are in Guyana under the non-profit organisation (NGO) Abraham's Tent, which recently built a school in Berbice. Abraham's Tent was founded by Sharma's family in 200