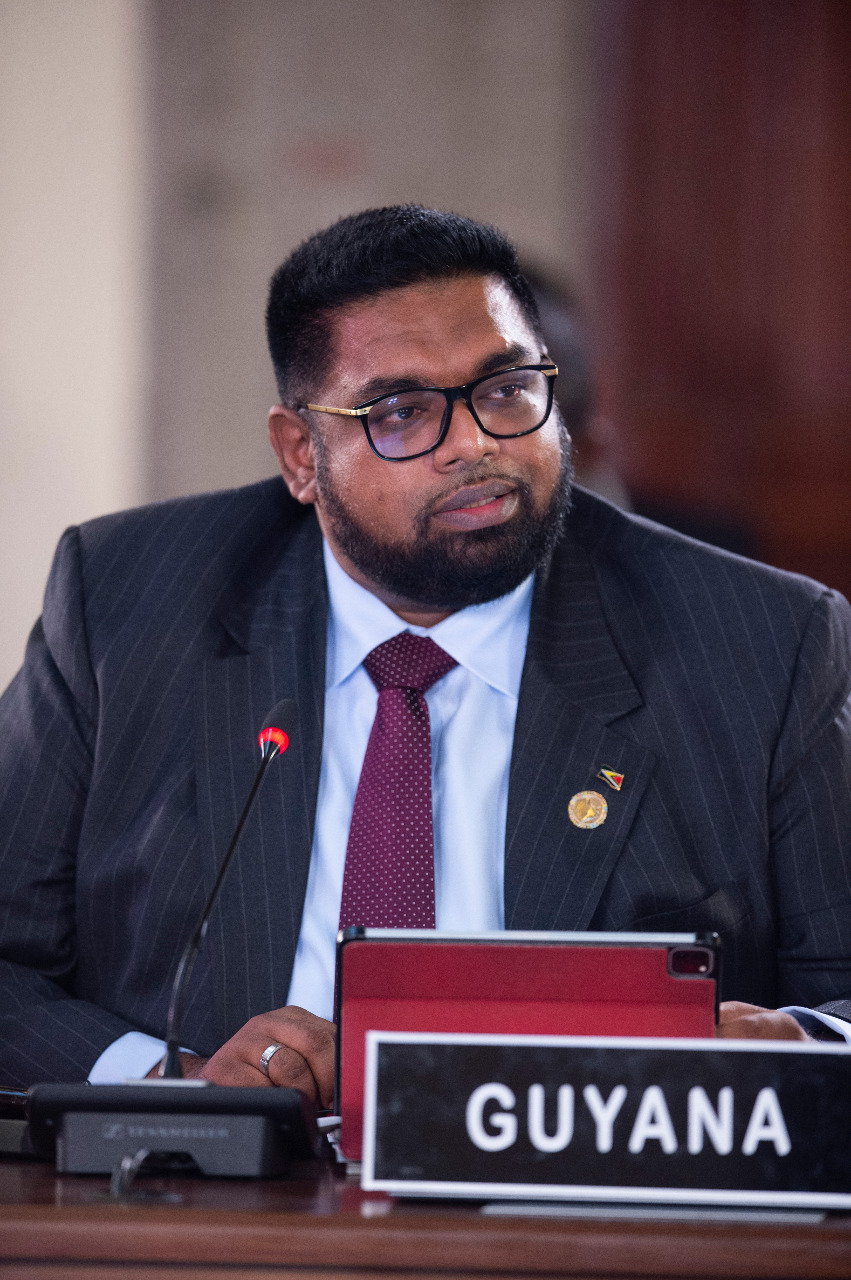 Your Excellencies
Heads of Delegations
Distinguished Ladies and Gentlemen
I am exceedingly pleased to have been afforded the opportunity to deliver the keynote address at today's launch of The Inaugural Caribbean AgTech Investment Summit 2021 (CATIS 2021). This platform is extremely useful for highlighting the Region's efforts in promoting the transformation of food production and the advancement of agriculture.
I speak today as the President of Guyana, and I am here to express my views on the use of technology as an instrument for transforming local agriculture. Guyana's perspective is not isolated but bears relevance to what is possible within the Caribbean.
I am advised that CATIS 2021 seeks to mobilise approximately 300 regional and international investors, representatives from the investment promotion agencies across the length and breadth of the Caribbean, along with international donors and regional business support organisations from approximately 20 countries. This indeed is a particularly laudable initiative and one that is absolutely essential to catalysing AgTech investments in the Caribbean.
Importantly, at this Summit, emphasis is being placed on the investment opportunities in the high-tech agriculture and high-tech agro-processing sectors (AgTech) for medium to long-term investment projects.
The AgTech focus has several implications for the Region as it seeks to significantly reduce the large regional food import bill, upscale agricultural production and improve the sector's competitiveness. As the Region gears up to expand its agriculture to include large-scale cultivation and processing, technology-based solutions will take on an increasingly central role.
Technology and change
We live in a technological age. The principal driver of change in our world is technology. It is impossible to deny the role of technology historically in driving economic transformation. The First Industrial Revolution saw the development of machines driven by energy produced from steam and water. This revolution led to the rapid mechanisation of production. The Second Industrial Revolution saw the deployment of electric power for use in the mass production of goods, and this triggered faster industrialisation. The Third Industrial Revolution used digital technology to automate production, thereby improving levels of efficiency. The Fourth Revolution, which we are now witnessing, involves a fusion of technologies and greater use of innovation to transform not only production but the nature of the global economy.
Few sectors of our economies are escaping from the influence of technology. The use of technology is transforming education, energy, telecommunications, media, health, security, defence, security and other public services. It is boosting business productivity and efficiency.
The COVID-19 pandemic has witnessed greater use of technology, particularly in education, health and business. There is no reason why technology should not be expanded to other areas and sectors of our economy.
Technology and agriculture
Agriculture too, is subject to the intrusion by and influence of technology. Information communications technology has already begun to be used to provide services to farmers. The use of modern machinery is improving land preparation and harvesting. New crop varieties are increasing yields, as is the employment of better farming techniques.
Drones are now used extensively in agriculture in the developed world. They are deployed to assist in developing seed planting patterns, soil analysis and collecting data on drainage and irrigation, soil preparation and crop spraying.
The Food and Agricultural Organization had long noted that new technologies would be needed to address water scarcity, improve crop management, reduce yield gaps and costs, and improve harvesting and plant breeding. Much of these technologies are being improved with each passing year.
Technology, therefore, offers immense benefits for local agriculture. For instance, in Guyana's vast intermediate savannahs, where large-scale agricultural investments are being targeted, precision agriculture or site-specific farming will become essential. AgTech solutions will allow for the collection of more precise information and for improved analyses.
Technology also has a pivotal role in combating the adverse effects of climate change and natural disasters. While technology cannot prevent these occurrences, it can be used to forewarn farmers and others about the impending dangers. It is also a useful tool in assessing the damage and destruction by extreme climate events.
The Caribbean has to keep abreast with the evolving agricultural technologies. Unless it does so, it can find itself losing competitiveness and being left behind.
Guyana and technology is no different
To this end, Guyana has been working closely with its multilateral and bilateral partners to improve the country's Information and Communications Technology (ICT) infrastructure. The Guyana ICT Master Plan is geared towards helping to propel Guyana into a modern and competitive country through the use of ICT.
The 'Strategy' will focus on identifying areas of need and the outcomes necessary to fulfil sector specific objectives. As we embark on this journey, we are aware of the importance of technology to the agriculture sector, not only for Guyana but for the entire Caribbean.
We are specifically cognizant of the possibilities of ICT transforming agriculture. Agriculture requires real-time information about prices and market logistics, accurate weather forecasts, timely advice on agricultural practices, pest and disease identification and management, input use and the risk of natural disasters. Digital technologies, including those embedded in drones, hold much potential for providing such valuable data and information.
However, the adoption of new agricultural technologies comes with challenges. Most of the technologies are developed overseas, and their acquisition is often costly. And even when the technology is accessible, the acquiring entity is still dependent on the rights-holder for backup support and maintenance. Technology transfer also is not often cheap, and for small farmers, the high costs can act as a disincentive to the use of technology.
There is also another major challenge. Stakeholders have to become more open to accepting new technologies. This often requires a long process of sensitisation. As such, the diffusion of technologies and equipping agricultural stakeholders with the know-how to utilise them is often not achievable overnight. Such an undertaking also requires significant investments to convince stakeholders of the benefits to be derived from the use of such technologies in agriculture.
There is a need for a paradigm shift in the use of technology within the agricultural sector. Many farmers prefer the traditional way of doing things and are averse to employing new technologies. This attitude will have to change so that technology is seen as a friend rather than as a foe.
Agricultural technology also has to be appropriate and affordable. Small farmers may not be able to afford drones and other capital-intensive technologies. Appropriate technologies can be adapted to help improve land preparation and cultivation and to reduce post-harvest loss.
Guyana and agricultural technology
The Caribbean Community is working to bring about technological improvements in agriculture. It has established a Ministerial Task Force to advance the transformation of Regional Food systems. The Task Force is in the process of developing the CARICOM E-Agriculture Strategy, with support from IICA to improve producers' competitiveness, incorporate greater climate-smart technologies in the production process, increase intra-regional trade and improve market infrastructure and connectivity, especially for small producers.
Locally there are a number of initiatives that are being taken to increase the use of technology in the agricultural sector. For example:
Guyana welcomes the development of the Regional E-Agriculture Strategy, which will lead the way towards fostering the development and deployment of on-farm and off-farm digital agriculture technologies.
Guyana supports the use of state-of-the-art tractors, harvesters and other connected devices that can provide information on soil type and condition, as well as water and nutrient availability and improve agricultural productivity.
The Guyana Sugar Corporation (GuySuCo) has invested in drones equipped with multi-spectrum cameras and computer software, which will enable the application of chemicals with ease and efficiency. It is hoped that this will lead to increases in sugar recoveries, production and productivity while reducing downtime and cost.
The Guyana Rice Development Board (GRDB) is currently working with the FAO on a digital enhancement programme on a rice production monitoring system, which will improve the collection of production field data, such as sowing, harvesting, yield, and loss, and allowing for improved and more reliable data analyses.
Guyana Livestock Development Authority (GLDA) is in the process of introducing its Livestock Information System to improve the availability, reliability and accuracy of livestock data for decision making and reporting and enhance animal traceability and surveillance capacity.
The National Drainage and Irrigation Authority (NDIA) will continue to integrate the use of geospatial technology into their data collection and monitoring processes. This can assist in the monitoring of changes in crop and livestock practices, plant health, soil type, soil fertility and irrigation.
The rehabilitation of the biotechnology laboratory at the National Agricultural Research and Extension Institute is an effort for crop improvement and enhancing crop diversity.
Guyana, therefore, is playing its part in promoting the transfer and diffusion of agricultural technologies. In this regard, Guyana welcomes this inaugural AgTech Investment Summit. We view it as an important platform for attracting investments in agriculture and agro-processing, and in so doing, facilitate the transfer of technologies.
I commend the Caribbean Export Development Agency (Caribbean Export) and the Caribbean Association of Investment Promotion Agencies (CAIPA) for organising this most timely event.
I take the opportunity as well to wish you every success in your deliberations over these three days and look forward with great enthusiasm to learning of the outcome of the Summit, including the decisions and agreed-to actions that need to be implemented to propel AgTech investment opportunities in this Region.
I thank you and God bless you and stay safe.