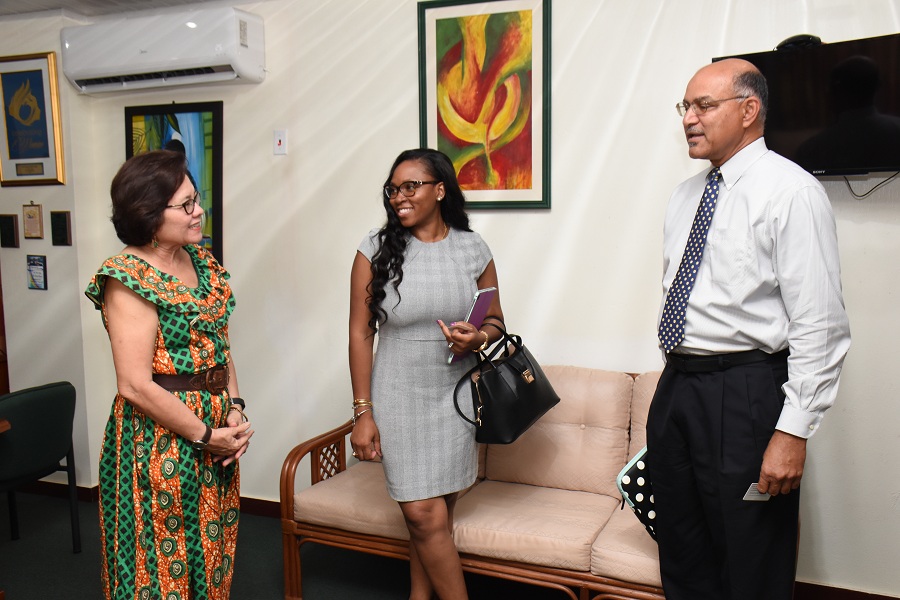 Georgetown, Guyana – (July 31, 2017) First Lady, Mrs. Sandra Granger, today, received a courtesy call from Mr. Ralph Bazilio, Chief Executive Officer of Bazilio Cobb Associates (BCA) Guyana and of the Basil and Doris Bazilio Learning Centre, during which they discussed possible areas of collaboration to ensure the provision of further educational opportunities for youth and women in West Coast Berbice, Mahaica-Berbice (Region Five). The meeting was held at the Office of the First Lady at State House.
The First Lady said that she was confident that her office could partner with the Learning Centre as they share similar goals. "I believe that once you start telling people about these improvements they will see that there is some value in the programme and maybe other people might be interested in taking [them] forward," she said.
Meanwhile, Ms. Bazilio said that he was particularly impressed with the First Lady's remedial education and Information and Communication Technology (ICT) programmes that benefit youth in the Lusignan and Buxton-Friendship communities and the countrywide Self Reliance and Success in Business workshops for women.
First Lady, Mrs. Sandra Granger (left), Ms. Tracey Featherstone and Mr. Ralph Bazilio share a light moment after the meeting
"Since our organisation has been in existence since 2009, we've had much success and as we've heard of the First Lady's programmes [and] we wanted to visit, to exchange ideas and to look at collaborating for the betterment of the entire Guyana community," he said.
Mr. Bazilio was accompanied by Manager, Document Solutions, BCA Guyana, Ms. Tracey Featherstone.