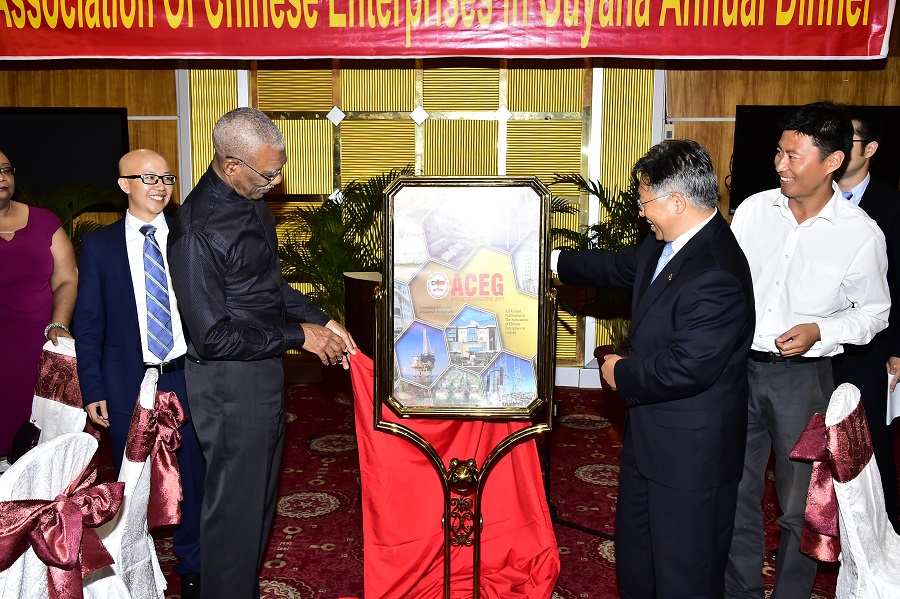 Georgetown, Guyana – (April 01, 2017) President David Granger said that Guyana welcomes Chinese investment but called for such investments to be more closely aligned to local employment and national development. He said that deepened integration between Guyana and China should also see increased partnerships between Chinese and Guyanese businesses and this would in turn spur employment opportunities. The Head of State was at the time speaking at the Association of Chinese Enterprises in Guyana's (ACEG) annual dinner and launch of its 2017 business magazine, which was held at the New Thriving Restaurant on Main Street.
Over the years, Guyana has been seeing an increase in Chinese investments, including restaurants, retail stores, and construction, bauxite and timber companies and the President assured the ACEG of his Administration's commitment to supporting foreign direct investment. "We are committed to the protection of foreign citizens, visitors and investment through improved public security and human safety measures. We will continue to provide a business climate that is favorable and friendly to all investors. We assure you of the Government's support for investment, which can advance our economic development," he said.
President David Granger and Chinese Ambassador to Guyana Mr. Cui Jianchun unveiling the Association of Chinese Enterprises in Guyana's 2017 Business Magazine
President Granger made reference to meeting he had with Chinese Ambassador, Mr. Cui Jianchun, who proposed a five-point agenda that focuses on infrastructure, Information Communication Technology (ICT), investment, industry and integration. He said that this plan, which the he fondly referred to as the 'Jianchun Initiative', is consistent with Guyana's 'green' agenda as well as its overall development policy and it can form the basis for increased investment and trade between Guyana and China. The President noted that while Guyana has an abundance of natural resources, it needs capital.
"Guyana is becoming a 'green state' and the development of renewable energy sector is a central pillar of our 'green' development agenda. Guyana is excited by the interest, which has been shown, so far, in the development of our sustainable energy sector, including hydro-electric, solar, wind and biomass sources of energy development… The Government of Guyana remains open to working with the Association to our mutual benefit and profit," President Granger said.
President David Granger addressing the gathering at the ACEG's annual dinner at the New Thriving Restaurant on Main Street
The Head of State also took the opportunity to place on record, his Government's appreciation and gratitude to former Chinese Ambassador, Mr. Zhang Limin, whose support for the 'One Laptop per Teacher' initiative last year did much to advance information technology in the education system. He said that investments in ICT will not only transform the way education is delivered in classrooms but it will also increase the speed and scale of business transactions.
Meanwhile, President of the ACEG, Mr. Kevin Liu said that even though the members of the organisation have been experiencing difficult economic times over the past three years, they have not swayed from their objectives. "Guyana continues to attract an increasing number of Chinese enterprises to invest in the economic development of Guyana resulting in strengthened relationship between Guyana and China…We at the ACEG consider ourselves very fortunate and privileged to be operating our businesses here in Guyana," he said.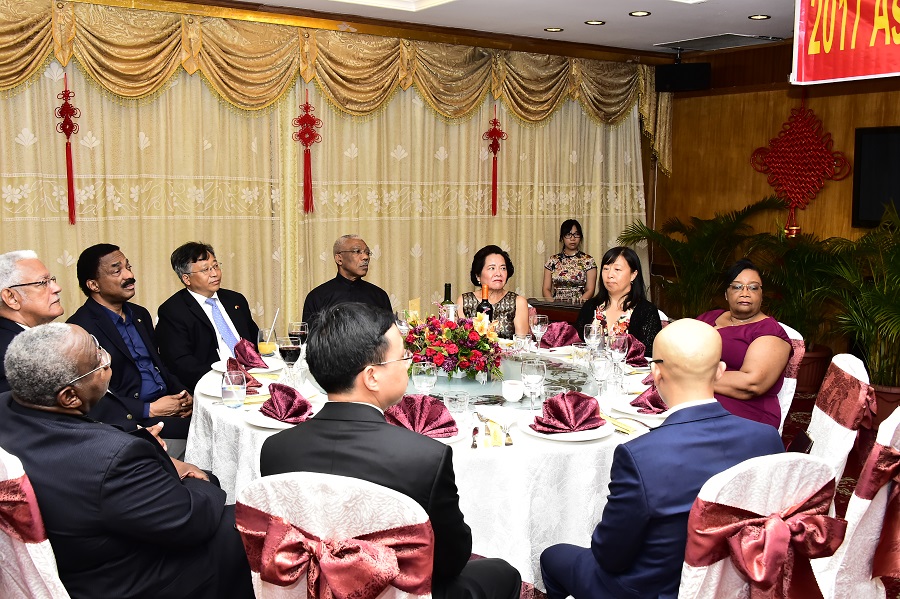 President David Granger and First Lady Mrs. Sandra Granter seated at the table with Ambassador Cui Jianchun, Attorney General, Mr. Basil Williams, Minister of Agriculture, Mr. Noel Holder and other invitees
He also spoke of the Association's commitment to fulfilling its social obligation and informed that they have conducted medical outreaches and made several donations to orphanages and senior citizens' homes.
The ACEG was established in April 2013 with 11 Chinese companies. Today that number has grown to 19. Its members include: China Harbour Engineering Company, China Trading, Baishanlin, China Railway First Group, Standard Agroforestry Incorporated, Bosai Minerals, Rong-an Incorporated, Huawei Technologies, Lonh Hi Centre, Guyana Green Farm Incorporated, Guyana Hansom International, Sunset Lakes, China Dalian International Cooperation, Hi-Tech Construction, Power China International, Nuctech Company and China Railway 17 Bureau Group.
First Lady Mrs. Sandra Granger, Attorney General Mr. Basil Williams and Minister of Agriculture, Mr. Noel Holder also attended the event.