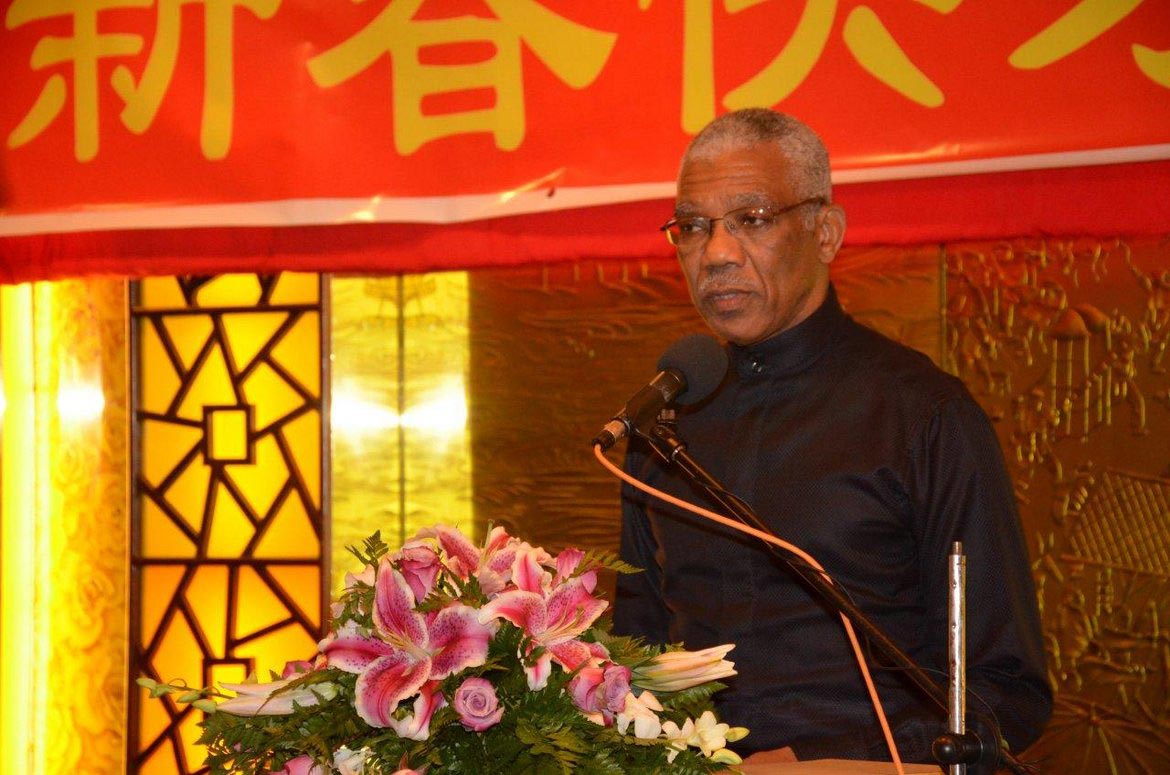 Georgetown, Guyana – (March 17, 2016) President David Granger, last evening called on the residents of Georgetown to exercise their constitutional right to vote in the Local Government Elections (LGEs), planned for tomorrow. The President urged citizens to restore the pride and glory of our capital city and ensure a green future.
Addressing a mammoth crowd at the 'Well-Site' in Ruimveldt, Georgetown, the President said that Georgetown was once the pride of the Caribbean and the aim of the Georgetown municipal elections was to empower the people to develop their communities, which will eventually lead to the restoration of our capital city.
"We are living in history. This city is 235 years old… and APNU/AFC will make it clean again… We have to give you back your democratic right to make decisions as to how Georgetown is run. We have your back Georgetown, and we will ensure that Georgetown appears to be one of the safest, cleanliest, greenest capitals in the world," he said.
Safe city, green city
The President said he envisions Georgetown becoming a leading city with a booming green economy; where the security of every citizen is assured, but each individual must participate in the process to make this a reality.
"We want an environment where children can go fishing, where young men and women can go exercising, where you can go to the seawall in safety day and night, where you can go shopping, feeling safe and comfortable because this is your home…. You must plant up every street; I want to see trees everywhere. This must be a green city," President Granger said.
The President also recalled that it was his government, while in Opposition, which had fought for the LGEs since he believes that it is imperative that citizens are given the right to manage their own communities and affairs.
"You should be given the right to sit and decide how Georgetown is governed…There must be no way that one man can sit down in Fort Street Kingston and know what is going on in your community. The Minister doesn't know. You have to know. You live in your house and you know where it is leaking and that is why there is so much emphasis on communities," he said.
The crowd burst into loud peals of laughter, when President Granger shared a light joke with them.
In his charge to the councillors who are running for office in the elections, the President said that it is their duty, upon being elected, to ensure that every child in the community is given the chance to go to school, every voice in the community is heard and the welfare of all is looked after.
"The first task I want to give this city council is to ensure that every child goes to school; every child, in every ward, every constituency. I don't want to hear about a school welfare division going and rounding up children. I want every child to go to school. I want the City Council to take the responsibility of ensuring that every child can go to school…I want the city council to take control of this situation. I don't want children liming on the street corners" the President said.
Citing the vast potential of the Nation's Capital, the President told the candidates that empowerment can lead to enterprise and these local government elections must serve to advance the city's economic development
"People are coming from East Coast, West Coast, East Bank looking for jobs. We must become the factory of the nation, the workshop of the nation. Georgetown must be a centre of business, not a centre of unemployment and distress. The city council that you elect must put the economy of this city as the top priority because this has to be a source and a centre of enterprise. I want to see young people becoming business persons. I want to see young businessmen coming out of the various constituencies and wards and we must provide business opportunities. We must free up the municipalities to facilitate business men," the Head of State said.
Unity
The President also said that it is imperative that persons in the various communities put aside differences and cohere for the national good.
"In the first Past-the-Post, the winner takes all, but I ask you to think carefully. We have to be united…because in unity there is strength…we are better together. We don't want you to divide yourselves because we have a mission to fulfil in this great city. We have a message of cleanliness…that is what will bring back our tourists and investors," he said.
Cheers and greetings! Minister of Social Cohesion, Ms. Amna Ally, President David Granger, Prime Minister Moses Nagamootoo, Mrs. Sita Nagamootoo, Minister of Social Protection, Ms. Volda Lawrence and Junior Minister of Public Infrastructure, Ms Annette Ferguson (back row, first from right) acknowledge the applause from the enthusiastic crowd, at last night's meeting.
Prime Minister Moses Nagamootoo echoed these sentiments in his presentation. The Prime Minister reiterated that the elected councillors must serve the needs of the community and if they fail to perform, the people must use their power to effect change.
"Nobody was born with a birth certificate for power," Prime Minister Nagamootoo said. "If they are not serving your needs then move them."
Meanwhile, Minister of Social Protection, Ms. Volda Lawrence and Junior Minister of Public Infrastructure, Ms. Annette Ferguson both urged the residents not to take their democratic right for granted, but to exercise their franchise so that their voices in their communities can be heard.
Minister of Public Infrastructure, Mr. David Patterson and Minister within the Ministry of Indigenous Peoples' Affairs, Ms. Valerie Garrido-Lowe, also attended the meeting with the people.