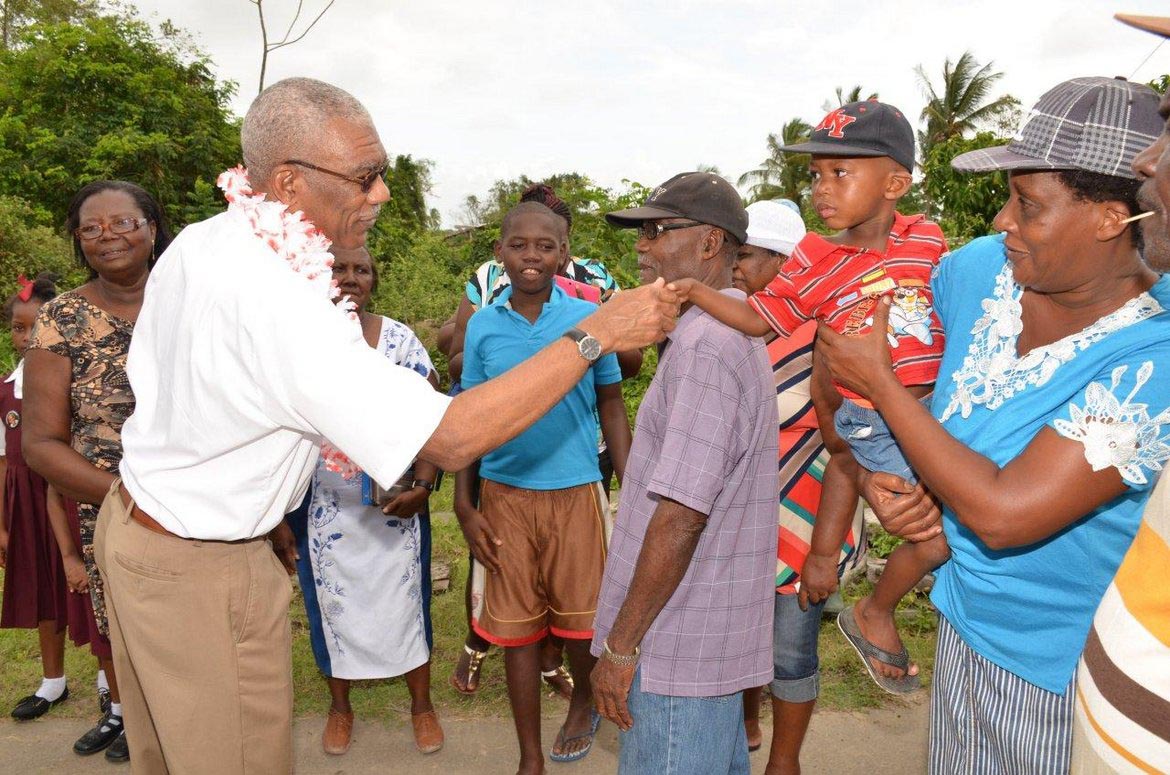 Georgetown, Guyana – (February 28, 2016) President David Granger, yesterday, promised residents of Kortbradt, East Bank Berbice that he will provide the material for them to construct bush sheds and support the desilting of trenches in the community in order to improve drainage even as he encouraged them to practise self-help to accomplish projects that would benefit the entire community.
The President, who was accompanied by Minister of State, Mr. Joseph Harmon, Minister of Social Cohesion, Ms. Amna Ally, Regional Executive Officer, Dr. Veerasammy Ramayya and other regional officials, met with residents on the streets of the village during his visit to East Berbice-Corentyne after he was told that the residents there had a number of concerns that they wanted to discuss with him.
Chairman of community leaders committee, Ms. Bernadette Douglas, along with other residents welcomed the impromptu visit with dance and song but wasted no time listing a litany of problems that they needed help with, indicating that residents of Kortbradt have felt neglected for many years. These included drainage works, land demarcation, the construction of bus sheds, the inclusion of the community in the Neighbourhood Democratic Council (NDC), the development of pasture lands for cattle rearing and a number of other issues.
In response, President Granger, a firm advocate of communitarianism, said that while the small projects, such as the construction of the bus sheds and desilting of the trenches, would receive immediate support, the community must take ownership of them.
"As far as the projects are concerned, I will help you to help yourself. I can provide all the materials if you want to build the bus sheds, but you have a lot of able-bodied men here so I will help you to get the materials, whatever you need, [and] I will depend on you to do the construction. Similarly, with the canals and the road shoulders, whatever it is; if you need the tools, I will help you, but you have people here who can do that. I am not going to spoon feed you. We are aiming to finish the sheds and the cleaning before May 26 so that's three months to work with.," he told the residents.
President David Granger shakes hands with one of the youngest residents of Kortbradt, East Berbice-Corentyne, during his visit there yesterday.
Minister of State, Mr. Harmon, indicated that $10 million would be committed to community work even as he echoed the President's comments.
"We have heard your complaints and we are going to do whatever possible to help you, but it is a cooperative effort. We can provide some resources, but the community would have to help. Under the Community Infrastructure Rehabilitation Programme, I understand that there are some funds left in that programme so we are going to see how we can free up that money so that some of the things that you want done here can be undertaken," he said.
President Granger committed that where those funds are not sufficient, his office will ensure that funds are available for those community projects.
With regard to the surveying of household lands and allocation of pasture for cattle to graze, the Minister of State, within whose purview the Guyana Lands and Surveys Commission (GLSC) falls, said that the matter will be looked into.
"We would have to go back to the books. We just cannot move lands from place to place so let a representative from your community make contact with me and I will provide the necessary information," Minister Harmon said.
In response the issue of inclusion of Kortbradt Village in an NDC, it was noted that moves are afoot by the regional administration to ensure that this is done. The President and the Minister of State expressed a willingness to work with the community for explore the completion of other self-help community projects.