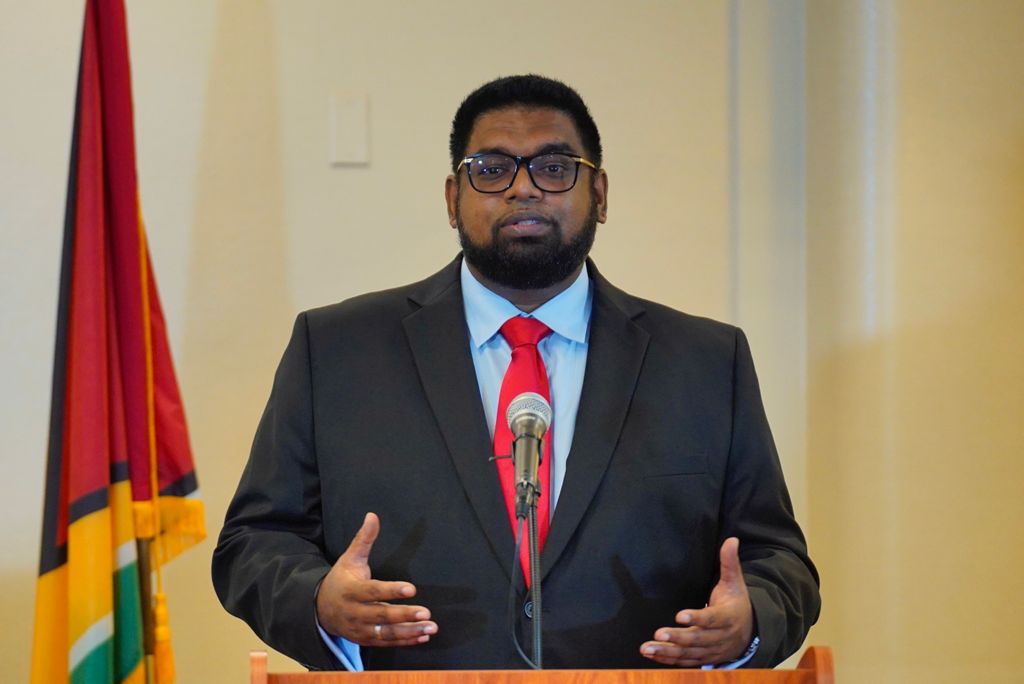 –Tells inaugural Caribbean AgTech Summit that machinery must be affordable

Bridgetown, Barbados—(October 5, 2021) His Excellency Dr Irfaan Ali said that there is a need for a paradigm shift in the use of technology by farmers within the agriculture sector and for technology to become more affordable.
The Guyanese Head of State made the virtual statement today at the inaugural Caribbean Agtech Investment Summit 2021 (CATIS) organised by the Caribbean Export Development Agency in collaboration with the Caribbean Association of Investment Promotion Agencies (CAIPA).
He said that although the process of sensitisation often takes time, the use of new technologies is imperative to revolutionise the system.
"Many farmers prefer the traditional way of doing things and are averse to employing new technologies. This attitude will have to change so that technology is seen as a friend rather than as a foe."
The President said that agricultural technology also has to be appropriate and affordable since small farmers may not be able to afford drones and other capital-intensive technologies.
He emphasised that the adoption of new technologies comes with challenges.
"Most of the technologies are developed overseas, and their acquisition is often costly. And even when the technology is accessible, the acquiring entity is still dependent on the rights-holder for backup support and maintenance. Technology transfer also is not often cheap, and for small farmers, the high costs can act as a disincentive to the use of technology."
The President noted that appropriate technologies could be adapted to help improve land preparation and cultivation and reduce post-harvest loss.
He explained that the Food and Agricultural Organisation (FAO) has long noted that new technologies would be needed to address agricultural issues such as water scarcity, improving crop management, reducing yield gaps and cost, and improving harvesting and plant breeding.
He added that many of these technologies are being improved with each passing year and have immense benefits for local agriculture.
Using Guyana as an example, the President said that in the country's vast intermediate savannahs, where large-scale agricultural investments are being targeted, precision agriculture or site-specific farming will become essential.
"AgTech solutions will allow for the collection of more precise information and for improved analyses."
The Head of State added that technology has to also play a pivotal role in combatting the adverse effects of climate change and natural disasters.
"While technology cannot prevent these occurrences, it can be used to forewarn farmers and others about the impending dangers. The Caribbean has to keep abreast with the evolving agricultural technologies, and unless it does so, it can find itself losing competitiveness and being left behind."
GUYANA INCREASING USE OF AGTECH
President Ali pointed out that the Caribbean Community is working to bring about technological improvements in agriculture and has established a Ministerial Taskforce to advance the transformation of Regional Food Systems.
One of the responsibilities of the Taskforce is to develop the CARICOM E-Agriculture Strategy with support from Inter-American Institute for Cooperation on Agriculture (IICA) to improve producers' competitiveness, incorporate greater climate-smart technologies in the production process, increase intra-regional trade and improve market infrastructure and connectivity, especially for small producers.
In Guyana, President Ali pointed out that there are a number of initiatives to increase the use of technology in the agriculture sector which include; the development of the Regional E-Agriculture Strategy; supporting the use of state-of-the-art tractors, harvesters and other connected devices; investing in drones equipped with multi-spectrum cameras and computer software for the Guyana Sugar Corporation; working with the FAO on a digital enhancement programme on a rice production monitoring system; introducing a Livestock Information System; integrating the use of geospatial technology into the National Drainage and Irrigation Authority's (NDIA) monitoring process; and the rehabilitation of the biotechnology laboratory at the National Agricultural Research and Extension Institute in an effort to improve and enhance crop management and diversity.
"Guyana, therefore, is playing its part in promoting the transfer and diffusion of agricultural technologies. In this regard, Guyana welcomes this inaugural AgTech Investment Summit. We view it as an important platform for attracting investments in agriculture and agro-processing, and in so doing, facilitate the transfer of technologies."
The President added that Guyana is also working closely with its multilateral and bilateral partners to improve the country's Information and Communications Technology (ICT) infrastructure, and its ICT Master Plan is geared towards propelling it into a modern and competitive country through the agency of ICT.
The Summit aims to mobilise approximately 300 regional and international investors, representatives from the investment promotion agencies across the Caribbean, along with international donors and regional business support organisations from approximately 20 countries.