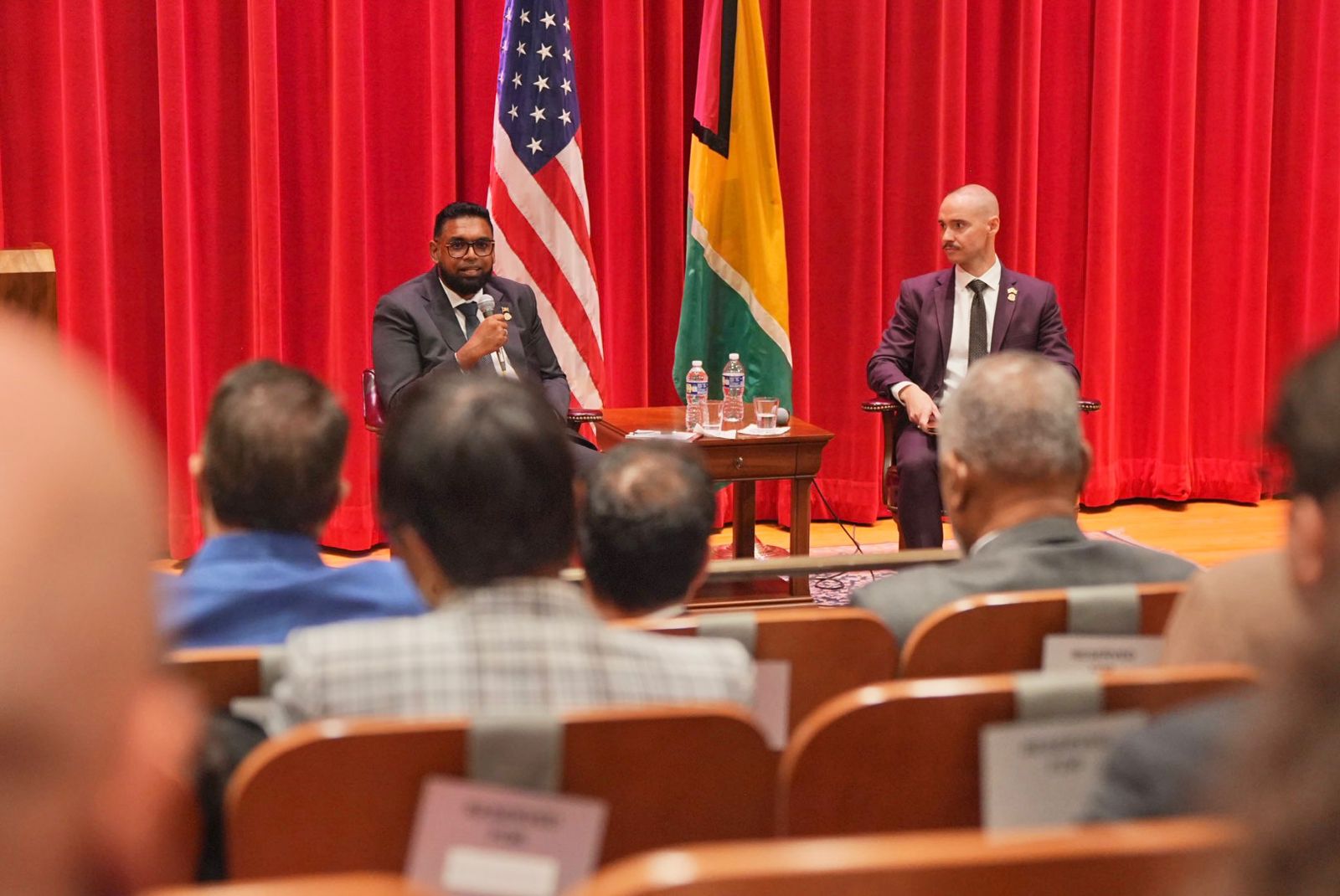 Says that peace should be promoted at all times
Georgetown, Guyana (September 16, 2023) His Excellency President Dr Irfaan Ali said that the new world cannot develop defence strategies without factoring in the effects of climate change, especially in the Latin American and Caribbean regions.
"We cannot, in this new world that we are expected to lead, develop a defence strategy without understanding that climate change must be an integral part of that strategy," President Ali underscored during his presentation at the National Defense University in Washington, DC, this week.
He also expressed a desire to see climate and defence discussed in tandem at COP28, this November in Dubai, United Arab Emirates.
The impact of climate change, the President stated, greatly threatens the security of a nation, especially in instances where there are loss of homes and jobs following devastating occurrences. He explained that people are left to fend for themselves, which leads to increased poverty and criminal activities, and inevitably stretches the limited security resources.
"One hurricane event can wipe out 100% of GDP overnight; that has consequences on migration and poverty levels, which are linked to security and crime."
At the same time, he posited that defence budgets in some instances, are the first to be cut in response to impacts caused by disasters.
Moreover, the President said in addition to climate security and food security, energy security must also be prioritised when developing defence strategies.
INVESTMENTS IN DEFENCE RESEARCH AND DEVELOPMENT
President Ali emphasised that Guyana has "had tremendous success in our crime-fighting capabilities and in our ability to respond to threats in a peaceful manner. We have to be able to fast track the human development of our defence capability because of an expanded, stronger, more focused relationship with SOUTHCOM (US South Command) and this institution."
"There must be a holistic approach," President Ali posited while adding that investments must be for the advancement and development of research. The current investment for defence research and development, which are crucial aspects of future defence and strategy in the western hemisphere, he pointed out, is minute when compared to countries in Europe and Asia.
The Commander-in-Chief stressed that the current investments in the region's security plans can in no way match the high level of crime and governments ability to counter it, adding that in the conceptualisation of defence policies and plans, a clear understanding of the territories and their bilateral relations is of great importance, since it will allow for a strategic response and action plan for regional defence.
According to the Head of State, the National Defense University can play a vital role in analysing and developing a comprehensive framework and plan that highlights areas for investments.
"It is institutions like this that have the capacity and capability to provide us with analysis and to do the research that has to lead this conversation… so we can develop this holistic, overarching approach to defence."
MAINTAINING A PEACEFUL WESTERN HEMISPHERE
"If we are to build a peaceful region and ensure that the Western Hemisphere remains a zone of peace, we have to be able to have tough conversations on regional matters through defence, diplomacy and the art of coming to a common consensus."
President Ali, while responding to a question from the audience on Guyana's role as a non-permanent member of the United Nations Security Council, said that its role is to encourage the promotion of peace at all times and not only during a time of war. Expanding his response, the President said that the intention is to charter a path where a culture of peace is promoted.
"Peace cannot be something that is dysfunctional or something that is temporary. This has to be a permanent outcome based on the UN Charter for the world to coexist peacefully."
He also explained that Guyana illustrated its defence through peaceful coexistence with its neighbours and cited Guyana's approach to the Venezuela border controversy as an example, indicating there was a peaceful approach through diplomacy and through the International Court of Justice.