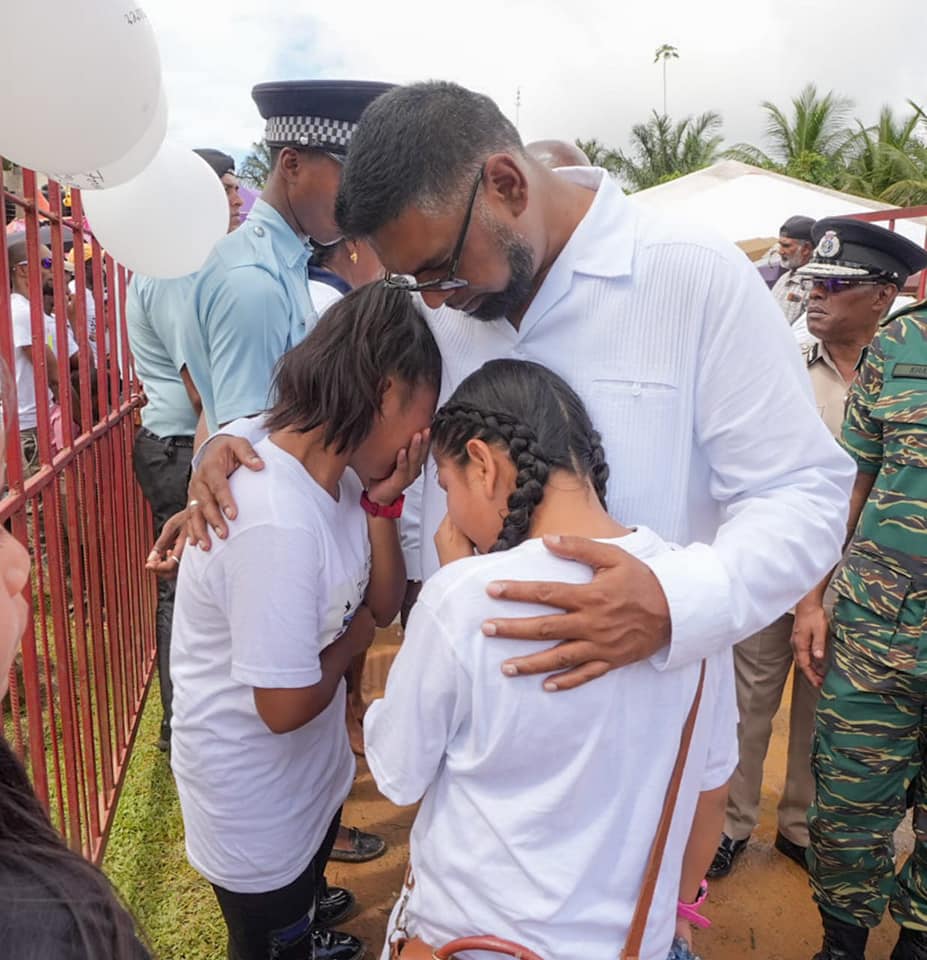 Fellow Guyanese,
We gather here tonight in unusual circumstances. This is a tragic hour for our nation. The events of last Monday have shaken our nation to the core. Our hearts are pieced; our sorrow is indescribable; our pain – crushing. We are observing our 57th Independence anniversary amidst national grief.
You therefore will forgive me tonight for not delivering a traditional Independence speech, one extolling the virtues of our people's historic struggle for self-determination and an end to colonial rule.
You will forgive us also if our Independence observances of this year are subdued. This is done out of respect for the victims of the recent tragedy and out of sensitivity for their grieving families.
Tonight, the Golden Arrowhead will be raised across our country. We will lift our heads upwards when this is being done, but we will also bow our heads in respect for those who perished in last Monday's inferno at Mahdia.
Nineteen (19) of our precious angels have been snatched from us in a harrowing experience that has lacerated the soul of our nation. The fire at the Mahdia Secondary School's Dormitory has left us in deep anguish over the tragic loss of lives and the injuries and trauma to the survivors.
Those that perished were the heartthrobs and pride of their parents who had great hopes for them. The children's own dreams have been so tragically snuffed out.
I stand before you as your leader, saddened as never before but sharing in our collective grief and summoning all Guyanese to join hands and hearts in overcoming this unutterable tragedy.
I understand fully the range of emotions which are being experienced not only by the families and friends of those who perished last Monday but by the people of our country. It is for us, however, to channel these emotions to bring comfort and support to those affected and to help our nation to heal from this tragedy.
Tragedy is an unwelcome guest. But it has the unintended consequence of uniting our people. It is in times of great distress that people come together as they must for the common good.
We have seen this all over the world. When tragedy strikes, differences are either set aside or put on hold and people come together to express their shared humanity through acts of empathy, kindness, solace and support.
I am greatly encouraged and touched by the widespread outpouring of support from Guyanese at home and abroad. Our friends in the international community have been lending their solidarity.
Our response to this tragedy has been remarkable. I have seen our brave pilots take to the skies in treacherous weather conditions and with limited visibility to ensure they reached Mahdia safely; to shuttle-in assistance and to medevac out the injured. Our emergency response teams were marvellous. They were quickly mobilised and deployed. They and so many others have performed admirably since the news broke of the fire. I thank them from the bottom of my heart for their sterling efforts.
All across the country, persons, groups and organisations have been spontaneously mobilising support for the survivors and their families. Guyanese are coming together in a wonderful show of love and compassion in uplifting those affected by the tragedy. I thank them too for their efforts.
Sadly and disgustingly, there are isolated and discredited elements within our midst that are determined to use this tragedy to foment further division and to stir instability. But I am confident that the good people of Guyana will not be distracted by the rabble-rousers and antagonists. I am confident that their nefarious aims will not find much traction in our society.
This is not the time for division. This is a time for our people to come together and to support the victims, their families, and communities.
All across our country people are coming together to be pillars of strength, solace and support rather than spears of division, disruption and disunity. Together, we can transform tragedy into an opportunity for unity, compassion, and positive change. Together, we can heal the wounds inflicted upon our nation's soul.
Unity is an antidote for a crisis. It is the balm that will bring comfort and healing.
The true character of our nation is to be found not in our grand achievements but in the manner, we respond when the chips are down. It is time of crisis and tragedy that we reveal our strengths.
Let us, therefore, stand together, supporting each other, and particularly those affected by this tragedy. Let us also draw on our humanity and particularly our willingness to show empathy, to help those in distress and to lend a helping hand and supporting shoulder. This is the best way in which we can bring healing.
The government which I lead has committed to doing everything that is possible to assist those affected. This support will be ongoing. We are also committed to establishing a Commission of Inquiry to investigate the causes and circumstances of the fire which destroyed the dormitory, and to inquire into related issues. This will be done soonest. The findings of that inquiry will inform the way forward.
We will never forget these children. They will remain in our hearts forever. But we will overcome this tragedy. Of this I am confident and even more so because we are a resilient people.
We can find strength and assurance in the struggles and sacrifices of our ancestors. They laid the foundation for the creation of a free and independent Guyana.
Fifty-seven years ago, the Golden Arrowhead was hoisted for the very first time. It was an emotional moment for the people of our country.
Guyana's Independence was gained through the heroic struggles and sacrifices of our people. Our history is punctuated by the overcoming of tragedies. The country has known pain before; it has experienced tragedy before. Blood was shed in the cause of freedom. Lives were lost. Sacrifices were made and hardships endured.
Our ancestors paid a huge price for our freedom. They too faced adversity. But they persisted in the quest to ensure a better life for their children and their grandchildren.
Today as we face a national tragedy, let us recall their struggles and sacrifices and how they faced adversity with a determined and unrelenting resolve. Today we are stronger, more resilient and, more importantly, a free and independent state, because of their courage and determination.
Let us draw strength from their example and may that example help us to overcome our present distress! May we continue to be inspired by their example in overcoming our present challenges and in building a more united nation, one in which we celebrate together but we also cry and mourn together!
As a nation, what do we do in the face of this tragedy? We must use it to move us to a better place. To uplift our thinking and rededicate our efforts to this nation. We must learn from the circumstances. We must evaluate the consequences, and we must determine a path to avoid such reoccurrence.
Tragedy, though painful as it is, offers that branch of healing as a nation and as a people. Understanding the fragile mortality of life and the temporary nature of our mission – that mission we are so committed to- in service to humanity and country. Tragedy is not a weapon of self-convenience and selfishness. It is not an occasion for aimless rhetoric – rather it occasions, a deeper understanding of life and requires greater maturity to project a platform for healing – one in which the collective whole is more important than self-ambitions.
We confront these challenges as a people and as a government that you can trust.
We have proven our trustworthiness to this nation. Our track record on how you can trust us as your government, as leaders is undeniable.
We are a listening government we are one that listens, hears, analyses and acts on peoples' concerns. We have fulfilled our commitment to every segment of the Guyanese population.
You have trusted us and we have acted upon your trust.
Our senior citizens, our children, our farmers, our miners, our mothers, women, all, you have trusted us and we have delivered on that trust. We govern to earn and respect your trust. We present a platform of trustworthiness, a more than 60% increase in all these pensions since we took office, the removal of more than 100 taxes, the granting of cash grants, the return of more than 2000 CSO jobs in our Amerindian communities, the fulfilment of our promise to the upliftment of the lives of people in health, education, social services. We have committed ourselves to you and we have honoured your trust. Our Amerindian brothers and sisters directly benefit from 15% of the first-ever user agreement for our forest carbon credit in the amount of G$4.6b. You have trusted us with your healthcare and we are delivering new hospitals and health centres, better health services, training of our nurses and the training of our community health officers—we are committed to giving you the best service in health. We are well on our way to achieving the more than 20,000 scholarships, you have trusted us and we have delivered upon your trust in housing, agriculture, food security, all of these areas you have entrusted us with your welfare, and we have delivered upon that trust.
Just as you have trusted us and we have delivered, so too can you trust us in the good times and the not-so-good times. In the sunny days and in the cloudy days and at this tragic moment in our history you can trust us to do what is right -trust us to have the best interests of the families of these children at the centre of everything we do.
In this moment of mourning, we appreciate more than ever the importance of celebrating the shining stars within our midst. I take this opportunity to so recognise the many athletes who brought Guyana medals at the South American Games, the CARIFTA Games – our national football team; our national cricket teams and our students – all of whom earned us glory regionally.
I recognise those who toil every day for the health, safety, upward mobility, and edification of our people.
In closing, in this our 57th Independence anniversary I dedicate a personal letter to the children of Guyana which I would like to know read –
Dear Children of Guyana

On this the 57th anniversary of your homeland you are asked to share the pain, bear the sorrow and shoulder the responsibility of helping each other, supporting each other and uplifting each other. 19 souls from different homes, different families and communities banded together in pursuit of their dreams and hopes, shattered by the instant nature of death.
This tragic day must bring all of you closer together in your schools, value your friendship, share abundantly your love and kindness, shoulder each other's pains, counsel each other with wisdom and pressure each other only with good thoughts and actions. Learn from mistakes, remember your God and lean on his mercies and favours. Never forget the fragility of life, open yourself to good counsel, be respectful, pay tribute to your teachers, reach for the most distraught among you and give them your hands of friendship, share from your abundance among those who lease have and always remember this is your home in which you were gifted life and among you lies the fabric of nationhood. Children of the future who will inherit the pains and sorrows, the wisdom and truth, the honour and dignity and the success that must come with it.
Let not circumstances spoil this inheritance, let not short-term joy be the replacement for hard work and present not your self-interest at the detriment of the collective. Bind yourselves in a universal whole in which peace, contentment, love, patience and mercy are the flames of your existence. It is these times of trials and hardship that would test you, your resolve and your sense of purpose. Dig deep and uproot all that strangles you internally and breathe fresh air into your system with the hope that the new day brings and the understanding that together you will succeed, together you will overcome and together you will inherit this home into your care and safe keeping.
In the meantime, we the custodians of this baton to be passed on to you, pledge to nurture it and create in it opportunities through which all of you will flourish with the realisation of your hopes and aspiration.
To our children of Mahdia Secondary and the dorms, you must have many thoughts and questions but know that our collective shoulders as a nation are yours. Your sorrow is ours and your pain we share. The horizon at this hour appears grey and the clouds of rain fill your tears and the songs of the birds, the freshness of the wind, and the existence of life bring a heavy burden. 
Of those angels among you we have lost to the gardens of heaven let not their spirit, love and earthly presence be lost. You must now take their dreams, their aspirations and their hope and realise it so that through each of you – they will live, they will shine and their parents and loved ones will find peace in your successes and your presence. Forget not the beautiful memories, cherish the times you shared, knowing at all times your family is all of us. All of us belong to one mother- this land – our land, Guyana the free. Oh motherland guard your children, strengthen them in your bosom and let them know how worthy they are, strengthen them in their heritage, enrich them with the sunshine and shelter them from the rains. Oh, this we ask thee great mother Guyana the free.
God Bless our Motherland! God bless the people of Guyana!
I thank you.