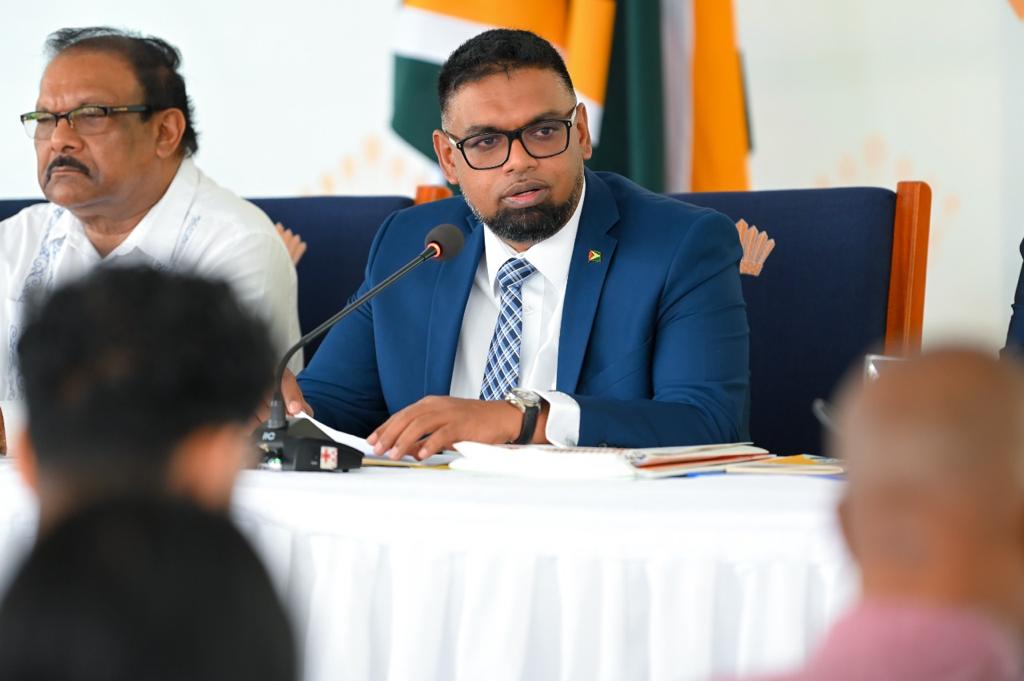 Georgetown, Guyana—(January 20, 2022) His Excellency Dr Irfaan Ali said work is moving apace on the construction of the new Schoonord to Crane four-lane highway on the West Coast of Demerara.
The Head of State, accompanied by a team of Government Ministers and technical staff, provided the update during a site visit to the area on Thursday.
"That is one of the new projects that we have started. You can see the aggressive work that is going on. Already there is sand filling on one section of the road. So this road goes all the way to Schoonord; that is where the new Demerara Harbour Bridge will be."
The contractors, President Ali added, are working around the clock to complete the project and bring much-needed ease to commuters.
"This is urgently required for commuters who are utilising the main highway. The first phase was to get to this area. Why? Because from Crane to the Harbour Bridge is where the bulk of the traffic backs up in the morning, taking some persons three and a half, four hours to get to work in Georgetown. So this will bring tremendous ease. We are hoping by early next year, by June next year, that this new four-lane highway will be completed."
MASSIVE DEVELOPMENT
The President reminded of the massive development underway in Region Three (Essequibo Islands-West Demerara) and the necessity of such infrastructure.
He highlighted the "great population push" and the importance of new economic development in the region.
"West of here is where the gas to shore project will come onshore and continue all the way to Wales, where the power plants and liquid plants and the whole industrial manufacturing development will be. So this corridor is going to be very, very, very important."
Dr Ali expressed gratitude to the private landowners who understood the development needs of the country and who worked closely with the Government to ensure the success of the project.
He said that although they were compensated and relocated, they made the sacrifice for overall development.
"Persons here gave up land, legal land, because of this development, supporting national development. This is the type of collaboration we need in this spirit of transformation for our country."
He recalled that just a few months ago, parts of the area under development were rice fields, while he acknowledged the challenges, specifically with transporting sand across the Harbour Bridge.
"Today, you can see the transformation that has taken place. By December of this year, we are hoping to be in a position where all the preliminary works, the sand filling and all the structures would have been completed…"
The project includes 4.1 kilometres of a dual carriageway reinforced concrete road with an emergency lane, 2.4 kilometres of road rehabilitation and upgrade, two roundabouts, 11 reinforced concrete box culverts and 36 pre-stressed bridges.