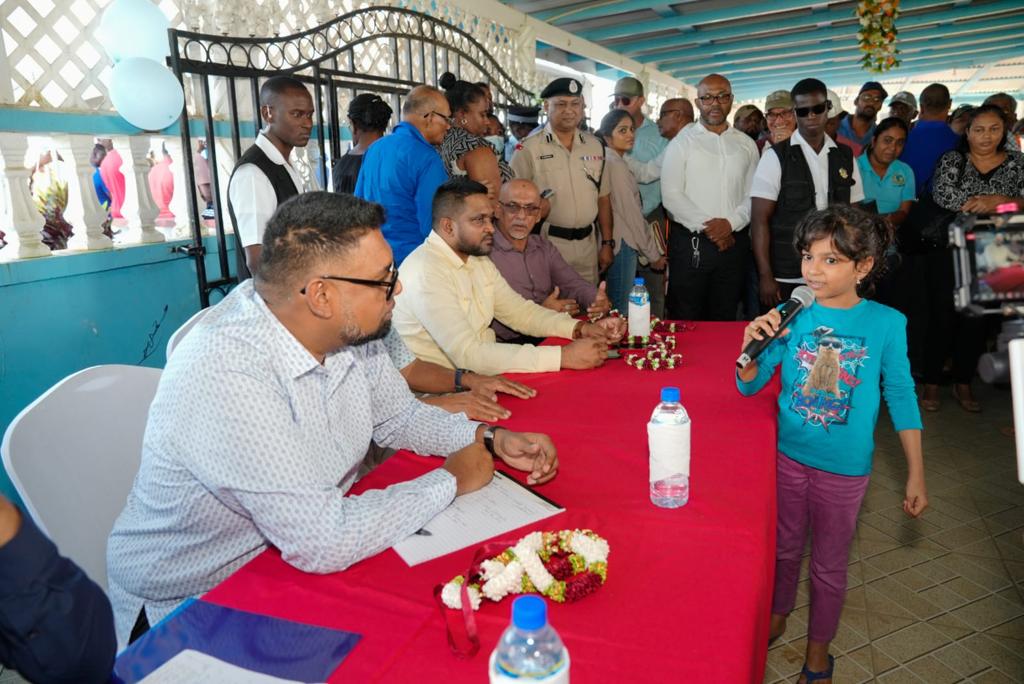 Georgetown, Guyana—(January 20, 2022) His Excellency Dr Irfaan Ali said Ruby Village on the East Bank of Essequibo can play an integral role as the Government positions Guyana as a food production hub in the region.
He said that the aim is to continue working with agricultural communities to ensure Guyana maximises on food production.
"We have to find ways in which you can continue to support the expansion of agriculture. We want to make Guyana a main hub for food supply for the entire CARICOM, building the regional food hub."
The Head of State told the agricultural-based community during an outreach exercise on Thursday, that the idea is to have a synergy in place.
He noted that unless the productivity of people and businesses is improved "We can't achieve greatness". Achieving this, the President emphasised, requires the right technology, the right training, and the right research and development.
The residents were also informed of a number of new agriculture initiatives in the pipelines and ways in which they can maximise the use of their lands, including through aquaculture and horticultural practices.
The Ministry of Agriculture will play a leading role in the process.
DELIVERING TO THE PEOPLE
The Government, the President told the residents, will continue to engage with all communities "to see ways in which you can improve the delivery of governance to you".
"We have all the agency heads here today. And what we want to do is to listen to you. I want to spend time listening to you, listening to your ideas…tell us what you see as a priority for the community. Tell us how you see things transforming."
He said that as the Government navigates its way through global challenges, including the rising cost of living, inflation and major supply chain challenges, it is imperative that citizens understand the environment and the circumstances under which it operates.
On this note, he pointed to the impact of government programmes and interventions in various communities.
"You see, some people don't understand the impact of these programmes that we're launching in the communities, like the part-time job, for example. A family who has someone benefitting from that part-time job they can get $40,000 every month and this can benefit them in many ways, including if they have a lower-income loan. That $40,000 would pay back that loan and give them a raise in their pockets too. That is how we create transformation."
President Ali was accompanied by the Minister of Culture, Youth and Sport, the Honourable Charles Ramson Jr; the Minister of Local Government and Regional Development, the Honourable Nigel Dharamlall; the Minister within the Ministry of Public Works, the Honourable Deodat Indar and Chief Executive Officer of the Guyana Water Inc., Shaik Baksh.