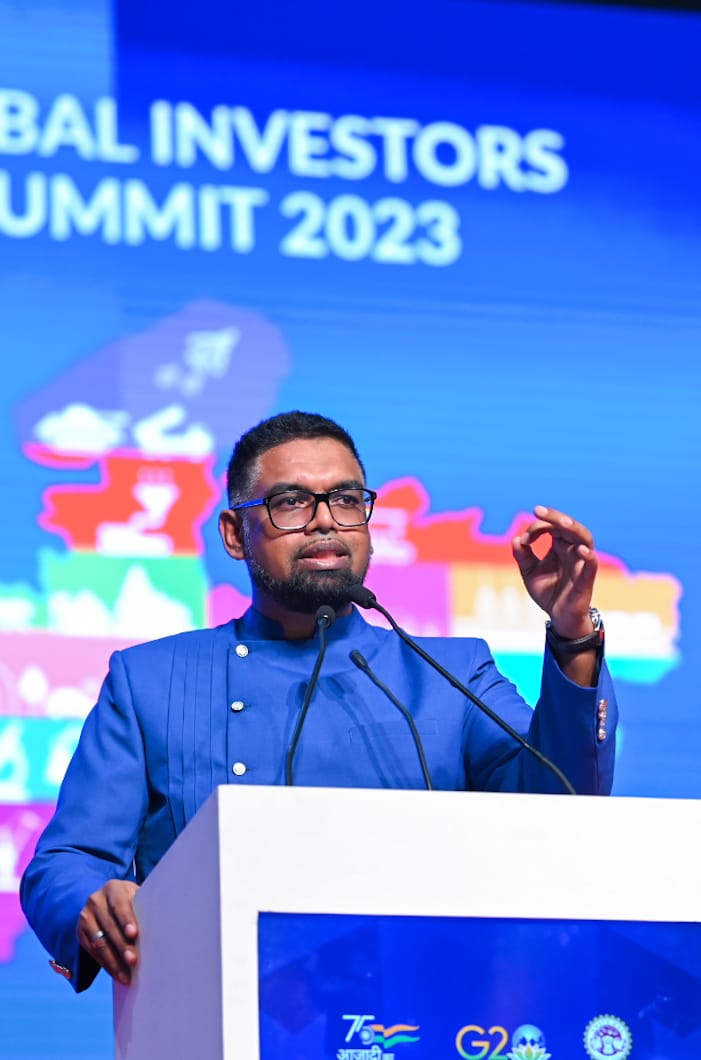 Indore, India (January 11, 2023) His Excellency President Dr Irfaan Ali called on the Board of Control for Cricket in India (BCCI) to consider Guyana as its next investment destination in cricket.
The Head of State, who is in India on a seven-day Official Visit, told the inaugural session of the Global Investors Summit 2023 in the city of Indore, Madhya Pradesh, that Guyana is ready to move its cricket development to the next level.
The President noted that Guyana is currently working on a plan to position itself as a destination for world cricket. He explained that the country has the services of cricket legend Sir Clive Lloyd, and is currently negotiating with a major Indian cricketer in its quest to "position Guyana as the mecca of cricket" in its geographic location, which is close to North America.
"Guyana is the home now for the CPL (Caribbean Premier League) finals for three years. How can we build a product that will bring in the North American market in an environment that is close to the market?"
The President reminded that the BCCI was able to move its cricket forward through "innovation and forward planning", and that it is necessary to continue this progressive approach.
"…Not so long ago, there were other powers who were the big players and movers of cricket…one of the biggest mistakes that these powers of cricket made was to have too much inward-looking policies trying to capture only a segment. I offer you the opportunity to make Guyana your next investment destination in building out the cricket product…"We, as a Government, are willing to invest in infrastructure. We, as a Government, are willing to invest in the ecosystem to support this. You have the power to do it. And I extend this invitation to you to do it with us. We are ready to do it with you."
The Guyana Cricket Board and a number of Caribbean islands governing bodies make up Cricket West Indies (CWI), the regional governing body of the West Indies' male and female cricket teams.