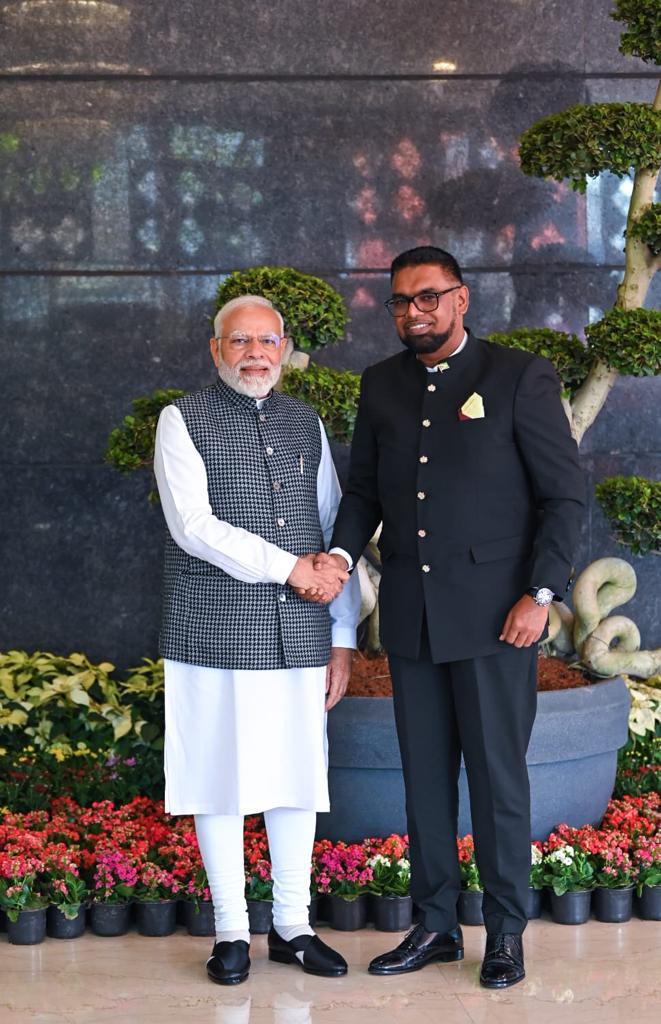 Indore, India (January 11, 2023) His Excellency President Dr Irfaan Ali said that the vision and goals that India, especially the State of Madhya Pradesh, and Guyana share are similar and will allow the optimum level of cooperation between the private sectors of the two countries.
President Ali made the remarks while delivering the feature address at the inaugural session of the Global Investors Summit 2023 in the South Asian country.
"We (Guyana, India and Madhya Pradesh) can have a clear match of strategy, a clear match of policy that gives the private sector the level of predictability and comfort that they require to make long-term investments, and that is why policymakers are important to these forums."
The President also lauded India's "good governance and policymaking" for creating the right ecosystem, investment environment and policies and programmes to stimulate economic growth.
President Ali told the gathering that Guyana is "humble" in its approach to the transformation of its society and citizenry and understands its global responsibilities.
"We have a responsibility to ensure that our growth and development is balanced and promote a world that is safer, a world that transitions itself into one in which the planet will be a better place, in which all of us can live."
To this effect, the President said that India is demonstrating to the world through innovation, technology, human resource transformation, good policy and strong global leadership that they are ready and willing to lead in this revolution.
Through cooperation, such as the signing of a Memorandum of Understanding (MoU) between Madhya Pradesh and Guyana, it was stated that the two countries will support each other, especially as it relates to private sector development.
He also urged both the Indian Private Sector and Guyana's Private Sector to form consortiums to build partnerships and other investment opportunities in both countries.
ACCESS TO THE CARIBBEAN
President Ali highlighted the investment opportunities in the Caribbean while pointing out that the Government is embarking on building the services sector not only in Guyana but in the region. He explained that while the region might be small in population, it is very influential in the tourism market and requires many services, including human resources, financial, hospitality, health and education, among others.
He said that India is positioned to be a leader in the provision of the aforementioned services to support the ecosystem in Guyana and the region.
President Ali spoke extensively on Guyana's development trajectory, especially its Low Carbon Development Strategy (LCDS). Guyana's recently negotiated deal with Hess Corporation for the sale of carbon credits was also referenced.
"We are positioning ourselves to be a leader on climate services, ecological services, and biological services. And, we invite you to be part of this transformation….Much more than this, because of our rich arable lands, an abundance of fresh water and our geographic positioning, we have the capability and opportunity not to be a player but to be the leader in food production and food security for the region in which Guyana sits. And we invite the Indian private sector to look at this opportunity that gives them access to a market of more than 400m people."
To complement this, the President said that Guyana has all the investment tools that are present in India and are ready to deploy them, so "you can position yourself in a new market that offers exciting opportunities".
President Ali is on an Official Visit to India. Joining him is the Minister of Foreign Affairs and International Cooperation, the Honourable Hugh Todd, Director of Projects at the Office of the President, Mrs Marcia Nadir-Sharma, and several private sector representatives.