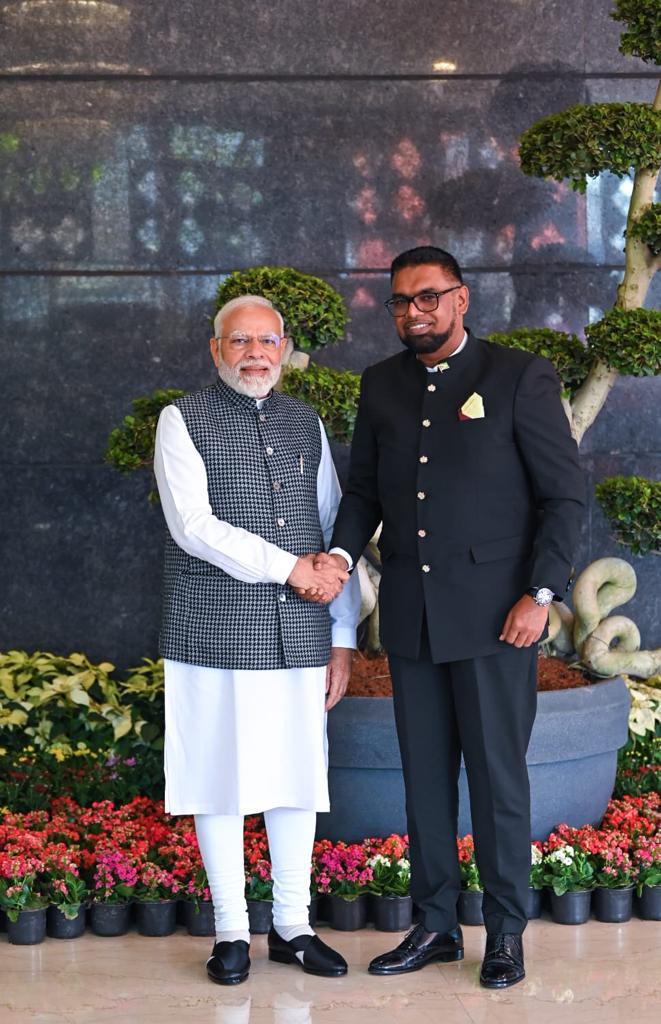 Indore, India (January 9, 2023) His Excellency President Dr Irfaan Ali said that Guyana is now embracing a diaspora integration model which flows from the belief that the country's diaspora should not be treated as "entities peripheral to nationhood", but rather as an integral part of the nation.
The Head of State, made this statement as he delivered his address at the 17th Pravasi Bhartiya Divas (PBD) Convention held in Indore, India today.
President Ali, who is the chief guest at the 17th convention, spoke of the importance of the Guyanese diaspora.
"They are part of us and not apart from us. As such, it is necessary when crafting policies that we seek to integrate our diaspora into the process of national development. Policies therefore should be tailored to make our diasporas integral rather than incidental to nationhood."
President Ali spoke of the importance of having the support of all Guyanese and advancing the One Guyana agenda, which promotes greater unity and shared prosperity amongst all Guyanese, including those living outside of the country.
"Our diaspora is integral to the One Guyana agenda….The forging of a strong sense of national identity within the diaspora is therefore central to the model of diaspora relations that we are pursuing."
President Ali pointed to ways in which the diaspora can be integrated into national development including through the provision of accurate and updated information.
He said too that the country is keen to transform "brain drain into brain gain" using technology to tap into "our highly-skilled diaspora".
"The diaspora possesses the skills and expertise that are needed for the modernisation of our economy. We hope to be able to use ICTs to be able to make greater use of the wealth of skills available within the diaspora, including in providing educational and health services."
The diaspora integration model, President Ali added, also embraces a role for Guyana's diaspora as an instrument of soft power.
"Many of the members of our diaspora are strategically placed in positions of influence to help protect and promote Guyana's national interests overseas. We look to our diaspora to project our external interests, including to protect our democracy and to defend our territorial integrity and sovereignty, particularly from external threats. We look to our diaspora to champion the international causes which are germane to our national interests, including arresting climate change. Indeed, we also look to our diaspora to wield its influence in attracting and in unlocking markets for our products."
Notwithstanding, he stressed that diaspora policies should not be cast in stone but remain flexible and adaptable to changing realities.
India's management of its diaspora relations was also lauded, while the commonalities between the two countries, including through culture and religion were also highlighted.
GUYANA'S DEVELOPMENT
President Ali assured Prime Minister Narendra Modi that Guyana's economy continues to have phenomenal growth, registering a real GDP growth rate of 19.9% in 2021, and another significant increase in 2022.
To this end, he noted that India's private sector can be a part of the transformational process and can benefit from the opportunities.
Guyana and India, he noted, have enjoyed a fruitful partnership over the years, which has seen the South Asian country lending support in the fields of agriculture, culture, diplomacy, education, health, housing, information communications technology, infrastructural development, investment, renewable energy, sport, trade and water.
He recognised too that India is a world leader in developing talent and utilising technology. Guyana, he added, looks forward to further collaborating in these two areas.
"Our intention is to position Guyana to be among the leaders in the world in energy security, climate security, food security, fresh water and a full-scale human resource development that provides the best health and educational services, and India is an important strategic partner in achieving all of this."
The PBD Convention, the President said, is an essential platform for not only exchanging ideas but also for fostering deeper and stronger ties among states which have significant diasporas, such as India and Guyana. He wished the convention every success.
President Ali, who will be conferred with the prestigious Pravasi Bharatiya Samman Award—India's highest honour for overseas Indians—tomorrow, is leading a delegation on an Official Visit to India.
The Minister of Foreign Affairs and International Cooperation, the Honourable Hugh Todd; the Minister within the Ministry of Local Government, the Honourable Anand Persaud, and the Director of Projects, Mrs Marcia Nadir-Sharma are also a part of Guyana's delegation.