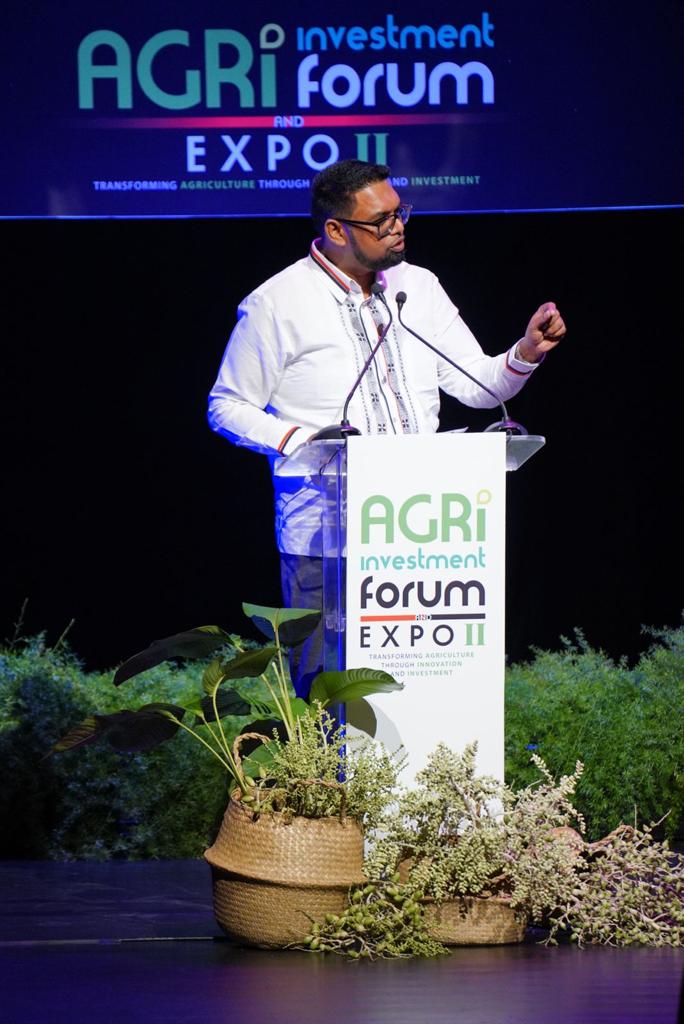 Says Region has already made significant progress to achieve targets
Port of Spain, Trinidad and Tobago—(August 19, 2022) His Excellency Dr Irfaan Ali said that the Caribbean Community (CARICOM) current leaders are committed to pioneering the shift in thinking that will allow the region to develop resiliently and sustainably.
The Head of State also noted that member states in the Region have already made significant progress, especially as it relates to food security.
President Ali made the statement while delivering an address at the opening ceremony of Trinidad and Tobago's second Agri-Investment Forum and Expo on August 19, 2022, in Port of Spain.
"We have to fix the institutions in a way that every single institution in the region operates on the same procedures, guidelines and standards so that our people would have common access and a common understanding as to what the procedures, the guidelines and standards are, and it must not vary from country to country. It requires a shift in thinking, a shift in our mindset and I'm saying to the population of this region that this group of CARICOM leaders, we are committed to ensuring that shift occurs. The political will has already been established as strong as we can."
The President noted, that as a Region, it must be acknowledged that over the last couple of months, significant progress has been made in developing the food sector.
In Jamaica, the President explained, there was progress as it relates to onions and Irish potatoes. For poultry in Trinidad and Tobago, as of June 2022, 66,500 metric tonnes were produced with a target of 83,000 metric tonnes.
He added that Barbados has been advancing its production and productivity with the use of technology for the first time which would have resulted in the growth of the country's aquaculture sector with production expected before the end of the year.
For Guyana, President Ali pointed out that at a national level over the first half of the year there has been steady progress in every category. The aim, he said, is to ensure that by 2024, Guyana is completely self-sufficient in producing soya and corn that will be used for feed.
In the case of poultry, Guyana has attained the performance mark of 61% while for livestock overall, it has fared better by attaining 80% of its set target for the period.
"It is no longer talking about what can be done. It is doing what we have been talking about for a very long time. The new approach is a different mindset. It's a different way of thinking. The Heads of Government have agreed that if we are not all ready to move, then we must move with those who are ready. The time has come for us to demonstrate tangible results as we seek to create an environment in this region in which not only are we food secure, but we develop a sustainable and resilient path to food security."
He said that there are not many examples around the world where a regional community is committing itself to specific targets. This, he said, is because CARICOM understands the reality of the climate, energy, food and inflation crises.
"The commitment of the Heads, the commitment of this region in achieving the 25% by 2025 is not the optimum commitment. It is just a baseline. Our objective must be far beyond this commitment. The fact that we as leaders decided to assign a measurable target to the work we have embarked on should tell you the seriousness to which we are applying ourselves in achieving this."
He noted that every move that CARICOM makes must be done in a global context.
"In short, we must position ourselves to be leaders and not followers."