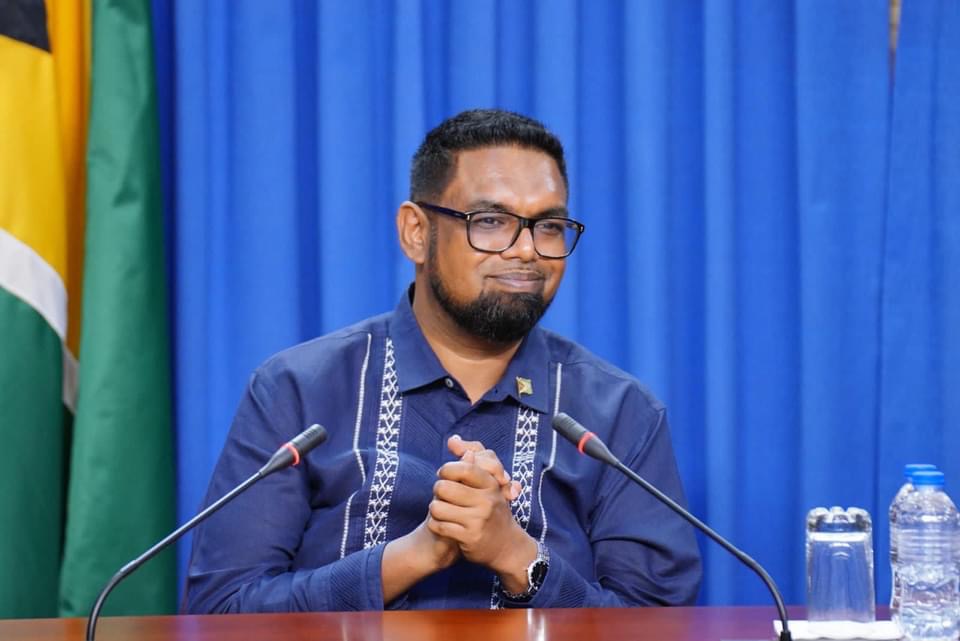 Port of Spain, Trinidad—(August 18, 2022) His Excellency Dr Irfaan Ali said that Guyana and Trinidad and Tobago are collaborating on a series of actions to advance both countries' positions as leaders in several global issues.
The overarching results of this, the President said, will be the prosperity of their citizens.
The Head of State made the statement during a joint press conference with the Prime Minister of the Republic of Trinidad and Tobago, the Honourable Dr Keith Rowley, at the Diplomatic Centre in Port of Spain following a bilateral meeting.
"What we are working on is an agenda through which we can build a sustainable pathway that will bring prosperity, opportunities and will advance the interests of the people of both Trinidad and Tobago and Guyana. We are not here to create an environment in which one party sees itself as a winner. We are here to work on creating advancing institutions and systems that will create a win-win environment for all those who are willing and ready to participate in the development and advancement of both countries."
President Ali highlighted that the world is faced with numerous issues, including climate change, energy, food security and financing. These issues, he explained, arecompounded by other factors such as the COVID-19 pandemic and Russia's invasion of Ukraine.
"Trinidad and Tobago and Guyana, we, have committed ourselves to advance a series of actions that must position these two countries as leaders in all of these global problems."
President Ali said that with Suriname, the countries have the capacity to be leaders on the table on energy security. "We have advanced this with the region, more recently with the United States Energy Department."
Similarly, he noted that if Trinidad and Tobago can deploy their green and blue economy, they can be part of the solution for climate change.
FOOD SECURITY
For food security especially, the President pointed out that it is not only about increasing food production and getting more people into agriculture, but also about building the right infrastructure to support the sector.
"We will be part of providing global leadership on food security. You have a very sophisticated manufacturing agro-processing industry. You already have the advantage in terms of the cost of energy. What we are working on now is building the productive capacity to ensure that the input is there to optimise the production."
The President said that while these measures might appear to create a disruption, CARICOM is working on bringing every stakeholder together to collaborate.
"The distributors of this region must be part of the answer. We have to re-engineer reversal of the production chain, the supply chain in terms of food, the potential that exists in Brazil; we have to deploy that potential to the benefit of Guyana, Trinidad and Tobago and CARICOM."
TRINIDAD AND GUYANA
President Ali said that Guyana and Trinidad and Tobago are focused on food security and combining their efforts in the policymaking environment and framework. He noted too that the two nations are committed to removing barriers, improving access and use of technology, and enhancing the educational system and the research and development systems in advancing their food production plan.
"In that spirit of partnership, we're also working on tourism, trade or trade opportunities. We expect the two ministers of tourism to aggressively pursue a development path that will see the development of new products in which there is an existent market."
The President also noted that the two countries are working on getting their respective private sectors to work closer and create an environment where there is a win-win scenario and trust is built.
"Those are sometimes the softer issues that can affect everything we do. The fact of the matter is that we also have to very forcibly look at our bureaucratic structure, and to ensure that that does not work as a humbug to the decisions and the policies and the programmes we want to advance. In short, you can look forward to a very actionable platform through which this relationship will advance and develop."