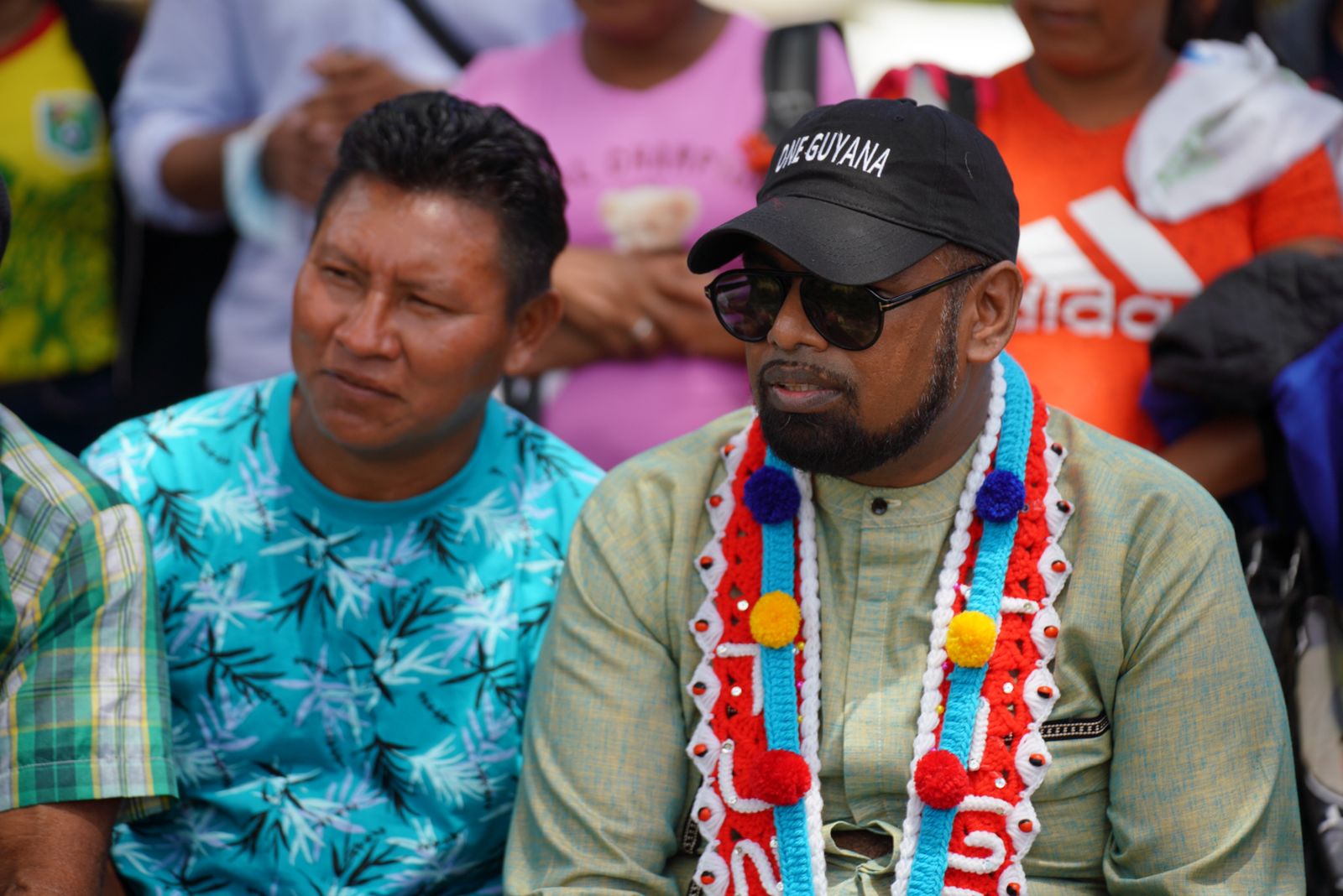 Says Upper Mazaruni District Games encourage unity and upliftment
Kako, Upper Mazaruni—(August 7, 2022) His Excellency Dr Irfaan Ali announced that in the next budget, funds will be set aside for the Kamarang Community Centre to be upgraded into a FIFA-standard facility.
President Ali made this statement during his keynote address at the opening of the 23rd Annual District Games in Kako, Upper Mazaruni today.
President Ali said that this facility will not only be used for football but will also have additional resources for developing other sports. He noted too that the Government, in collaboration with the Guyana Football Federation (GFF), will be working on a number of initiatives to improve the football talent pool across the country.
By the end of the year, the Government wants to host an inaugural One Guyana Football Cup, which will feature participation from every Administrative Region across the country.
The Head of State emphasised that if football is to develop adequately, talent from all across the country must be identified, nurtured and supported. These talents, the President added, will then be put together into a national pool of 50 players.
"Not only will you have a chance to play in the Region Seven regional team to go to that one Guyana cup, but we went a step further— I told him, out of the One Guyana Cup, we will develop a pool of at least 50 players."
The President said that in collaboration with the Guyana Football Federation (GFF) and the other local football associations, the Government would work towards developing their talent to make them competitive and to give them the "right environment in which they can develop this great skill".
"I believe that we have great potential in football. It's a low-hanging fruit. If we put the right effort in, we will get the right results."
Additionally, President Ali announced that the Government is discussing the formulation of an elaborate programme that will see former players who represented Guyana on the international stage assigned to schools and regions to work on talent development.
"We will be able to tell those national players that you are not forgotten after your national role. You still have a place and a role to play. Very important."
$1.5M DONATION
Meanwhile, President Ali took the opportunity to make a generous donation of $1.5 million to the tournament.
In addition, Dr Ali stated that the Government will work with the winning community to develop a shade house to advance its food security agenda.
"So you're playing for food security, you're playing for a community. This is a big incentive for you. So together, let us make this game a grand success knowing that we are here with you as one family. The Government I lead is here with you as a family— the great Guyanese family. We love you. I care about you. I'm going to be here. We are working for all of Guyana, every single community, every single home. Together we will build a strong and resilient Guyana, a sustainable Guyana, a Guyana in which all of us will and must be proud of."
UNITY
The Head of State said that the District Games provide the platform for unity and upliftment of people.
"This is not only good organisational skills. This is not only commitment to sports. This is part of the commitment to humanity and commitment to One Guyana because these are the activities and events that bring our people together, bring our community together, bring our young people together. These are the events that will help us to uplift each other and move each other in a positive direction."
The Head of State said that Guyanese are more "connected than disconnected." He noted that often we allow the disconnection to overshadow the connection. To remedy this, he said, his Government is on a mission under the 'One Guyana' umbrella to connect the country through development, economic prosperity and social harmony.
The Minister of Amerindian Affairs, the Honourable Pauline Sukhai, National Security Advisor Captain Gerry Gouveia, Head of the Guyana Football Federation, Wayne Forde and other Government and regional officials were also at the event.