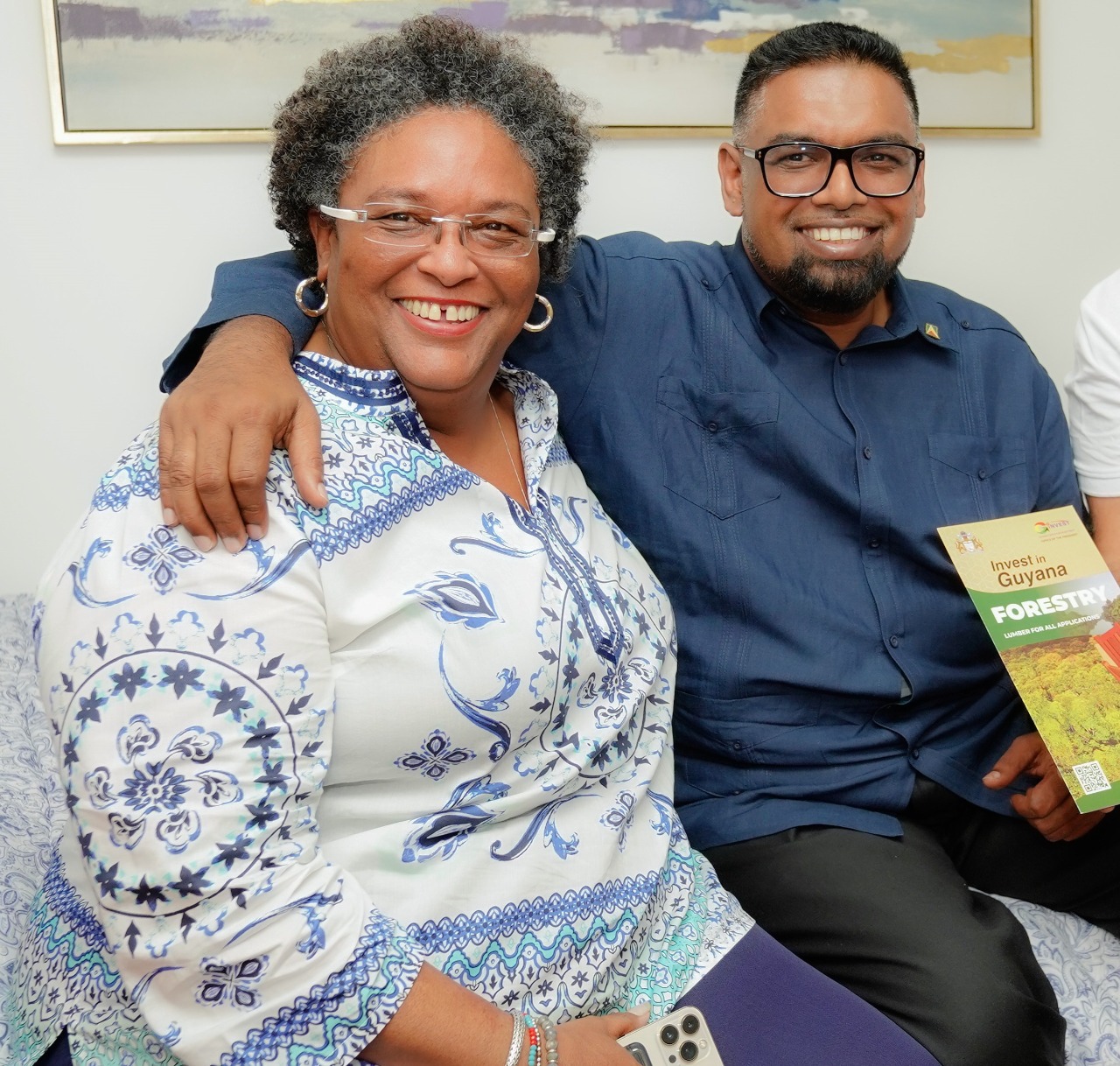 Georgetown, Guyana—(May 30, 2022) His Excellency Dr Irfaan Ali said that Guyana is prepared to remove all obstacles to accelerate and expand opportunities with Barbados as the two countries advance together.
The Head of State made the disclosure at a site visit to the proposed location for the Guyana-Barbados Food Terminal in Lears, St Michael, Barbados, over the weekend.
"I want to assure Prime Minister [Mia] Mottley and the people of Barbados that you have a reliable partner in Guyana. We are ready to remove all impediments to accelerate our plans together, to expand our production together—to expand the opportunities."
President Ali said that the aim of expanding and improving opportunities and cooperation between the two countries is to enhance the livelihoods of citizens of both countries. He noted that "right after this visit, we are going into a working session to not only look at solutions but to set timeframes and deadlines. The electorate holds us accountable at the end of a period. We have to hold people accountable too."
IMPRESSED BY PROGRESS
President Ali also noted that he is "nothing short of impressed" with the type of work that has been done so far, especially with the motivating drive of the private sector. He credits this to the type of leadership and aggression that Prime Minister Mottley and her Government demonstrate as it relates to food security.
In addition to the food terminal, Barbados is also developing another catchment pond right next to the facility. This project, the President said, provides additional opportunities which include the production of shrimp, tilapia and catfish among other seafood.
He stated that the technical teams of both countries are working together on bringing young people on board through research and development and science and technology.
At the launch of Agro Fest, 2022 on Friday in Barbados, the Guyanese Head of State had stated that the food terminal will create an international transhipment hub, which can result in food moving from Barbados to other Caribbean islands and even to Miami.
DIFFERENT MINDSET REQUIRED
The Head of State emphasised that to achieve these progressive results, a different mindset is needed.
"If we continue the old mindset we can't get anywhere. The new mindset requires us to view things differently and this is beyond a Guyana/Barbados initiative… We want to create a model to demonstrate to CARICOM that we can work in the context of CSME."
The President said that for this to happen, Guyana and Barbados have to lead the way in changing "the way we think, the way we relate" as well as making changes on the political and policy-making levels and the public service, bureaucratic and private sector levels.
"We can keep talking as a people in this region that we can do better, that we can eat local and then we don't want to participate in the process of eating local. So all of us have a role and I'm very, very pleased. I think Barbados is developing a model here."
Prime Minister Mottley also made brief remarks. She said that the food terminal would allow the country to store at least 45 containers and will allow for packing, processing and storage. It is also expected to allow for blast freezing for seafood production and processing.
President Ali was joined by the Minister of Agriculture, the Honourable Zulfikar Mustapha; the Minister of Tourism, Industry and Commerce, the Honourable OneidgeWalrond and other government representatives.