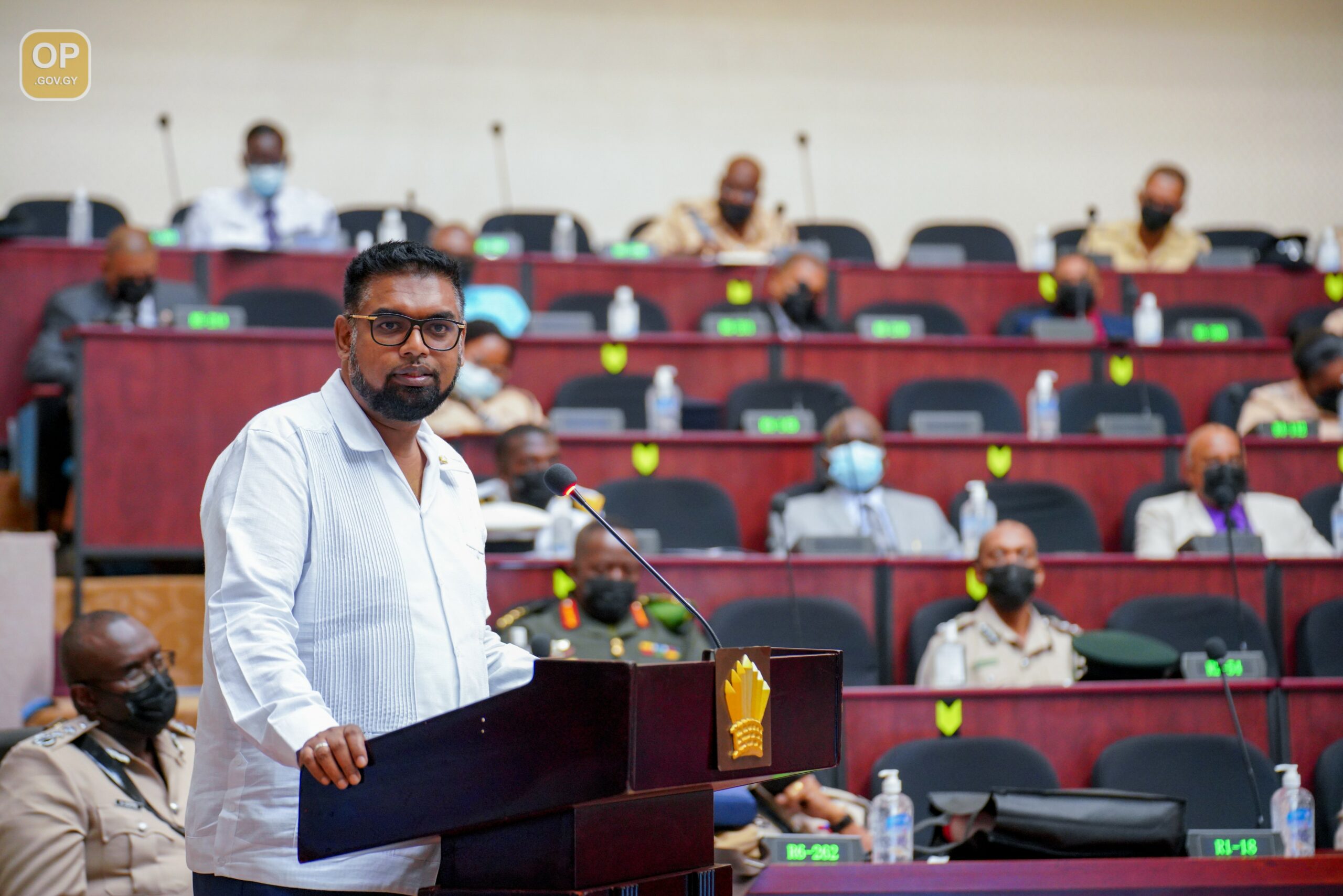 Madam Chancellor, Cabinet colleagues, Madam Chief Justice, Chief of Staff, Commissioner of Police, DPP, senior officers, distinguished ladies and gentlemen good morning.
It gives me great honour to address you once more in the context of our One Guyana. The dreams and aspirations of One Guyana depend heavily on a country which is secure and stable. It depends heavily on a people who believe in those entrusted with their security and depends on a people entrusted with the security of a nation to professional and at all times adhere to their oath of office.
So it is in this context that the modernization, the shift and realignment of the Guyana Police Force must be contextualised.
The Guyana Police Force is Guyana's principal law enforcement agency. Its mandate, as outlined in the Police Act, tasks the Force with the prevention and detection of crime, the preservation of peace, the repression of internal disturbance, the protection of public and private property, the apprehension of offenders and the enforcement of the country's laws. The execution of this mandate entails cooperation between the Guyana Police Force and the citizens.
Over the last year, we have seen varying scenarios in terms of public property, and I want to ask the Guyana Police Force to remember in its mandate the protection of public property. It is an important component of their responsibility.
We have not sat back and looked at the various files on public property without an assessment, and it is a concern, the protection of public property and we have expressed this concern to the ministry and to the Guyana Police Force.
The police, in order to enjoy such cooperation, must cultivate greater trust in its relations with the public. It must be able to build public confidence.
In my address to last year's Annual Police Officers' Conference, I emphasised the importance of the police force improving its public image. I urged the need for the Force to repair the way in which it is perceived by the public. I also noted that we must do this by reforming the Force's organisational structure, restoring the Force's brand and recommitting to greater professionalism.
Over the past year, I am satisfied that efforts have been made to reposition the Force and improve community relations. I commend the Commissioner and senior officers for the efforts he has made in this regard.
However, much more work remains to be done. There have been some incidents that have brought the Force into disrepute, and which have hurt its attempts to improve its relationship with the public.
I anticipate that this year we will see a more concerted, focused effort to develop a medium to a long-term strategy aimed at improving the image of the Force. I look forward to interventions to boost public confidence in the work of the Guyana Police Force.
Community relations
The police must continue to improve its relations with the communities and citizens. The public is also obligated to support the work of the Force. If there is mistrust in these relations, public order will be under threat because the police would be unable to elicit the degree of support it needs to effectively execute its lawful mandate.
At this point I wish to bring into focus the public communication unit of the police force. It should not be a reactive unit. The unit must be a proactive unit aimed at continuously educating the public, aimed at continuously positioning the work of the force, aimed at continuously bringing issues that are relevant to the execution of the mandate of the police force. For example, many are asking after a very deadly accident at the west Demerara.
Why is it persons under the influence continue to be a hindrance to public safety? And rightfully so, but we need an education program that is not one off. We need an education to campaign on this issue, a campaign that will sustain whatever is built on the communication strategy and one that will operate all the avenues in which the public receives information, including our social media platforms.
So I would like to see some tangible not only plans, but some actionable in relation to this.
The Force relies on the members of the public for intelligence, information and support to prevent crime and those engaged in criminal enterprises. This support is vital to effective law enforcement. The public, in turn, relies on the police for service and protection.
I must say that a high percentage of the police action that is just concluded there was based on good intelligence gathering, and I have seen the results of intelligence-led approach to policing, and I want to congratulate all those involved.
An effective crime-prevention strategy requires that the Force make societal interventions to reduce the incidence of crime. Over the years, the Guyana Police Force has been addressing at-risk groups and working with them to reduce the threat, behavioural threats and offering them an alternative pathway.
I want to congratulate the work of the Guyana Police Force in communities, some communities described as at-risk communities, very proactive and targeted work. I want to assure the Guyana Police Force that the government will back them with livelihood options and will back them with the necessary tools to give these communities an alternative and help them to be incorporated into the mainstream economy. This is a commitment that the government will give also.
The Guyana Police Force has also positioned itself as a catalyst for change, we have seen the excellent work of the police force on issues of the environment, national beautification program and changing the mediums across our country. I don't know that I give them enough credit, both the Guyana Defence Force and the Guyana Police Force for this type of work, but I want to say that the engineering and developmental arm of both the Police Force and the Army have been working very, very closely together and I must say that one tremendous accomplishment in the last year is the extremely great results, not great results but extremely great results between the security agencies and security bodies and I want to congratulate the entities and I want to say that Gerry has also played a part in this, and this is the type of relationship building.
There is a tremendous improvement, a visual improvement in the relationship and support of the joint services, the respect for each other, the support for each other and this would only result to the benefit of all the entities under your command, and this is the way that we must embrace the future. We are a small population, and I requires us to work strongly together if we are to achieve common objectives.
The Force needs all the help it can get. It is no secret that the Guyana Police Force is operating below establishment. It is also known that given the size of Guyana, it is impossible for police divisions to have a physical presence in every community. This limited reach presents challenges for effective policing.
The efforts of the Force must be complemented by the public. It is for this reason that it is a deliberate policy of my administration to resuscitate and animate community policing groups. The police must expand this initiative so that these groups can act as the ears, eyes and arms of law enforcement within communities.
Work has started on this but we need to accelerate the pace and progress in this regard.
There must be tremendous synergy between what the police force does, how the executive supports that and the traditional approach, and I want to propose we have a strategic session because this can help us to identify areas of weaknesses and we can also raise concerns.
So unless we can come in the room and we can discuss issues, we can discuss the future direction of different arms of government, and the role and changes it will require we will not be able to build an intricate model to meet the future requirements, and I want to urge that we convene such a forum so that we can have a closed-door-open-fact discussion, not only discussion, but identifying … cross cutting issues, identifying common issues and identifying solutions and costing those solutions and working together in bringing those solutions to the…
We must not be in a public debate sometimes on where witnesses are. We must be able to be in a room and strategically work on those weaknesses, those challenges and come up with solutions, and I positioned it here today that we have enough brain power, human capacity in this room alone to do this and must work towards doing this regularly.
We do not need a consultancy to do this for us. We are working in the system, we understand the system and more importantly we know what is required to take the system forward. It is just a commitment from all of us now to do what is required to take the system forward and I want to say to you now you have my full commitment in advancing this charge.
Not Business as Usual
The Force is being strengthened to better combat crime. It is being recapitalised, including through additions to its transportation fleet, renovations to existing police stations and the construction of new ones, and the provision of better and more modern equipment. We intend to provide policemen and policewomen with the tools to do their job better.
So we can give and we can present the best facilities. We can present the best environment for work, but we cannot present or change the attitude unless at the individual level we understand what is the attitude that is required for effective policing.
If one is to examine the evolution of the force, you would see that sometimes we believe that shouting in the police station is the right attitude. If you go to some police stations or you pass some police stations you will hear constables, you will hear them from the road but communication can be effective through different forms. You can be able to get far more information based on your approach, and this is something we must pay attention to.
We are strengthening the regionalisation of the Force to ensure stronger regional divisions, which can be more responsive to crime. We were also emphasising training and improved working conditions for members of the Force.
Notwithstanding these positive developments, it can no longer be business as usual when it comes to policing. We have to move away from the policy of gradualism, which finds comfort in incremental improvements in crime-fighting. We cannot continue on the same trajectory. There must be more rapid improvements to the work of the Force.
And this is critical. The work of the Force is linked to the nature of the economy and the development that is taking place, and we are seeing a rapid transformation of the country from a physical perspective but from a … and we look at the sophistication of the investors who are coming to demonstrate to you where Guyana is today.
Now, we cannot unfortunately we don't have the luxury of time to gradually climb to what is required of us. So we have to examine what is required of us, 2030, and make those changes today. That is the difference in the environment that we are in. we have to make those changes today, we have to create the environment today for what is required in 2030, and we have this responsibility to ensure that we do this.
Our economy is expanding. Our country is one of the fastest-growing economies in the world. Aggregate investments – both public and private – are increasing. Citizens are investing in new homes, cars and other personal belongings. Businesses are expanding. Those individuals making these investments are doing so with the understanding that the country will boost security to protect them and their investments, and if you want to see physically how the country is changing and how your work is becoming even more difficult you just have to look at the different development zones in the country and look at the traffic during peak and off-peak and you will see that that build-up is now not only centralized in Georgetown, East Bank, East Coast Corridor but it now goes all the way down the West Coast, the West Bank. It goes down the way to Berbice; even to Essequibo you are having difficulties.
So the economy is expanding but we have a very limited population so the strategy has to be built on the effective and efficient use of technology, and I will get to that point in a moment.
Guyana's transformation will be restrained unless security is drastically improved. Crime must not become a bugbear of development. It is for this reason that I say it cannot be business as usual when it comes to policing. The Guyana Police Force must 'up its game'. Our streets, communities, homes and businesses must become safer places, much safer.
In order to improve public security, the government will be investing in the technological advancement of the Force. It will also be equipping the Force with the means, both material and human, to bring about drastic improvements to public safety. Government will also be investing in ensuring a system of rapid and resolute response to crime.
Technological improvements
Technology has the potential to be a game-changer in policing. Over the past few years, we have seen how CCTV cameras have positively impacted our crime-fighting strategy. The police have been able to utilise footage – often from private businesses and homes – to help detect crime and to identify those involved in carrying out criminal activities.
In order to boost crime-fighting, we are resuscitating and expanding the Safe City Programme. This year we have allocated $2.5 billion to expand the Safe City Programme beyond the boundaries of Georgetown. Our objective is to eventually connect the entire country with CCTV cameras and to have these centrally monitored.
Information technology will be used to assist our police planners to better map crime and utilise analytics as a crime-fighting tool. Face recognition and vehicular licence plate technologies will also be utilised to help intercept lawbreakers.
Technology is also expected to be deployed to improve safety on our roads. The reckless use of our roads must be brought to an end. We cannot continue to lose our precious human resources to preventable road accidents. Our roads are for moving people safely around. They are not racing circuits or local remakes of the 'Fast and the Furious'.
I have already signalled that we will install fixed speed radars on our main roads so as to identify those who use our roads recklessly and to photograph these infractions. This will be a costly investment but one that is absolutely essential to stem road carnage.
We also will be enhancing the Force's forensic and investigative capacity. Greater use of forensic and investigative tools will make it much easier for detectives to solve crimes. Our intention is to modernise the Force's crime-fighting capabilities to align them, increasingly, with international best practices and standards.
I want to also say that the CID had tremendous results in the last year, in terms of holding people accountable for the crimes they have committed and I want to congratulate the work of the CID. I want to congratulate the operational efficiency of the force. I think we have much to celebrate but much also to strengthen and work harder to achieve the results we want to achieve.
Rapid response
Among the standards to which our people are entitled is a fast response. For too long, we have had reports about the slothful response to crime by the Force.
We intend to improve the Force's communications and operational readiness so as to ensure a system of rapid response to crime reports. The bugbear of slow response will be addressed by ensuring that every division is equipped eventually with modern communications systems and with an adequate fleet of vehicles.
In order to support the work of the Guyana Police Force, I also ask the Minister to examine how our response system can be linked to private security agencies, because private security agencies are increasing in our country and they have a lot of assets. So if we integrate our response system, then we can also have a response mechanism with private security that is also supported by the government. So this is something that we have to look at in integrating our national pool of assets, in our crime fighting strategies.
Professional development
We are investing in the professional development of ranks. A better-trained Force will be in a much stronger position to deliver the results that are required. We are striving for a Police Force that embraces professionalism. There can be no place for brute force and ignorance in policing. It is also unacceptable for the police to be rude and ill-mannered to the public.
As such, greater attention is being paid to providing increased opportunities for training, both locally and internally. This year we have allocated some $120M to boost training in the Force.
In addition to many ranks, who are on the Goal scholar program, many rounds for studying in University of Guyana we have allocated $120 million to training in the force. Success is an important aspect of professional development. I'm aware some of you are concerned about your promotions; I want to assure you that this matter is being addressed. There are certain legal requirement, which have to me meet, we are taking steps to ensure that this is done.
There is a constitutional requirement that I consult with the Leader of the Opposition and this question has been asked and I have been very clear that in the appointment of any constitutional officer whether ever it requires of the constitution that is the process I will follow. So there is no need to guess or form a your own opinions.
I wish to emphasize the operational responsibilities shall remain with the commissioner of police … government should be to develop effect polices to supported work of the Guyana police force. So there are a few issues that I want conclude on that I would like this conference to take into consideration and they all surround the theme of restructuring, reform, re-positioning, repurpose, reorienting building a reliable police force. One, 9 have asked the minister of home affairs, to develop a policy on incentive based performance for the Guyana police force that is linked to reward.
We have seen how this has helped in countries like Rwanda it has changed dramatically the image of law enforcement entity and it has brought results so whilst we have an average time of 56 years persons moving upwards there must be a mechanism in which emolument is affected other than promotion. So, I have asked that we have developed an incentive-based performance system and this must be supported on a mechanism or platform of a highly-trained committed police force.
The second issue that we are discussing with development partners is the development of a police academy not only for a Guyana, but a Regional Police Academy and we are in detailed discussions with many of our development partners in the developing world on their experience in this. We are pursuing a path of the development of a police academy.
The third issue has to do with smart policing the days of boots on the ground especially in a small population are really coming to a situation of being outdated. The new dimension of policing is eyes on you, monitoring on intelligence gathering. And that is where we have to position to force investment in resources that build the capacity in monitoring and having a situation where we have eyes on you development in a modern police force that is on the platform of smart policing.
This requires a few things how do we ensure that people can make a report in an environment in which they're comfortable, I want to propose a pilot study in which we have digital reporting booths. That is in strategic areas we put an electronic reporting booth in which people can go there and write their own statement and make their own report, and send it electronically to the police or on a platform. So there is no interface or interaction so if there is fear in going into a police setting or going into a police station then the digital platform in the form of a digital reporting booth can help this. So this is something that we should work on as an experiment.
Moving to digital platform for ticketing. We have started this is for sure needed an Arab and on all of our new highways we are going to incorporate this feature. Where we can move towards digital ticketing in terms of seat belt volition and so on and that system must be automatically linked to the suspension of license. So we now have the make the laws work. We have a lo9t of modern laws that are there that I wouldn't say are ineffective but it is not giving us the results because the system is not in place to allow the law to give us the results that is needed. So we have to move towards…I want to put Guyana on notice that this is the direction that we are going.
Information sharing platform we have information all over the place, so if you are checking on someone with a gun licence sometimes you have that person in station for four to five hours going through manual records to see whether this persons is a licence firearm holder. If you have a common information sharing platform then we can get that. Even for the Judiciary let us say a magistrate … can access that platform if you have someone from…and they can have the whole history of that person whether they are a repeat offender, whether that persons has changes before, whether they were convicted before and this helps the judiciary in administering justice in a more efficient manner. So this information plat form must be one that supports the work of entities and support the work of all arms of government.
Like I said I came in a few nights ago and I saw a few flights on the ground and we have an advanced passenger information system that tell you all…so you don't have to spend four to five minutes on a passenger. And talking to the immigration officers clearing very effectively but that is not the usual course and this is something we have to look at. We cannot put the technology in place and be afraid to use the technology or be afraid to use the results of the technology because then it becomes useless, useless investment. We have to be able to trust the technology also.
So then we have the strategic and critical thinking. We have to change the mindset from Officers up from the level of officers especially. We have to make you into strategic and critical thinkers and we have started work on this. We are launching very soon though the University of Guyana a Master's program on strategic development studies. It is a program supported by the US and it is a program that will have international backing in terms of content and certification. So, we are hoping that a lot of the officers would be part of this program so that we can have a more strategic and critical thinking path to decision making in the Guyana Police Force.
The issue of drinking under the influence. Now, we have to look at this I think it requires burden sharing. I have looked at the Canadian model and there is a concept of burden sharing. For example a bartender has a responsibility if he is serving alcohol to someone who is a diver or if someone is at a bar some responsibility must be on that establishment to ensure that that persons who is drinking or under the influence does not ensure the driving seat of a vehicle. So, I want you to think of this, look at this model and how we can have a system of burden sharing because more than 70% of the accidents are caused by … under the influence. And we have to expand our net at stopping this at the … It is no sense we allow them to drive you make the accident yes you can lose you license and go to jail but the persons is already dead.
So how do we build a system that allows for burden sharing where it becomes a part of the culture of our country. You know in Canada the burden sharing mechanism is detailed and deep that if you have a house party and you are the owner for that home you have to make certain announcements first if you are driving you are not allowed to drink or consume alcohol and if you allow them to leave your home in a drunken state then you also have some questions to answer that is how we will rapidly change the culture of drinking and driving in the country. Not only by strong enforcement of the law so we have to examine this. There are already best practises globally and we must all agree that this is a problem and it is a serious problem and sometimes we do not understand the magnitude of the problem and how we are personally affected but as President I have to communicate with people who go through this pain. And it is one of the most painful experiences and conversation you ever have to have. So I want us to examine that as part of the modernization process. How do we have this type of burden sharing activity?
The application … of and this is where we will have the strategic sessions. Now, I want to make this very clear and I'm happy the Commissioner mentioned the issues of the migrants. I saw in one of the newspapers a total misrepresentation in relation to the issues of migrants and this is a serious issue for our country. I do not kn0w why we think a negative story helps our county the truth is up to yesterday we had a high level meeting. An not only … as to how we support the migrants but how we incorporate them into communities .How do we support their livelihood, their hygiene, their health and we had a briefing with the international community.
We are not running refugee camps like many countries in which you cross the border and you're in a chain linked fence with wires and razors. We are approaching this from a humanitarian perspective, and I think it is irresponsible that we don't understand a holistic approach. So up to yesterday we had a briefing with a high level community too. We established a high level task force that is looking at this. It includes the Guyana defence force, the Guyana police force, members of the Cabinet, the national security adviser, the regional authorities, the regional community because we recognize this is a serious issue. We also have security concerns we cannot ignore.
The sixth issue that I wanted to bring clarity on is the hemp industry. It is my hope that Guyana can develop a viable hemp industry. The hemp industry is not only about the hemp production but it is about having the processing and value added facilities here in Guyana, and these are industries that can generate jobs, these are industries that are high-value in terms of processing and value added aspects. Hemp industry is completely different from marijuana planting, completely different.
Now, I made a statement that we need to approach things from a very, and my approach is dealing with things in a realistic way. If we have to deal in marijuana plantation, and all of us know we have a lot of marijuana farms, if we can bring them to the understanding that you do not need to go down this road, and we are developing an industry that you can be a part of it that can give you more returns in a legal way and you don't have to play hiding and play a game and risk your future and your family future, then it's a gain for the country and I want to have this conversation and I think that it is the responsibility of the President to lead in some of these areas in creating the level of trust for the transformation that is required.
So yes, this is an industry that can also help in at-risk communities. Now, an important issue is a realignment of pay scales. I spoke about that in terms of incentive based performance system, but we also have to look at the pay scale of the Guyana Police Force against other entities. We had promised that in terms of realigned pay scales across agencies of the government.
Things will get better, conditions will get better. Your emolument package will also get better but with that, we require better performance. Now, the country that is rapidly changing … to us, new growth poles, new growth hubs, the east coast corridor as we know it today will change not only dramatically but would change beyond recognition by the time we get up to 2030.
The east bank corridor as we know it will change beyond recognition by the time we get up to 2030. The new modern road links, the new modern road networks, the modern development hubs at the Wales Development Authority, the Gas to Shore project, the … modernization of the aviation sector, new municipal airports, bridging our borders, creating an inclusive agri-production and export zone, new sports and recreation infrastructure, new private sector investments, hotels, shore base facilities, tourism facilities, are all going to change the landscape of our country and change the conditions under which we have to offer our services at different levels, and we have to start positioning ourselves to be part of this magnitude of change that will take place.
These are some of the critical issues I am hoping we can address. Our country is also hosting more and more international forums. We just had the energy conference. We just had a lot of state visits this year alone. We had more than five requests for state visits before the end of the year. We have more than four international expos that want to come to Guyana. We have the FAO, the Caribbean, Latin American heads of government that is coming to Guyana on the 24th.
So we have …from every level, from the services industry to policing, we can't have these magnitude of events and changes that we are not ready to showcase Guyana and all of us are not ready to showcase the Guyana that we want to showcase. It is a personal responsibility we have and I think we must all be committed to that responsibility.
We are going to invest in you. We are going to invest in the instruction and assets that is needed and more importantly we are going to invest in the people of this country to ensure that they feel a part of what is happening but more importantly, they feel the need of adjusting what adjustment is needed to be part of this development process. Once the people understand that they are part of it, once the people see the benefits that will come to them, once we are able to reduce the inequality and disparity we will be able to bring people along, and once we bring people along then inherently in every human they want to do better for themselves and their families, and once you present the opportunity to do better for themselves and their families they will be less inclined to their criminal ways. So I want to thank you very much and wish you well at this conference. Thank you very much.