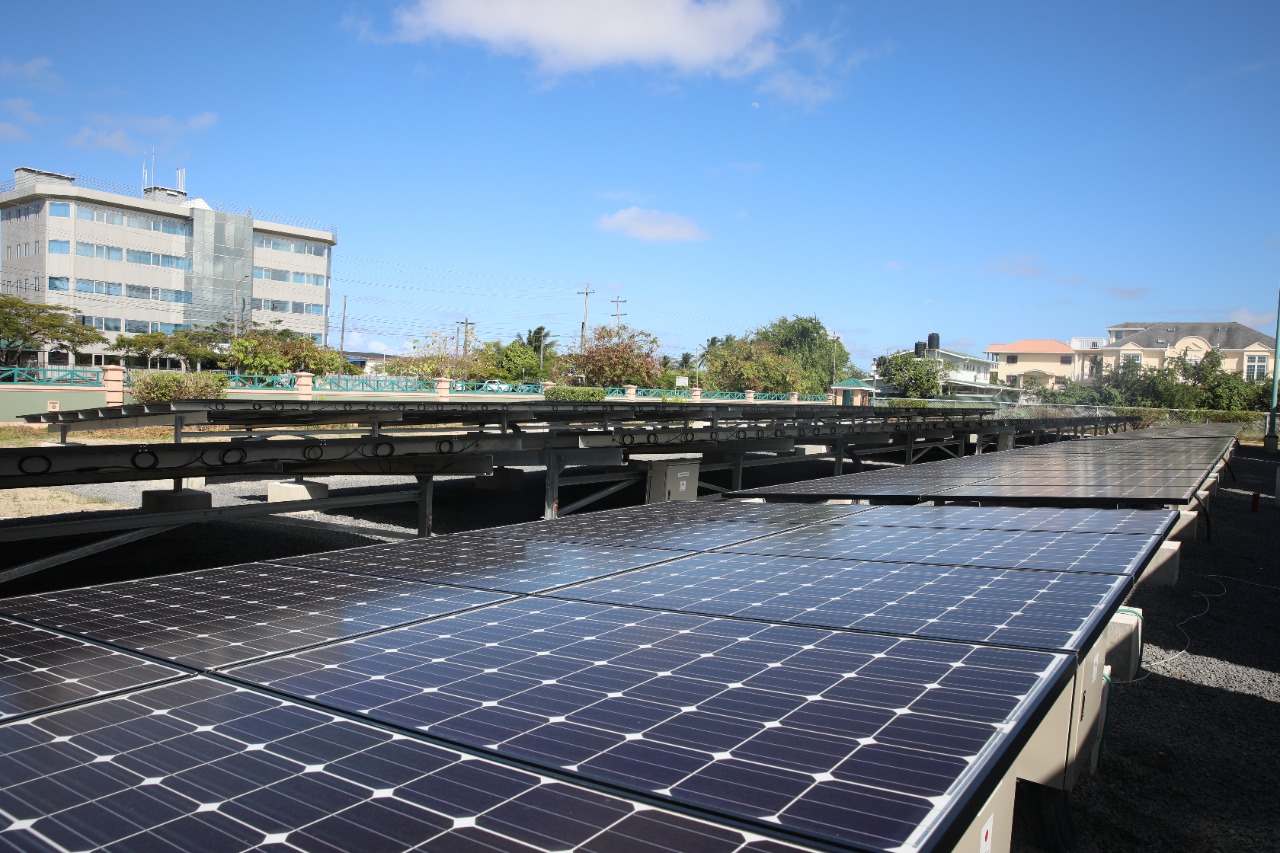 Says CARICOM HQ going solar shows the region's commitment to renewable energy
Georgetown, Guyana—(January 11, 2022) His Excellency Dr Irfaan Ali said that Guyana is willing to share the experience and capacity it has gained and built over the years in renewable energy with the Caribbean to help advance the energy plans of CARICOM member states.
He said that Guyana is a member of the International Solar Alliance, and for the past ten years, the country has worked closely with The Energy and Resources Institute (TERI) to support the smart development of renewable and efficient use of energy in key sectors, including agriculture and manufacturing, which are the backbone of Guyana's economy.
"This is something we are willing to share with the rest of the region. We are willing to share this capacity that we have built."
The Head of State made these remarks today at the handing over ceremony of the Solar Photovoltaic Power Generation Plant at CARICOM Secretariat at Liliendaal.
These efforts, the President said, have focused on technology deployment and the strengthening of the country's institutional and human capacity.
He said that Guyana, with the support of organisations such as TERI, can offer the region energy performance studies to identify options for energy conservation measures.
"We are prepared to work with the region on renewable energy opportunities to ensure we as a region are coordinated in our effort to support each other and to play our part collectively in the fight against climate change by tackling mitigation opportunities."
REGION'S COMMITMENT
The Head of State emphasised that the completion of the project is a demonstration of the region's commitment to alternative energy sources and his country's pledge to transition to cleaner and more renewable energy.
He pointed out that utilising the bountiful resources of sun and sand is pivotal to the region's future.
"Here in the region, we know we are small. We're small in population, we are small in size, but we are not small in thinking, we are not small in policymaking, and we're not small in playing our part, and a major aspect of that is innovative thinking; innovative projects and programmes that will deliver the type of results we want."
President Ali also heaped praises on Caribbean nations for their sustainable energy policy. He pointed out that Barbados' National Energy Policy 2019 to 2030 identifies a "bold 11-year implementation horizon" where they have a vision of becoming 100% fossil fuel free by 2030.
He also mentioned that Jamaica is pursuing a renewable energy project. Overall, he said that every Caribbean island is playing its part in pursuing a pathway to alternative energy as well as including measurable indicators within that pathway.
AGGRESSIVE DEPLOYMENT OF RESOURCES
President Ali used the opportunity to call out the global community to stay true to their commitments.
"We are Small Island Developing States (SIDS). We are small countries. We have global commitment; importantly, however, we are not only heavily affected by climate change, we are the worst affected by climate change, and in all development aid and development programmes, we have to see this region as a region that has really faced the brunt of climate change, and we are the most exposed to climate change and climate events."
He also called for more aggressive deployments of resources to help SIDS advance their technologies and help in their mitigation and adaptation measures.
"We are showing and demonstrating with the little resources that we have, that we are capable of making big decisions. We're capable of providing leadership, and we're capable of doing what is right and playing our part in the fight against climate change, but we need support."
The President said that while commitments are made globally, "we're seeing no real attempt in translating those commitments to projects on the ground, to support on the ground, to support in-country like this project has demonstrated."
He added that he believes the commitments made are credible, but there needs to be urgent action in demonstrating that commitment by not "adding conditions to countries, but by supporting the existing pipeline of projects to meet the targets that we have outlined individually and collectively as a region".
NET-ZERO
The 400-kilowatt solar generation project was undertaken through a US$17.8M grant agreement between the governments of Guyana and Japan. Of the lot, US$7M was earmarked for its establishment.
The 1500 solar panels, servers and batteries will allow the secretariat to have a net-zero energy balance.
Prime Minister, Brigadier (Ret'd), the Honourable Mark Phillips; CARICOM's Secretary-General, Dr Carla Barnett and non-resident Ambassador of Japan to Guyana and CARICOM H.E Tatsuo Hirayama also spoke at the event.